Bivystick Two-Way Satellite Communicator Review
If you spend any time hunting west of the Mississippi, or many places elsewhere in the world for that matter, you've encountered spotty mobile phone signals. I often savor this lack of connection. I find that not being able to view or respond to emails from the office during a week of elk hunting is a great mental health break! The problem is if the worst happens and you need help, without a mobile signal you're on your own. Whether it's communicating with others in your hunting party, or getting help in the case of an emergency, I am a firm believer that it's a great idea to invest in a satellite communicator. I view these devices as cheap insurance that could actually save your life. Following is my review of the Bivystick satellite communicator.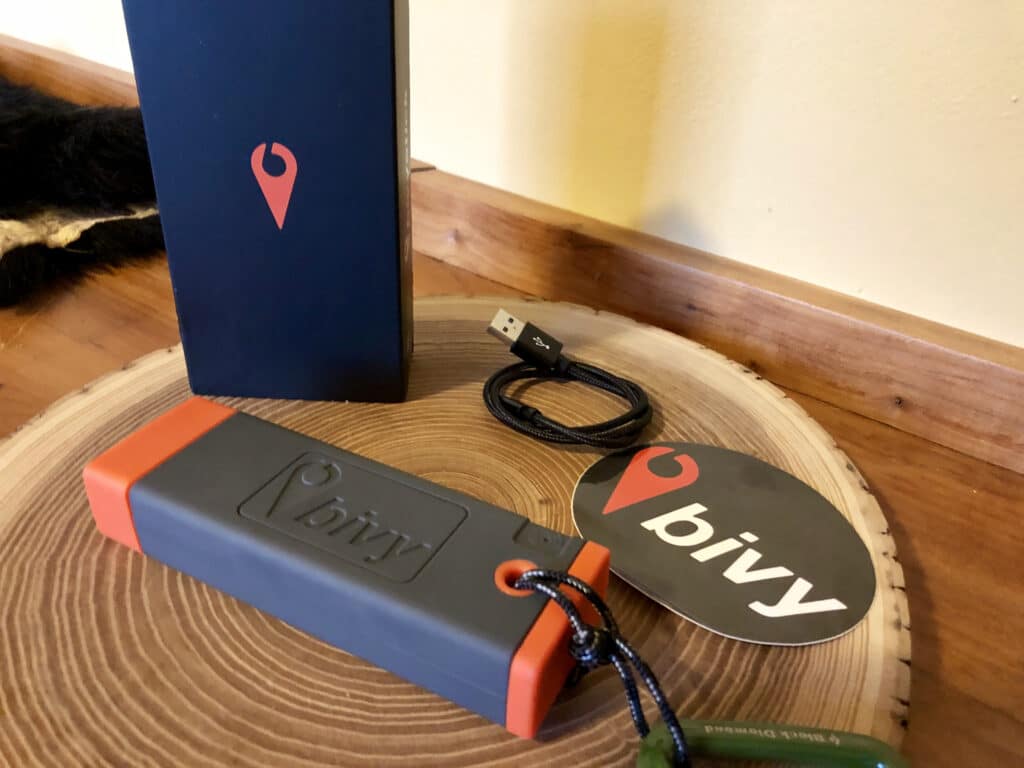 Bivystick Overview
The Bivystick is a device that turns your Andriod or iOS phone into a two-way satellite communicator. The Bivystick connects your phone to the Iridium satellite network of 66 cross-linked Low Earth Orbit (LEO) satellites. The Iridium network provides coverage over our planet's entire surface, including across oceans, airways and polar regions to allow you to communicate with your contacts, share your location or signal for help anywhere in the world.
Bivystick App
Out of all of the satellite communicators that I've tested, I've found the Bivystick to be the most intuitive and easiest to use. The key to all this is their well-designed App. Unlike other devices I've used, that are self-contained devices with an integrated keyboard, with the Bivystick, the device is basically a battery and a satellite transceiver. Through their App, your phone becomes the interface. I found the app to be really well-designed. My favorite feature of the App, unlike other devices where I had to labor to add my contacts to the device, after downloading the Bivystick App I immediately had access to all of the contacts on my phone.
Since I've started to exclusively use the App version of OnX Hunt, I'm accessing my phone a lot on hunts now. I really like that the Bivystick is simply a piece of hardware that I clip to my pack and forget about. I can access all the Bivystick's functionality and even monitor the device's satellite reception and battery life from my phone.
Pro Tip: When you are using your phone on hunts, be sure to use it in "Airplane Mode", you can still use the Bivy app and OnX Hunt, but your battery will last a significantly longer.
Bivystick App Features
The Bivystick App has a lot of features that will be of varying usefulness depending on your use case. For most hunters you'll use the following core features:
Messaging
It's important to note, that the messaging function is in the App itself, not in your phone's resident messaging app. Outside of that, it's going to work about the same with one exception. The time it takes to send and receive messages can take several minutes as your message is beamed to a satellite and then back down to your recipient. You'll need to maintain a clear view of the sky if you want to send or receive a message.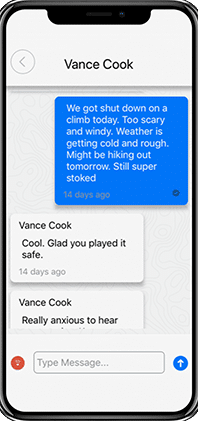 Track and or Share your location
You can see your location on a map and you can share your location via text message, Facebook or Twitter. Let your friends and family know where you are and keep track of your progress on detailed topo maps.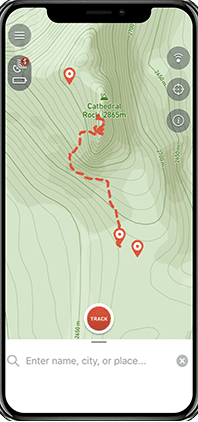 Weather Reports
If you're on a remote hunt, it's nice to know if a storm is headed your way!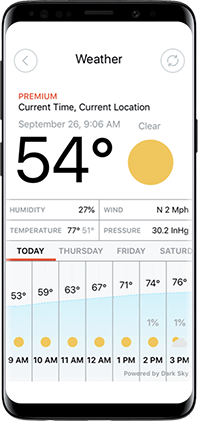 SOS (AKA the SHTF button)
Hopefully, you never need to use this function, but it is better to have it and not need it than need it and not have it. If the SHTF and you do need help, Bivystick will get you in contact with emergency services using GEOS with 24/7 monitoring and communicate with local emergency service directly to ensure a fast and efficient rescue.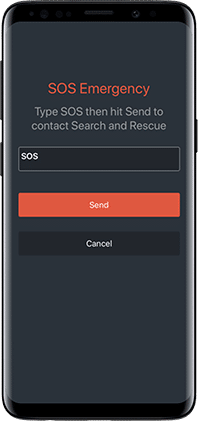 Bivystick Features
Send and receive text messages from anywhere in the world
Tracking and location sharing at a 10-minute interval
Share your location via text message or social media post
Detailed 3 or 7-day weather forecasts
SOS service to call in professional help when needed
Access to downloadable offline maps
5200 mAh backup battery to charge your phone up to 2 times
Affordable monthly plan with no commitment or contract
Bivystick Service Fees
Unlike other satellite communicators that require you to pay an activation fee to use your device and then a monthly service contract, the Bivystick runs off credits. A base plan of $18 for one month provides ten credits. This is a great deal if you just want the device for emergency use and to send a couple of texts. A single one credit is good for sending or receiving one text, sharing your location one time, getting a weather report, or tracking your route for an hour. I really only need my device for about a month out of the year, so I really like that Bivy doesn't charge activation fees each time you want to use the device.
30-day connection to the satellite network
Includes 10 credits
SOS monitoring
Dedicated phone number
Access to detailed downloadable maps
Unused credits roll over when the user continues a monthly base plan
Bivystick still works after all credits are used at a rate of $.50ea
Additional credit packs available at a discount
Or, you can pay $59.99/mo for Unlimited Credits
Pro Tip: For the Bivystick (or any satellite device for that matter) to work you will need a clear view of the sky. As with any new device, we highly recommend that you take some time to familiarize yourself with with how it works – prior to putting it to use in the field.
Bivystick Battery Life
One of the things that makes the Bivystick ideal for backcountry hunters is the amazing battery life. The Bivystick's battery should last for an entire week of hunting and even allow you to recharge your phone. (Note: Additionally, I always carry a backup charger for my phone or my Goal Zero charger depending on the hunt). The only thing I would change about this device is I found that flap that covers the power button and charging ports can be difficult to open.
Bivystick Final Thoughts
The Bivystick is currently $349 plus fees for credits. It is comprised of three core components, the hardware, the App and the Iridium satellite network. The combination of these items makes the Bivystick system the best satellite communicator that I've tested to date. For more information visit Bivystick.com
Note: HuntTested may receive a small commission if you purchase a product from the links on this page. This does NOT increase your price and helps to pay for the content you're enjoying. HuntTested did receive product consideration in coordination with this article. All opinions belong to HuntTested.