Why Women Hunt – Book Review
The best thing that's happened in hunting and conservation in recent years is women. According to the U. S. Fish and Wildlife Service's latest Survey of Fishing, Hunting, and Wildlife-Associated Recreation, 10.3 million American males hunted in 2016, a number that has been steadily declining in recent decades. The math is dire. Baby Boomers are beginning to age-out of hunting participation and younger men are not taking their place in sufficient numbers. After early Generation Xers, males are more likely to have grown up playing video games instead of growing up hunting. However, according to the survey, there was a bright spot, 1.1 million women hunted in 2016. As a result of more female participation, the overall number of hunters are holding steady. The rich, varied, and often deeply personal reasons that more women are hunting today are explored in a new book by K.J. Houtman, called Why Women Hunt.
Why Women Hunt Book Overview
In the book, Why Women Hunt, Houtman approaches the subject by telling the stories of eighteen women. If you watch any TV hunting shows, one might believe that the only women who hunt are glammed-up models in fitted camo with pink highlights. One thing readers will appreciate about the book is Houtman gives voice to women from all walks of life, ages, and backgrounds. The women featured in Why Women Hunt began hunting for a variety of reasons. Some simply wanted to feed their family natural and healthy food. For others, it was about empowerment or an invitation from a mentor. The ages when the women started hunting and their motivations for hunting vary, but love and respect for nature was a constant theme through all the women's stories.
Houtman shares the stories of these women with beautiful writing and photography in this large-format book. Why Women Hunt would be a great gift for any woman who is considering going hunting, or for any non-hunter to better understand why we love hunting and our connection to the outdoors. Men will enjoy reading this book too. Especially if they have a wife, sister, or daughter who hunts, (or is considering hunting) to help them better understand their motivations and challenges. All hunters will enjoy the book's great writing and photography.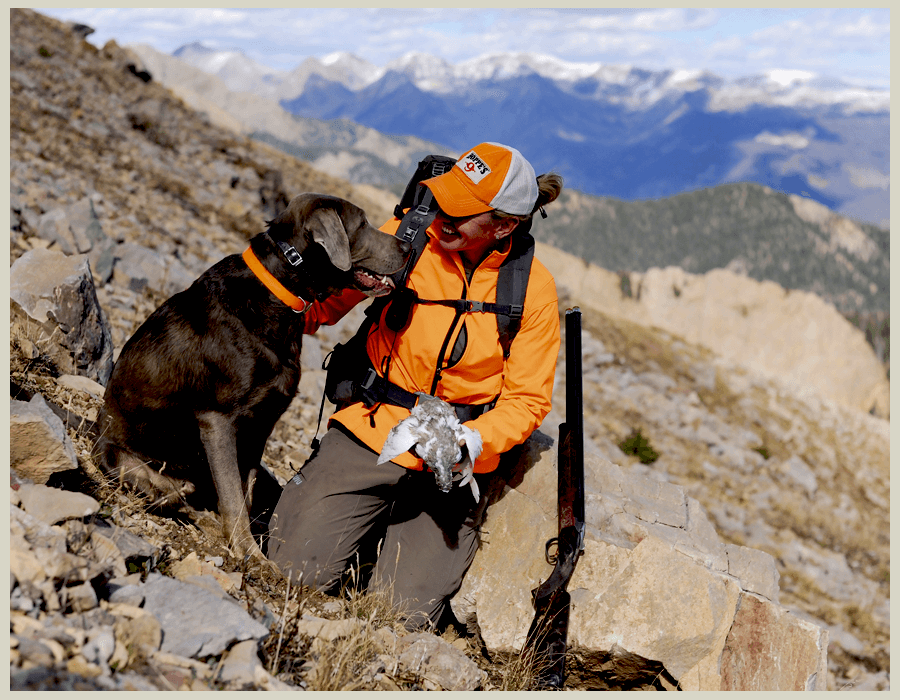 Become a Mentor
One of the common barriers that many of the women cited that prevents more women from hunting, is access to a mentor to show them the ropes. Hunting requires equipment, a lot of specialized knowledge, and land access. If you grew up hunting with a parent who mentored and supported your hunting development. It's easy to take that for granted, but just think of starting to hunt as an adult with no prior knowledge of hunting. It's a daunting idea. Hunters have an outsized impact on funding habitat and conservation efforts. As a result, it's critical that our hunting way of life continues in sufficient numbers.
If you're a hunter, the biggest impact that you can have is to become a mentor. Invite someone to come hunting with you. Volunteer to become a mentor with your state's Department of Natural Resources. If you're interested in hunting, but don't know anyone who can take you, most state's Department of Natural Resources offer some form of volunteer-based hunter mentor programs. Additionally, thirty-eight states and six Canadian provinces offer Becoming an Outdoors-Woman (BOW) workshops. BOW workshops offer a broad array of outdoor and hunting skills training. Through BOW programs, tens of thousands of women are stepping outside every year to learn new outdoor skills in a safe, supportive environment.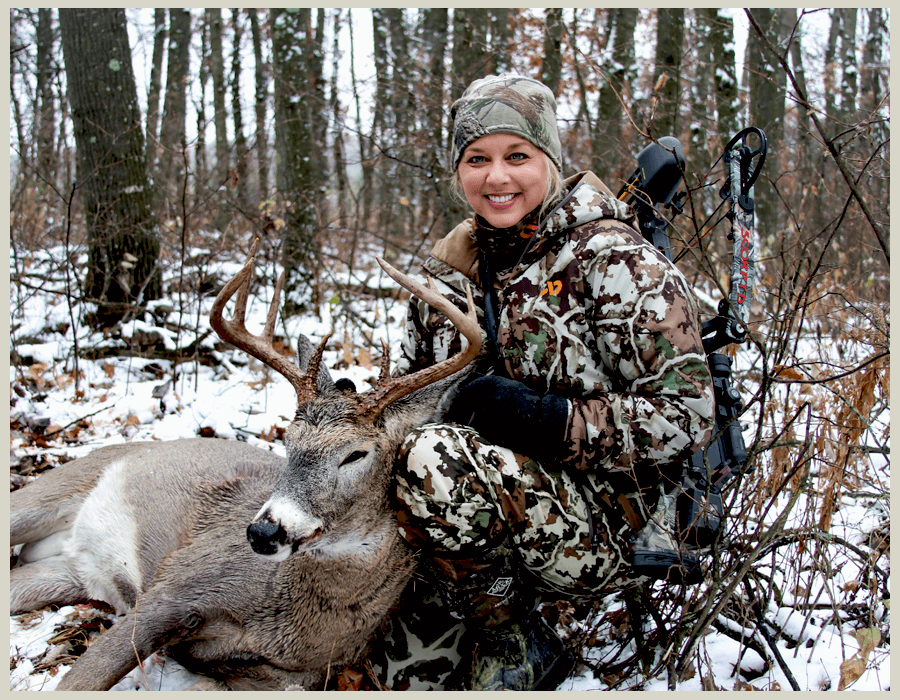 Why Women Hunt Book Details
Why Women Hunt – $49.95 – Click Here to Order
Author K.J. Houtman
243 pages, all color
8.5 x 11 on heavy matte stock
Wild River Press
Printed in Michigan with quality paper stock milled in Wisconsin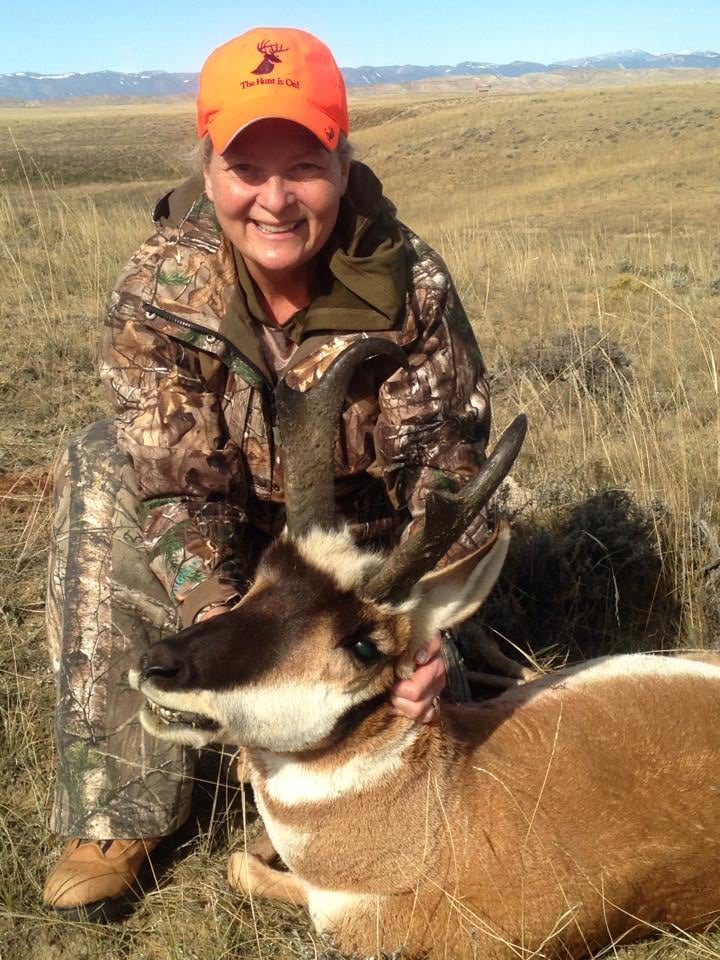 About the Author
An outdoor writer from Lake Minnetonka, Minnesota, K.J. Houtman's 25-plus-year career spanned outdoor industry organizations including American Sportfishing Association, the North American Hunting Club (and Fishing Club) as well as nine seasons running the Masters Walleye Circuit. She authored Fish On Kids Books to introduce middle school-age readers to the fun adventures around fishing, camping, and hunting. Outdoor Adventures with Gus continue in the National Wild Turkey Federation's Jakes Country magazine.
Along with hunting editor Bill Miller, Houtman co-authored Reflections Under the Big Pine, a Christian devotional around hunting- and fishing-themed stories. In 2016 she authored the life story of Outdoor Life magazine hunting editor Jim Zumbo, entitled Zumbo. Houtman's books and articles earned awards-in-craft honors from the Association of Great Lakes Outdoor Writers and Southeastern Outdoor Press Association. She served as a board member of the Professional Outdoor Media Association and Future Angler Foundation. Houtman is a founding member of the Women Ice Angler Project, a media event with a team of eight women led by Barb Carey (now in its sixth year) showcasing women ice anglers.
Writing was one of the ways Houtman learned to meet her fears head on, and it opened the door to hunting for her, albeit later in life. "My best writing occurs when I'm able to tell a story with a focus on someone else's outdoor adventures," Houtman said. "I enjoyed the project Why Women Hunt for that very reason with incredible ladies and diverse backgrounds, yet each shared a hunt that changed them. It's an important thread in these moving stories."
Related: HuntTested's Ultimate List of Hunting and Outdoor Books