First Lite Nemo Spike Tent Review
The First Lite Spike tent is part of a new collaboration between First Lite and Nemo. Together they have designed an all-new line of tents, sleeping bags, and sleeping pads. As an elk hunter, I was particularly interested in the Spike tent model.
My elk hunting generally consists of a base camp and then ATV's to get us into different hunting areas where we take off on foot. I've always liked the idea of being able to hike in deep, deeper than I'd want to hike out the same day, but I've never been a particular fan of sleeping in a bivy sack, (sorry Cam Hanes). The Spike tent is the perfect solution. It's not a whole lot heavier and it doesn't take up much more room than a high-quality bivy sack, but I think it's infinitely more comfortable.
First Lite Spike Tent Overview
The Spike tent is a single-walled, one person backcountry tent. The Spike tent employs your own trekking pole to keep the overall weight to a little over a pound. With the Spike tent along with my sleeping bag and pad, my entire camping kit weighed in at less than 5 pounds. The tent also packs down incredibly small, about the size of a Nalgene bottle.
First Lite uses a premium silicone-treated 30D Nylon Ripstop fabric that is coated on both sides. This greatly increases the strength, durability, and waterproof protection. The silicon treatment also removes the need for toxic fire retardants.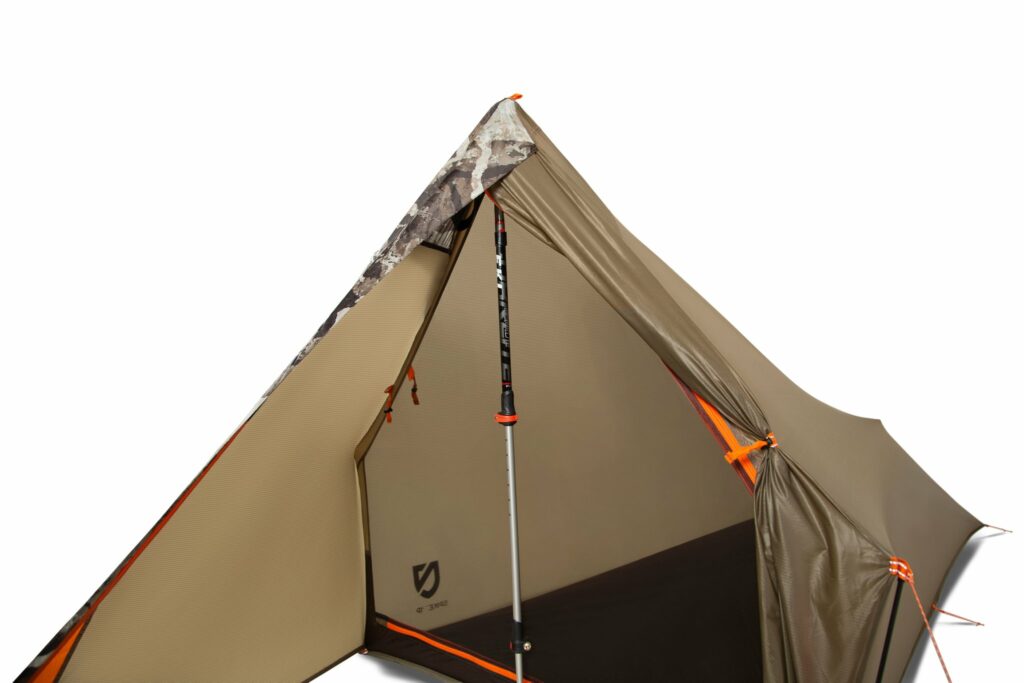 The Spike has a large vestibule for waterproof gear storage. It has plenty of room for your pack, your bow, and your boots. Another advantage over a bivy sack is if you run into rainy weather, you have room to sit up and cook in the vestibule area.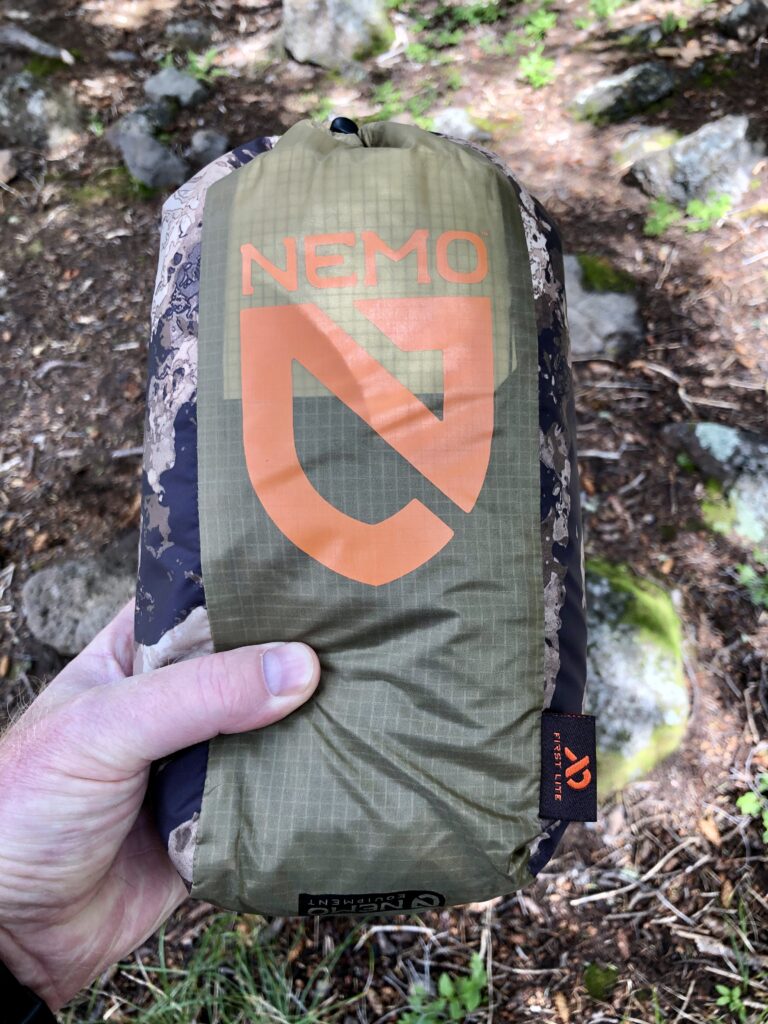 Specifications
Minimum Weight (lb, oz-kg): 1 lb , 5 oz
Packed Weight (lb, oz-kg): 1 lb , 10 oz
Packed Size (in-cm): 11.0 x 5.0 in diameter
Peak Height (in-cm): 42 in
Floor Dimensions (in-cm): 80 x 38/28 in
Floor Area (sq f – sq m): 18.3 sq ft
Vestibule Area (sq ft- sq m): 5.0 sq ft
Canopy Fabric: 30D Sil/Sil Nylon Ripstop (1500 mm)
Floor Fabric: 30D Sil/Sil Nylon Ripstop (1500 mm)
Tent Pole Description: 3 struts 6.3mm poles
Includes 6 Nemo Y Tent Stakes: 0.55 oz
Includes interior light pocket and drawstring stuff sack
First Lite Spike Tent Final Thoughts
If you're a truck camper like me who wants the option to go deeper and spend a night or two on the mountain, or if you are a dedicated bivy hunter who carries their camp on their back for a weeklong elk hunt, I believe the First Lite Spike tent is one of the very best options currently available.
Spike Tent, $250, by First Lite
Related Content: The Ultimate Elk Hunting Gear List
Note: HuntTested may receive a small commission if you purchase a product from the links on this page. This does NOT increase your price and helps to pay for the content you're enjoying. HuntTested did receive product consideration in coordination with this article. All opinions belong to HuntTested.