Suunto Traverse Alpha Watch Review
The word "Suunto", (pronounced "Soon-toh") comes from the Finnish word meaning "direction". My exposure to the company was limited to my Suunto compasses that I've used for years. I always have a Suunto M3 around my neck when I'm in the woods. Suunto's name and spirit are well-reflected in their Traverse Alpha watch. When I was approached to review this watch, I was a little skeptical. I am a long time fan of wearing mechanical dive watches for all my outdoor pursuits, and I simply didn't see a need for a digital watch with hunting-specific functionality. My watch arrived, I charged it up, skimmed the manual and headed to the expansive grouse woods of northern Minnesota to try it out. Here's the review.
Suunto Traverse Alpha Overview
Suunto makes a broad array of sports watches and digital dive watches with application-specific features. The Traverse Alpha has built-in GPS/GLONASS and a variety of functions designed for hunting, (and fishing too). It is also an advanced smartwatch that syncs with your mobile phone to allow you to read text messages and see alerts and reminders.
Suunto Traverse Alpha Observations
Build Quality
Suunto Traverse Alpha watches are handmade in Finland and have been tested against military standards (MIL-STD 810G to be specific) The watches have to pass 19 tests, including vibration, shock, drop, freeze/thaw, rain, humidity, immersion, sand, and dust. It's also waterproof to 330 feet.
Suunto has a video on their website that shows all the stress testing that they conduct on this watch. After watching the durability testing video, I doubt there's anything that I'll do that ever comes close to how Suunto abuses these watches in their testing.
One of my original concerns about the watch was that the watch face would scratch, I later learned that the watch face is made from a quality sapphire crystal, the same glass that high-quality dive watches use. It appears to be very durable and traipsing through the brush and brambles pursuing grouse did not scratch it. This is a rugged and durable watch, to say the least.
Design
The Traverse Alpha is a large watch. The 50MM case size is not for the weak-wristed. With a knurled bezel and military-style band, it looks like the sort of watch that any member of Seal Team Six would appreciate. The watch is constructed from a combination of a stainless steel bezel and a composite case back. It includes a textile strap. The strap is available in a variety of colors and is designed for wear both over a sleeve or directly on the wrist.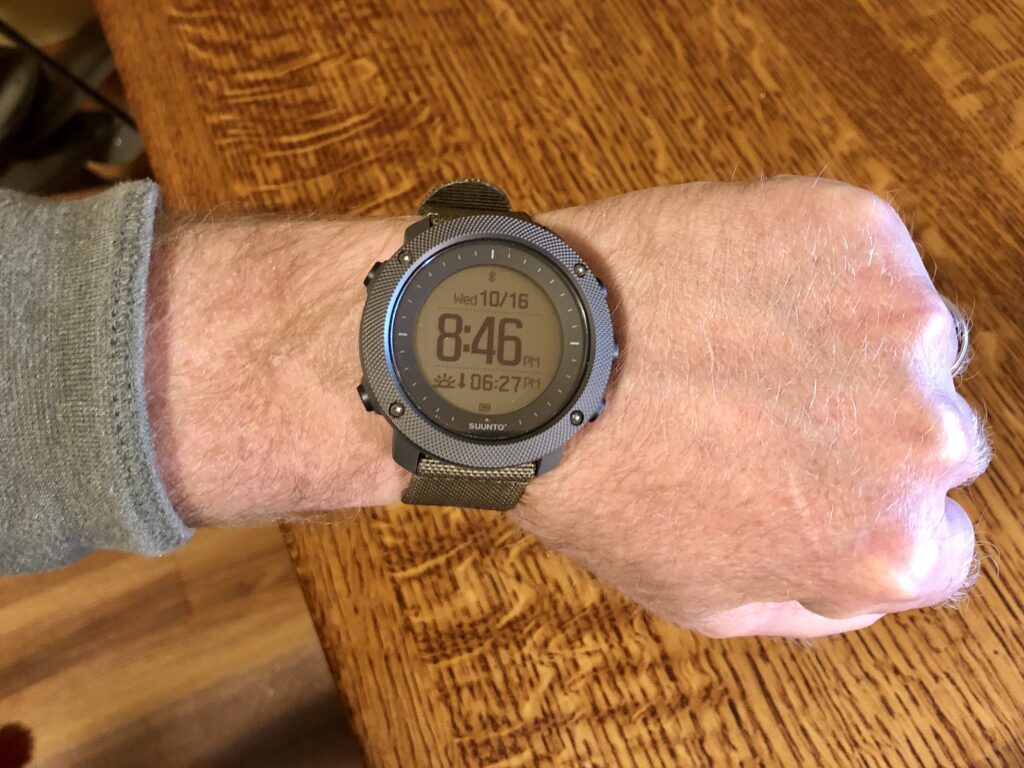 Display
The Traverse Alpha has a large display that my late forty-something eyes appreciate because I can read it without reading glasses. As hunters, sunrise and sunset times often dictate when we can begin and when we have to stop hunting. I love that I was able to customize my display to have it show sunrise and sunset times for my exact location.
Battery Life
The Traverse uses a lithium-ion battery like your iPhone, but the display and the functionality are miserly in their use of power. In my experience after a week of significant use, I still had over a 30% charge. At some point all batteries will fail and need replacement when that time comes, you can contact Suunto for replacement. As the charge frequency is a big factor in battery lifespan, the fact that this watch only needs to be charged once every week or two will help this battery last many years.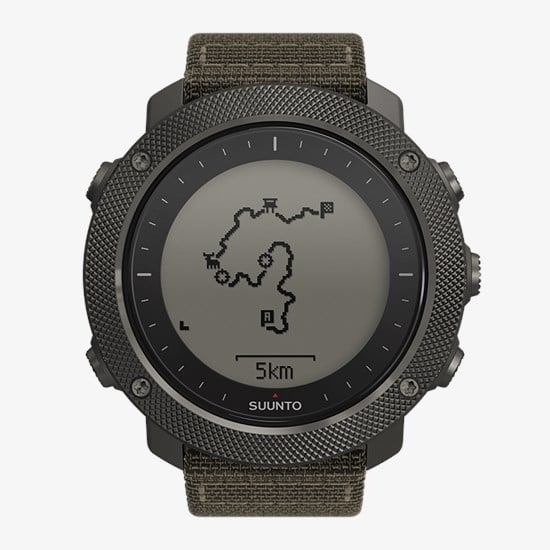 Suunto Traverse Alpha Functionality
The Traverse Alpha has a lot of various functionality. I found that it took me about two days of playing around with the watch to figure out how to customize it to my liking and intuitively use all the features. I'm going to discuss a few of the features that I thought were the most useful.
GPS/GLONASS
The Traverse Alpha includes basic GPS functionality. It's akin to early generation GPS we all used years ago. Basic GPS functions include things like the ability to record waypoints (Suunto calls them POI's), creating a breadcrumb trail and the ability to provide a bearing back to a waypoint.
I initially questioned the usefulness of the built-in GPS/GLONASS functionality. I use the OnX Hunt app on my phone, why do I need a GPS on my wrist? It turns out that having a basic GPS on my wrist was actually pretty useful. While I was grouse hunting, I could mark my truck's location with a simple press of the button and then take off hunting. When it was time to return, I could just glance at my watch occasionally to make sure that I was on the right heading. I found using the watch for simple navigation it was faster and handier than pulling out my phone and opening an app.
Shot Detection
One feature that hunters will appreciate is automatic shot detection. Suunto uses a built-in accelerometer to detect when you fire your gun. When it detects a shot fired, it records a GPS waypoint at the location of each shot. For my grouse hunt, I thought it was very cool to see all the places where I shot at grouse. As a right-handed shooter, one thing I noticed was the watch was not always reliably recording the shot while I was wearing the watch on my left hand. I suspect my loose grip on the forend of my Benelli was not generating enough recoil to register on the watch's accelerometer. Switching the watch to my right hand made for more reliable shot detection and recording.
Smartwatch
The Traverse Alpha also has smartwatch functionality that syncs with your mobile phone. Suunto has an app that connects with your phone and can be used to update the watch's software and has a variety of other functionality. The watch will also display text messages and other alerts that you receive on your phone. I found this feature to be very handy. Where I used to have to pull out my phone to see what the alert was, with the Traverse I can simply glance at my wrist to see if the alert or text requires a response.
Suunto Traverse Alpha Specifications
Measurements 50 x 50 x 15 mm / 1.97 x 1.97 x 0.59 "
Weight 75 g / 2.65 oz
Bezel Material: Stainless steel
Glass material: Sapphire crystal
Case material: Composite
Strap material: Textile material
What's in the box? Suunto Traverse Alpha Foliage, USB cable, quick guide, warranty leaflet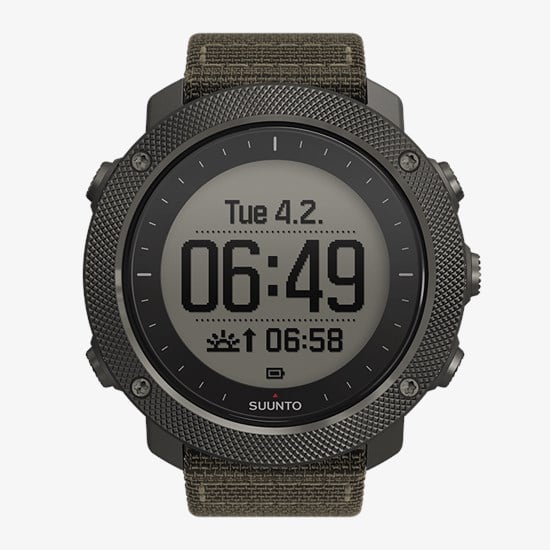 Features
Hiking, Fishing and Hunting modes
Sunrise-sunset times and alerts
Fishing and hunting specific POI types
Moon phases and moonrise/set times
Automatic Shot detection
Red backlight, Night Vision Goggle compatible
GPS and GLONASS for route and POI navigation
Real-time breadcrumb view of the recorded track
Tracking for speed, distance, and altitude
Discover new routes with heatmaps on Suunto app
Route preview and route altitude profile on the watch
100 m/330 ft water resistance
Altitude (FusedAlti™)
Weather trend and storm alarm
Compass
Backlight in flashlight mode
Vibration alarm
GPS time update
Daily, weekly, monthly and yearly activity tracking of steps and calories
Mobile notifications
Compatible with Suunto app (iOS and Android)
Suunto Traverse Alpha Final Thoughts
The Suunto Traverse Alpha is a smartwatch that was purpose-built with hunters in mind. It's a rugged and durable watch and it has features that most any hunter will appreciate. While I was skeptical on the need for a GPS smartwatch at first, after a few weeks of constant use, I am sold on the benefits of this watch. If you're looking for a new watch, this one should be on your list to consider.
Traverse Alpha Watch,$349 by Suunto – Click Here to buy on Amazon
Note: HuntTested may receive a small commission if you purchase a product from the links on this page. This does NOT increase your price and helps to pay for the content you're enjoying. HuntTested did receive product consideration in coordination with this article. All opinions belong to HuntTested.