Using the onX Hunt App on a Smartphone
I generally place hunting gear into three core categories: Gear that is required for your hunt, gear that is nice to have, and gear that fundamentally changes the game. The onX Hunt App is in the latter category. More than anything I've used the last couple of years, nothing has changed the way I hunt more than onX. I've been a user of onX state-specific chips for many years, but for the last two years, I've been using onX Hunt exclusively on my iPhone on all my hunts. The following is a review of using the onX Hunt app on a smartphone.
Enter Steve
To give this review a bit of color, I'm going to introduce you to my cousin, Steve. Steve is a skilled hunter, and he has invested in a lot of quality hunting gear over the years. There's just one problem– He acquired most of it during the Reagan administration. When it comes to things like guns and other long-lasting quality gear, that's just fine. When it comes to electronics, not so much. As we were planning for an upcoming elk trip, I told Steve that he had to download the onX Hunt app before the trip. Steve responded, "Hey, I have a GPS and a compass, I don't need an app, whatever that is."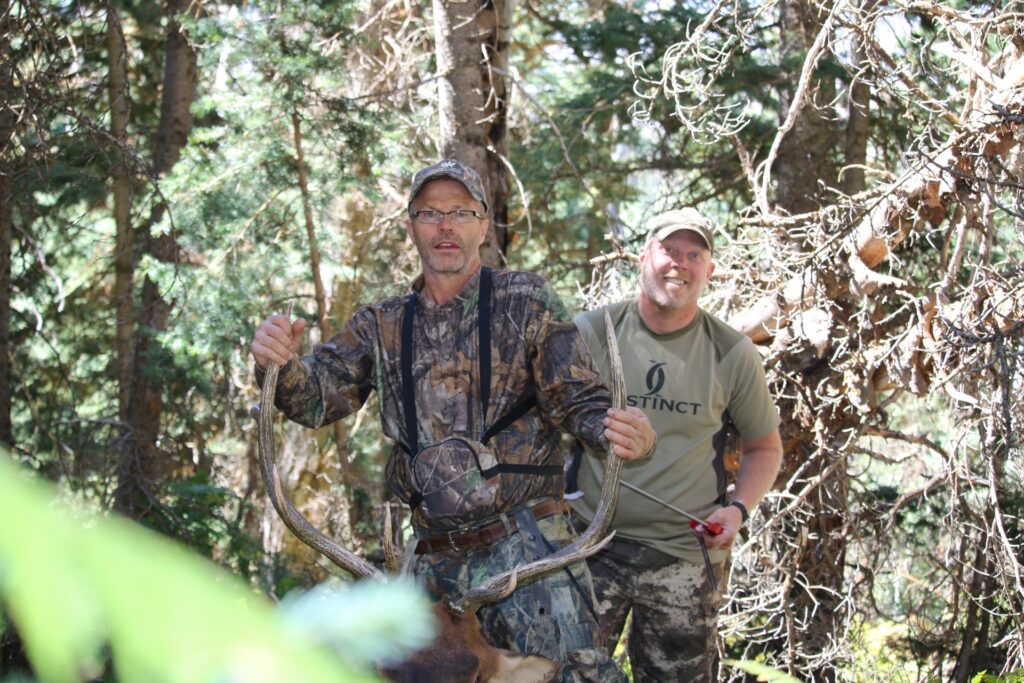 Now to be fair to Steve, he did have an older GPS unit, but it didn't have a map chip. It had a crude base layer map that showed major roads, but most of the time it was a simple blue dot on a white screen. It was useless for anything other than marking the location of our truck; however, I do think Steve's handwritten indicator of North was a nice touch.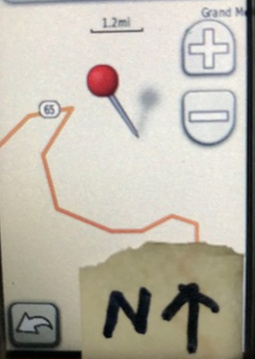 "Hey, let me see the onX"
As Steve and I started hunting, he would look at his white screen with the blue dot, while I would pull out my phone and open my onX Hunt app. When I'm using onX Hunt, I prefer the hybrid view that shows a satellite view with the contour lines of a topo map in the same view. This hybrid view gives you a great sense of the terrain and how steep it is in the area that you're hunting. After viewing my phone's large screen with the rich detail that onX provides, Steve quickly abandoned his old school GPS. I would hear him say, "Hey, let me see the onX," dozens of times on the remainder of our elk hunt.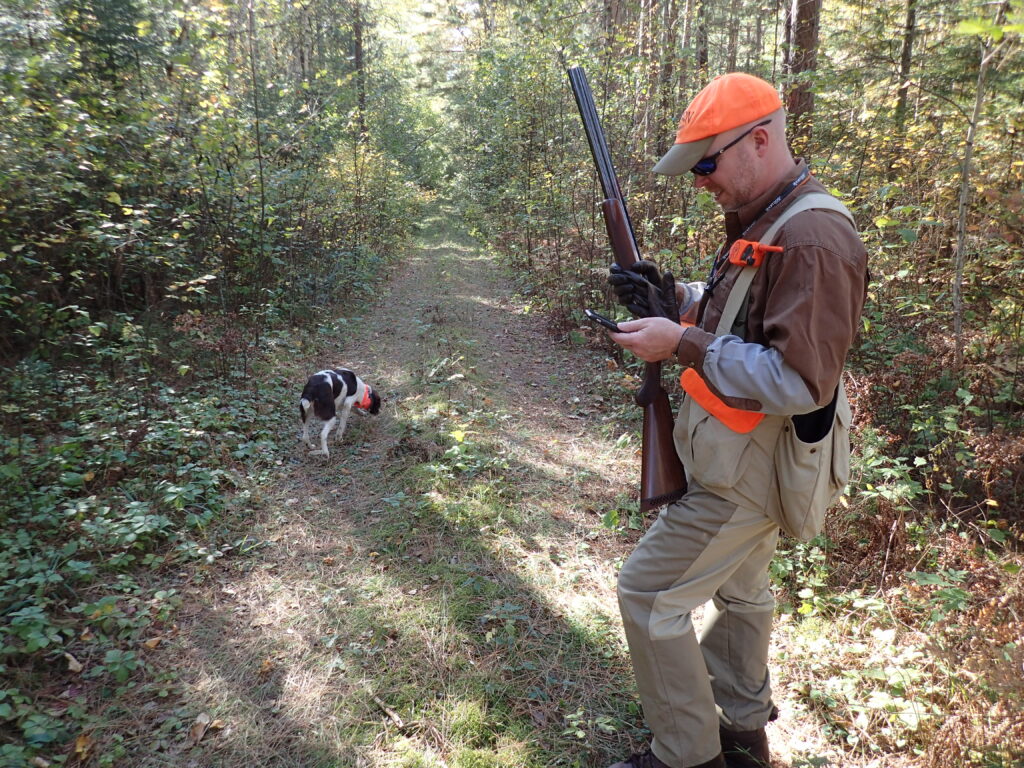 Benefits of Using the onX Hunt App on a Smartphone
In an article from a couple of years ago, I compared using a GPS vs a Smartphone for backcountry navigation. Writing this article inspired me to use the onX Hunt app on my iPhone and I have been doing so exclusively for two years now. For me, using my phone is the clear winner for several reasons that I'll detail below.
Speed
When I use my handheld GPS device, I typically turn the device off when I'm not using it to preserve the battery life. When I want to check my location, I turn the device on and it runs through what I would describe as a "boot-up" process that takes a couple of minutes to get the device operational and then find my location. Unlike my handheld GPS device, my iPhone does not go through a boot cycle that takes minutes. It's instantly on when I hit the home button, and it instantly displays my current location on the onX Hunt app. When you're checking your location regularly throughout the day, this speed is a significant benefit.
Larger screen size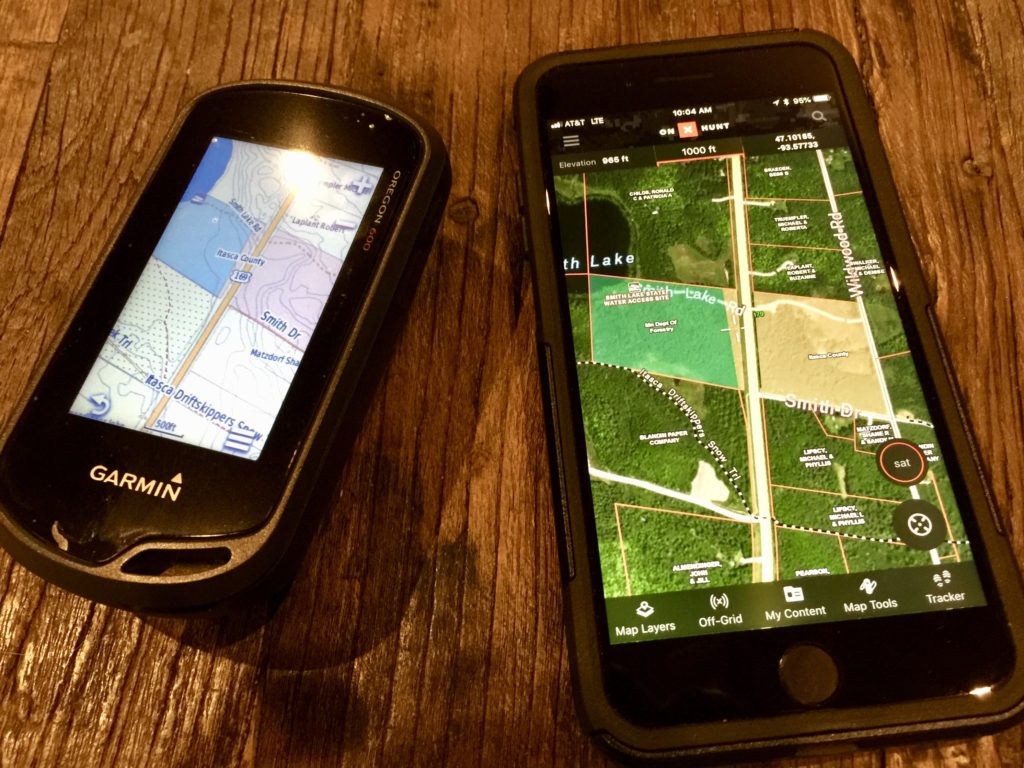 The larger screen size of modern smartphones is a significant advantage over most dedicated GPS devices. The amount of detail and the ability easily to zoom in and out made the phone the clear winner for me.
Syncing with onX account on your desktop
As an early adopter of GPS, I have marked many waypoints over the years. Most have been lost when I replaced an aging unit with a new one. After you download the onX App, your first step will be to create an account that gives you access to the Web version that you can access from your desktop. Your waypoints and notes will sync data back and forth between your phone and onX account. If you ever closed your account, it would be easy to download and save all your stored waypoint information.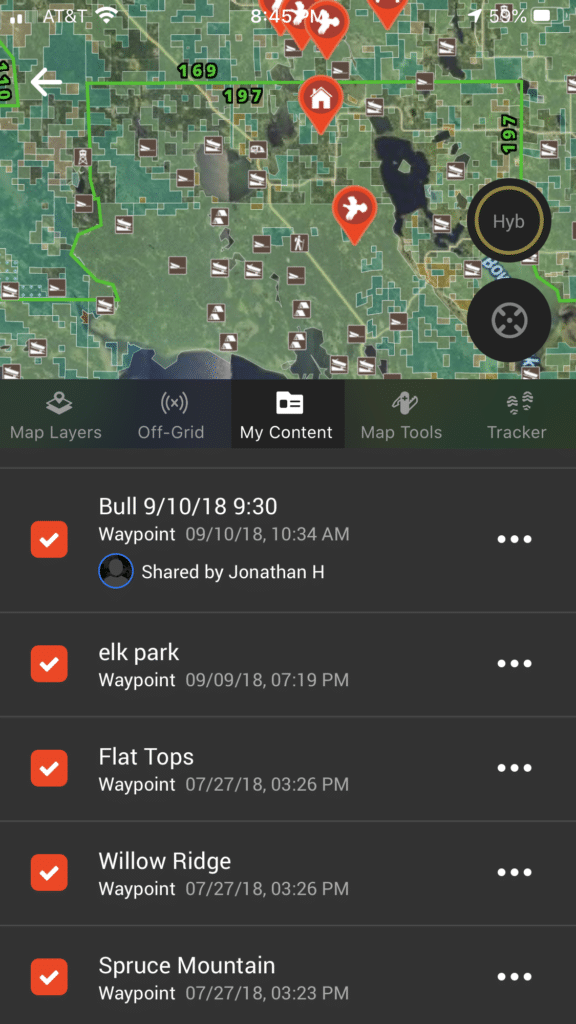 I also spend a fair amount of time "e-scouting" by looking at the map and various data overlays on my large desktop screen. I mark locations that I want to check out and even take notes that are all then instantly available in the app on my phone. It's been an invaluable tool for planning my hunts. For more on specific e-scouting tactics, Randy Newberg did an excellent video series on e-scouting for elk that is worth checking out.
Map Tools and Layers
There are multiple map tools and layers available in the app that vary slightly by state. Typical layers in western states include private land (with current ownership information) public lands, GMU boundaries, wildfire, and logging activity. Map tools include the ability to measure distance, measure an area, add waypoints with notes, and even add a photo. I find myself frequently using the ability to measure the distance between my location and a point on a map.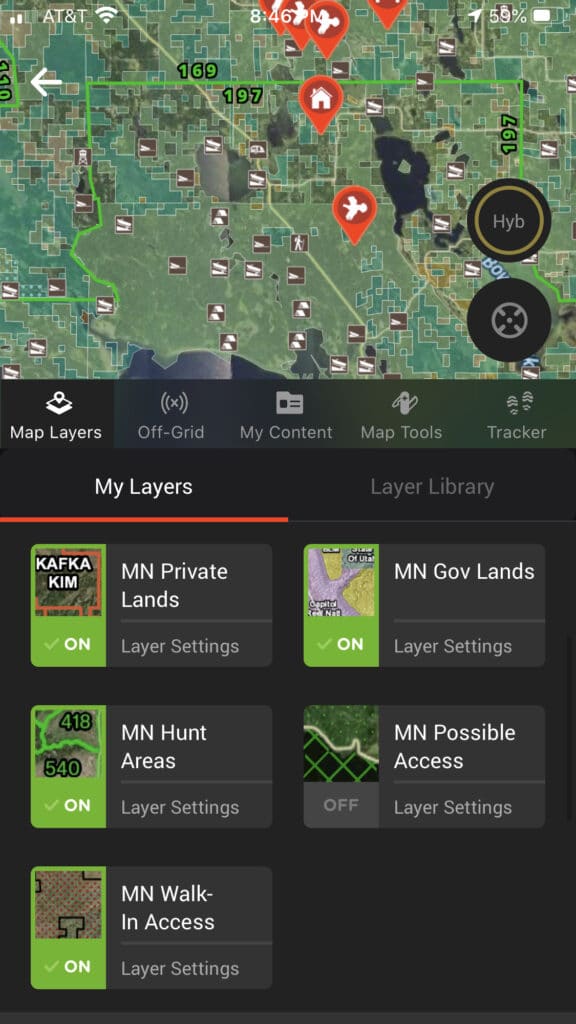 Cost
I've purchased several dedicated GPS devices over the years at significant cost and then purchased chips at $100 apiece for each state that I wanted to hunt in. The chips would then require updates on an annual basis to remain current. I always found this process to be rather clunky and as a result, rarely did it. The pricing for the onX Hunt app is either $29.99 per year for Premium (data for 1 state of your choice) or $99.99 per year for Elite (data for all 50 states).
Ability to share waypoints
A waypoint is 7 digits that indicate the latitude and 7 digits that indicate longitude. The intersection of these two lines is the waypoint. Before the sharing of waypoints involved writing down the 14 digits and having to manually key them into your GPS, with the onX Hunt app, it's as simple as pulling up the waypoint and choosing to text it to a friend. I also appreciate the ability to manage my waypoints in the desktop app.
Intuitive controls
Like it or not, most of us are using our smartphones dozens of times a day. We are intimately acquainted with their operation and control. Using the phone is intuitive and onX takes advantage of this fact. Within a couple of days of playing around with the app, you will have mastered all of the basic features and use.
Managing battery life
When I am using the onX Hunt app, I place my phone in "airplane mode". This greatly extends your battery life by preventing your phone from constantly searching for a signal. The GPS chip in your phone still tracks your location just fine in airplane mode. I've found that I can get about two days of battery life if I'm only checking my location periodically in airplane mode. The other battery life tip is to close all your apps so they are not working in the background. In my daypack, I always carry a portable backup charger. I've had good luck with this model from Anker. I can recharge my phone three times on a full charge with this unit.
Pro Tip: Be sure to download the maps of the areas you will be hunting while you're at home with a good WiFi connection. While the app will still work without cell coverage, it won't be able to render maps without a connection to the internet so you need to download them to your phone in advance.
Using onX Hunt App on a Smartphone Final Thoughts
The moral of the story is, don't be like cousin Steve. Get your own onX app. I can honestly say that it's changed the way that I hunt the backcountry. I have a better sense of where I am at all times, and that's given me the confidence to go deeper and explore new territory, ultimately making me a more effective hunter.
Epilogue: At the time of publishing this article, cousin Steve finally broke down and purchased his own onX Hunt App that he'll use on our archery elk hunt this fall. This was a big deal for Steve, as he's the sort of guy who will bring one pair of clean underwear and a crisp 20 dollar bill on a hunting trip and not change either one. Well done Steve!
You can get your own onX Hunt App in the Apple or Android app store, or you can sign up on the desktop version at onX Maps.
Related Content: GPS vs Smartphone for Backcountry Navigation
Note: HuntTested may receive a small commission if you purchase a product from the links on this page. This does NOT increase your price and helps to pay for the content you're enjoying. HuntTested did receive product consideration in coordination with this article. All opinions belong to HuntTested.