The Ultimate Mule Deer Hunting Gear List
Mule deer and black-tailed deer (Odocoileus Hemionus) can be found throughout western North America. They enjoy a broad range from the coastal islands of Alaska, down the West Coast to Southern Baja Mexico and from the Northern border of the Mexican state of Zacatecas, up through the Great Plains to the Canadian provinces of Saskatchewan, Alberta, British Columbia, and the southern Yukon Territory. While there are many ways to hunt Mule Deer, the most common is the "spot and stalk" style hunt. HuntTested's Ultimate Mule Deer Hunting Gear List is designed around the gear you need for a classic spot and stalk hunt of the majestic mule deer buck.
Spot and stalk is my favorite form of big game hunting. I think I prefer it both because it's active and it requires more skill on the part of the hunter. Any hunter can kill a trophy whitetail if they have access to the right piece of private property and they are patient. Sit there long enough, a nice buck will walk by within rifle range. A spot and stalk hunt requires a good degree of physical fitness, the ability to locate your game, and the ability to get close enough for a shot. There are a lot of moving parts to spot and stalk hunting. As we're looking at gear for our mule deer hunt, we're going to make three big assumptions:
This is a DIY hunt on public ground.
You're staying in a nearby hotel (if you're camping obviously plan your gear accordingly).
You're hunting with a rifle.
Mule Deer Optics
In a western mule deer hunt, your optics are critical. You're not going to stalk anything if you don't spot it first. I tend to favor binoculars over a spotting scope primarily due to ease of access and weight. I've long thought that your binoculars are a foundation piece of gear for a hunter. You'll use them more than almost any other gear you own, and if you buy a quality pair you'll be handing them down to the next generation. For mule deer hunting I recommend a pair of 10X42 binoculars as the best all-around choice. Here are some great models to consider at each price range.
Binocular Options:
Budget Options – Even budget glass is good quality today.
Mid Range – There are a lot of great choices in mid-range priced binoculars. Here are my top three choices:
High End – There are no bad choices here. Swarovski tends to be the gold standard. Check out their SLC model or flagship EL's.
Whichever optics you choose, you can add to their utility and protect your investment with a Bino chest pack. Check out the models by Alaska Guide Creations. I also carry my wind indicator and rangefinder in my bino case.
Rangefinder:
A good rangefinder is a critical piece of gear for mule deer hunting. Given Vortex's amazing warranty, their Ranger 1300 model is a great choice at $300.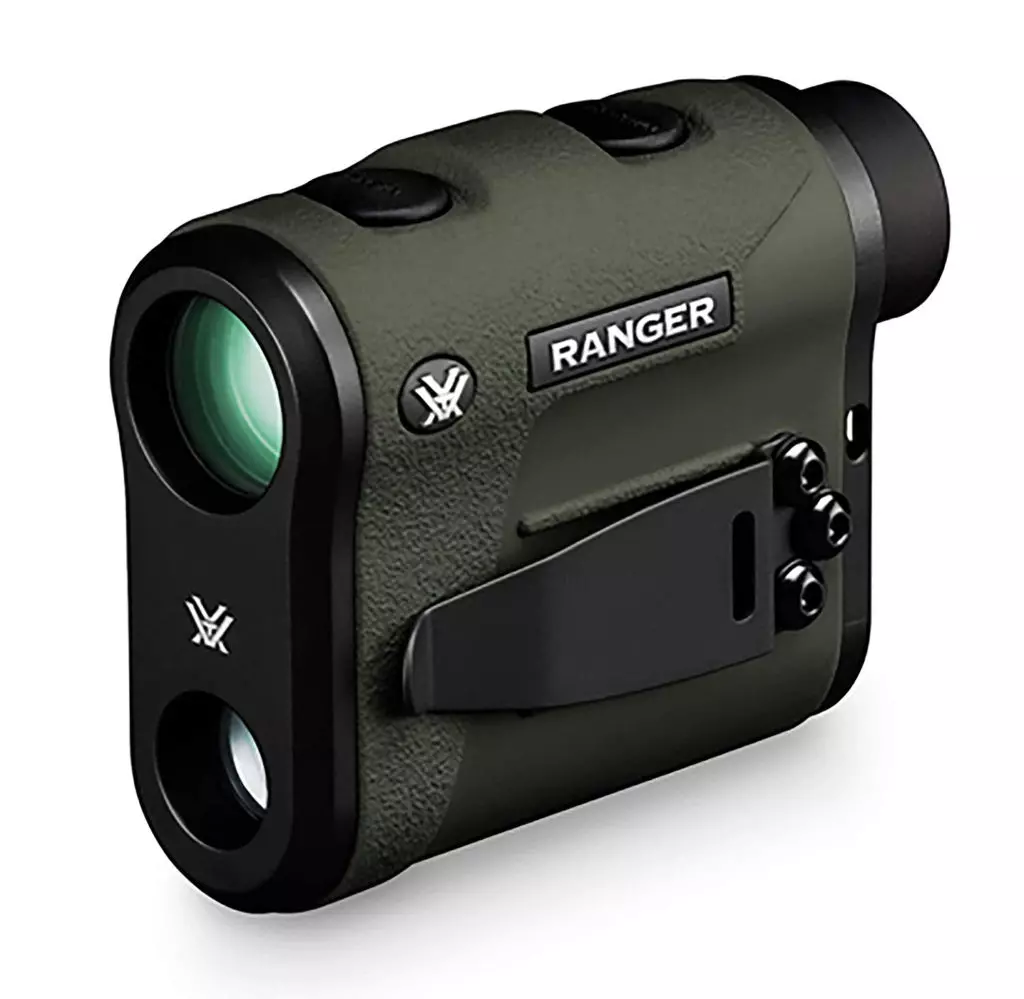 Daypack
As we're not camping on this hunt our daypack only needs to carry the items we need in the field. The Mystery Ranch 6400 Marshall pack is was certainly overkill as a daypack, but the nice thing is it's expandable and more than capable of carrying out mule deer quarters so there's no need to hike back for your frame pack. Here's what to carry in your pack:
Black Ovis Sacks Lightweight Game Bags
Surgical gloves
Havalon knife or your favorite skinning knife
Hand sanitizer
License & hunter's safety card
Streamlight Headlamp
Streamlight Protac Flashlight
Extra Batteries
First Aid kit
Nalgene water bottle or, my preference, a hydration bladder
Extra boot laces
Extra socks
Fire (Bic, fire steel, matches. (container with petroleum jelly cotton)
Leatherman
Marking Tape
Miss Muley Decoy by Montana Decoy (Use with Caution on Public Lands)
Map and Compass
Moleskin (for blisters)
MT050 rain gear (By Cabelas)
Paracord
Toilet paper
Wallet
Water bottle and Lifestraw
Wind indicator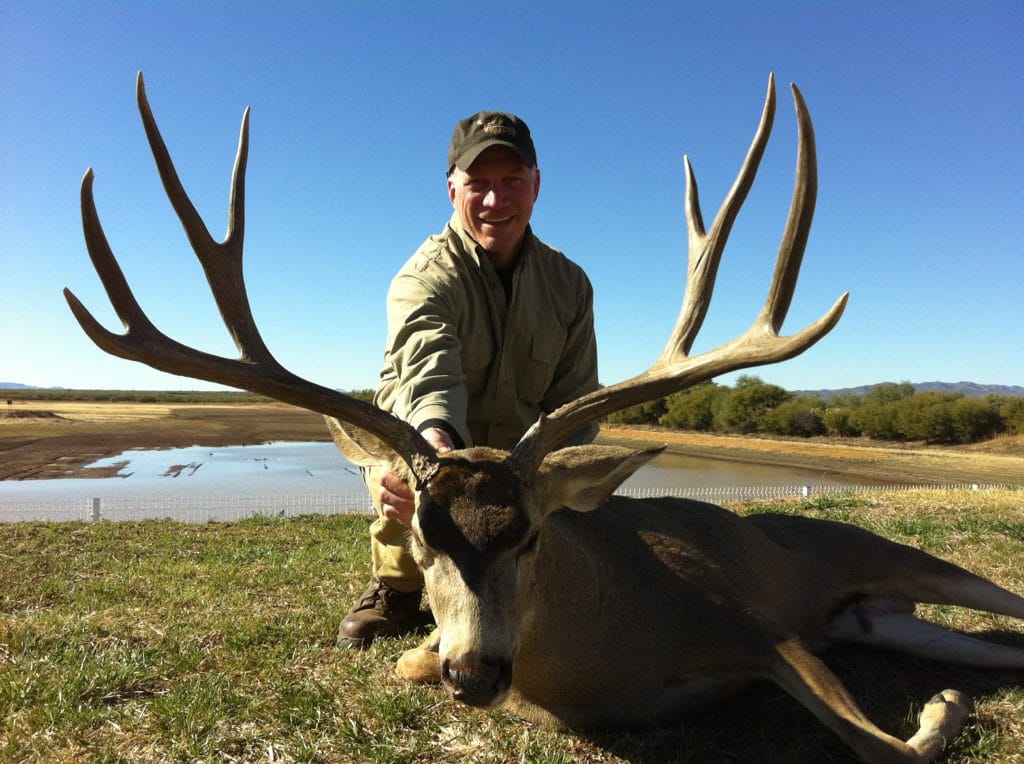 Guns and Ammo
Mule deer live in big country. If you're hunting with a rifle anything from a .270 to a 300 Winchester Magnum will do the trick. Bolt actions are the most popular type of rifle action for mule deer hunting and all the major manufacturers make quality bolt guns today. According to my gunsmith, the Tikka T3 is a terrific combination of price, quality, and accuracy and worth checking out. The 6.5 Creedmoor, with its flat shooting long range accuracy, is rising in popularity for western deer. Given the opportunity for long shots, hunters will want either a bipod attached to their rifle or shooting sticks, which are my preference.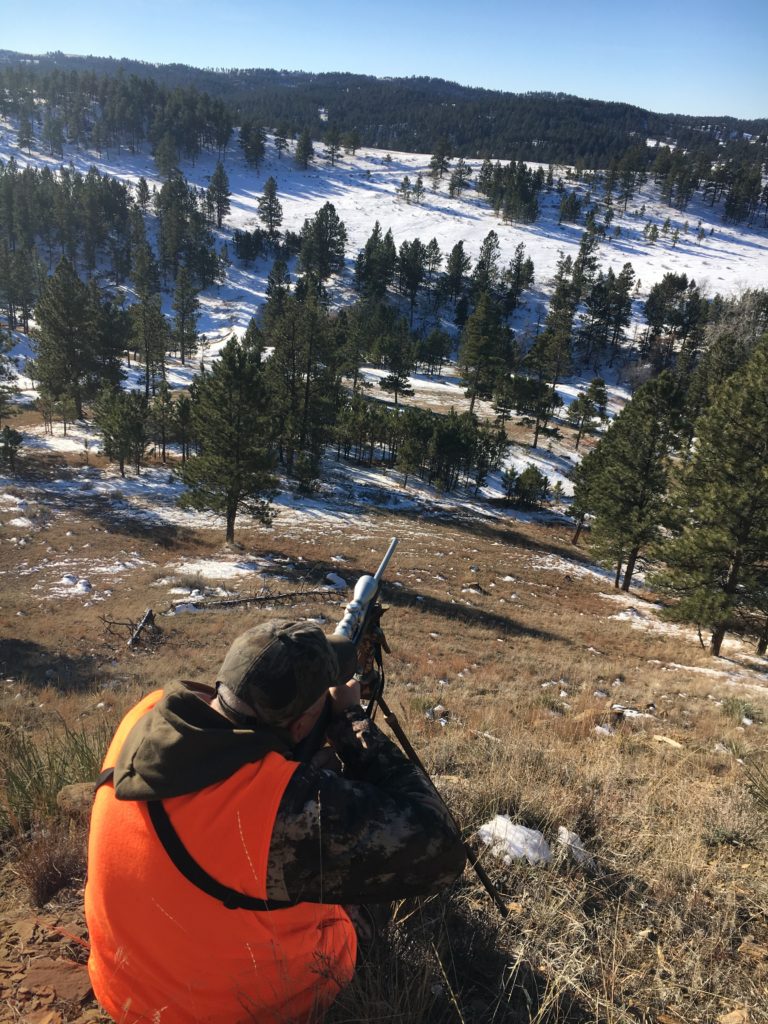 Clothing
The time of year and location will dictate your clothing choices. Here's a clothing list that will work assuming a November or December hunt in western states:
Belt
Blaze orange vest
Boots x2 (I really like Cabelas Meindl Denali and Danner Alsea boots for Mule deer)
Dirty clothes sack
Fleece vest for layering
Gaiters
Gloves
Hats (Baseball style and a warm stocking hat)
Hiking socks (A pair for each day of your hunt)
Hunting pants (two pairs are plenty for a weeklong hunt) Check out the Obsidian Pant by First Lite.
Hunting shirts long sleeve (two is plenty for a weeklong hunt)
Insulated hunting jacket – (First Lite's Uncompahgre Jacket is warm and lightweight)
Lightweight hunting jacket
Long Underwear (two pairs are plenty for a weeklong hunt)
Non-cotton underwear (A pair for each day of your hunt)
Rain gear (in my daypack)
Clean street clothes and shoes for in town and for the ride home
Pro Tip: Be sure to check the Blaze Orange requirements for the state that you're hunting.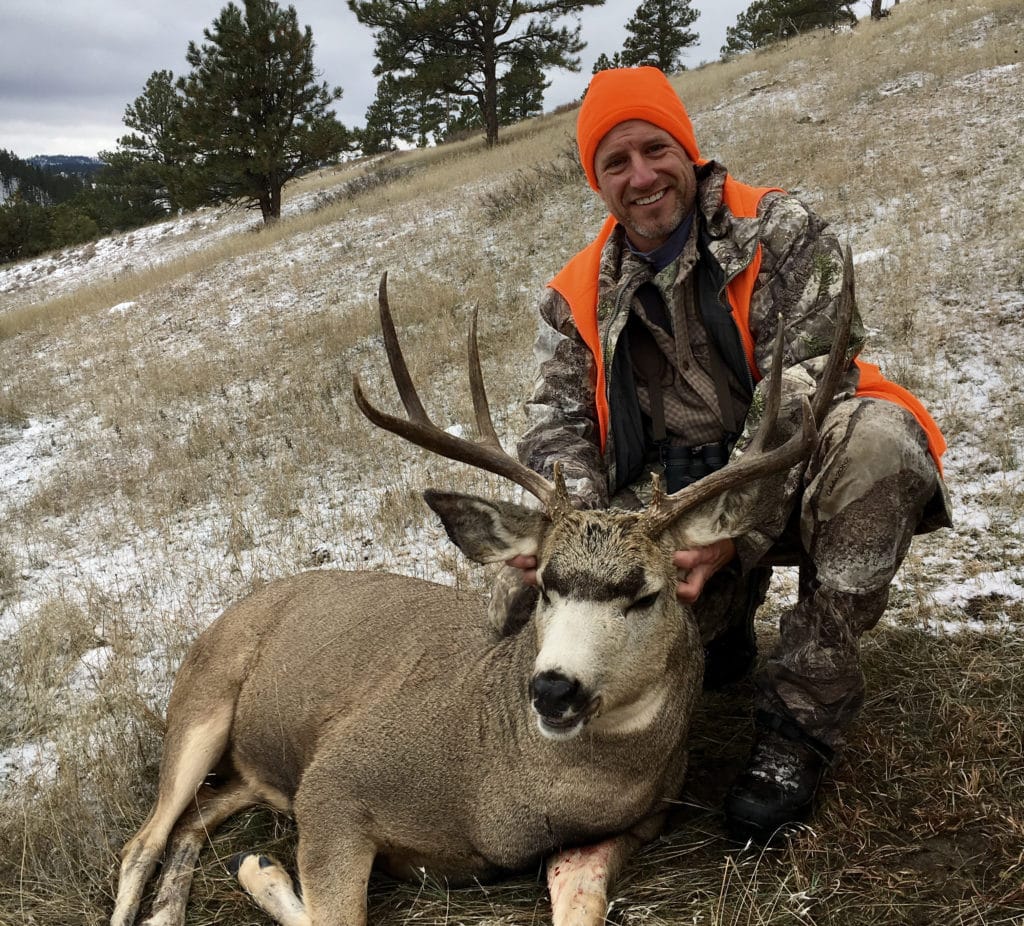 Truck
If you're hunting from your truck, there are a few additional items that you'll want to have on hand.
Coolers for quarters or processed game. You can fit a quartered mule deer in a 120-quart cooler.
Game cart (useful if you prefer to not quarter your animal in the field)
Navigation 
The last piece of essential gear was my onX Hunt app that's on my iPhone. I've been using the onX App on my phone exclusively for the last couple of seasons now, and it's amazing. I cannot see ever buying another dedicated handheld GPS unit. Having the ability to accurately determine where you are at all times in the BLM checkerboard of the West, and being able to do so without cell coverage is a game changer. I also carry topo maps of the area that I'm hunting from MyTopo.com as well as a compass.
There are numerous opportunities to hunt mule deer across the western states. Hopefully, this article has given you some ideas to consider when you're planning your next mule deer hunt. Good Luck!
Related Content: Hunting Mule Deer in Nebraska's Sandhills
Special thanks to HuntTested Contributors, Mike Paul and Jeff Boehler for photo submissions for this article.
Note: Hunt Tested may receive a small commission if you purchase a product from the links on this page. This does NOT increase your price and helps to pay for the content you're enjoying.