Hunting Mule Deer in Nebraska's Sandhills
Growing up and living in Minnesota, mule deer, like all western big game, have always held a certain mystique to me. Hunting mule deer had been on my hunting bucket list for a long time, but it was one of those hunts that I never quite got around to. It either didn't work with my schedule, or I didn't make it a priority. I don't know what the catalyst was, maybe it was the growing awareness that our time here is finite and we cannot take the future for granted. I made the decision and made mule deer hunting a priority. Now the question was, where to go and when?
After much deliberation, my dad and I decided on hunting the muzzleloader season in the Sandhills of Nebraska. Our decision was based more on advantageous season dates and the fact that it's an over-the-counter tag than any specific knowledge of the area.
About Nebraska's Sandhills
According to the University of Nebraska Extension Center, the Nebraska Sandhills consists of almost 20,000 square miles of sand dunes that range 265 miles across northern Nebraska. The Sandhills are the largest dune formations in the Western Hemisphere. The dunes can be as high as 400 feet, as long as 20 miles, and slopes as steep as 25 percent, The large sand masses that were formed by blowing sand are now held in place and stabilized by vegetation that consists mainly of grasses.
I found the Sandhills to be a beautiful terrain that offers miles and miles of country to explore. I've always been the sort of hunter who thinks that whatever is over the next hill is worth investigating. If you enjoy an active hunt, you'll love hunting mule deer in the Sandhills.
It will be an Adventure
My catchphrase is, "Come on, it will be an adventure." That's my attitude for most scenarios and that was certainly the case with this hunt. The day we were set to leave, a major blizzard descended on the Dakota's and Minnesota. My dad and I got stuck in my driveway as we were trying to leave my suburban Twin Cities home. Not a good omen for things to come! Once unstuck, we drove my truck pulling an enclosed snowmobile trailer with my ATV inside.
The conditions continued to deteriorate and Interstate 90 was closed due to the weather, west of Chamberlain. We would take back roads from there. After hours of white knuckle driving, we decided to stop for the night in Valentine Nebraska, I've never been so glad to stop driving.
Arriving at the Ranch
The conditions were still bad when we left for the ranch where we would be hunting the next morning. As we got closer we noticed that the power lines were covered in ice. As we were just about to the ranch, we noticed that the road into the property had a section that looked like it was flooded and iced over. I got out and walked it. It looked passable or, so I thought.
As soon as I drove to the middle of the frozen section, my truck and trailer broke through the ice and rested on the truck's frame. It was much deeper than I thought and we were epically stuck. After about 3 hours of laying under my truck digging with an E-Tool, my dad and I were cold and wet. We were in the middle of nowhere, with no cell service. We were contemplating spending a cold night in the cab of my truck. I left the truck and walked to the ranch to see if they could offer help. There I found the old woman who ran the establishment was covered in quilts, she had been without heat, power, and a phone for three days due to the storm. We needed a plan B.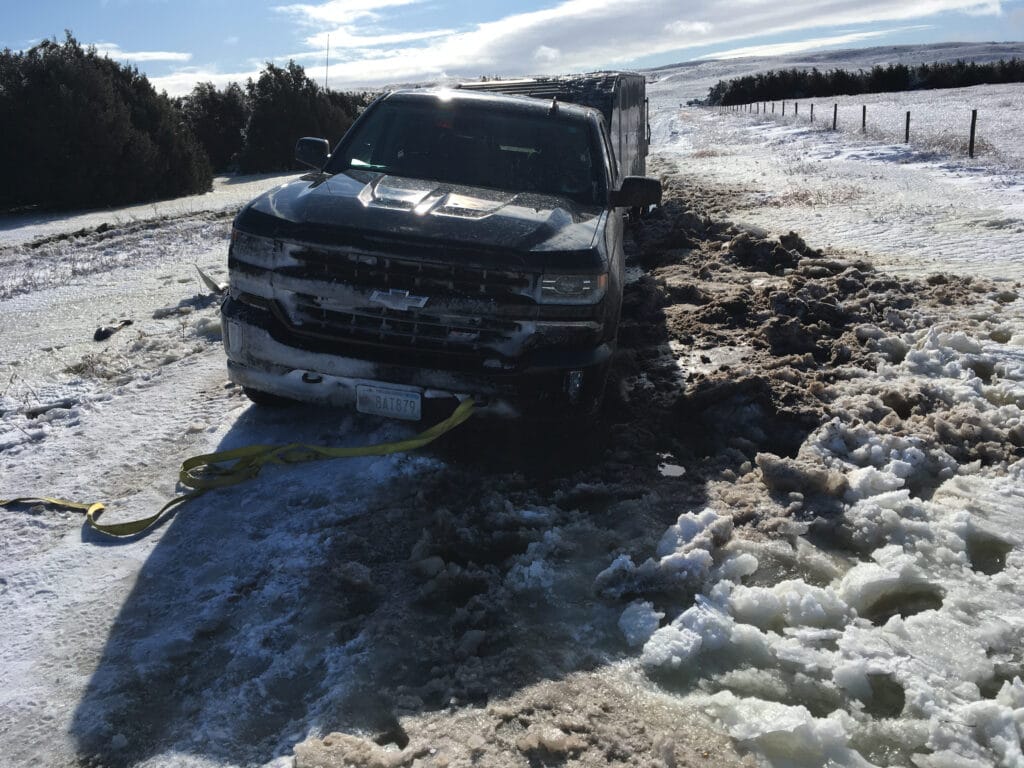 We decided to unload my ATV and go find help. It was a cold seven-mile ride to the nearest ranch. I found the rancher and he agreed to pull me out and rescue the old woman who ran the ranch. He pulled up with an old one-ton Ford truck with a round bail loader on the back. It was no easy feat to get us out, but after he did, we offered payment for his trouble. The Rancher refused payment offering, "I'm sure you'd do the same for me if I was stuck". Then he offered, "So, you guys are hunting mule deer? You should come over and hunt at my place, there's a big buck who has been raising hell with my cedars trees." It turns out, getting epically stuck would help me get my first mule deer buck.
Our Mule Deer Hunt Begins
Now unstuck and early afternoon, we changed out of our wet clothes and began hunting. I imagined the hunt would be a lot of sitting on vistas with binoculars looking for deer. And maybe there are parts of the Sandhills where that's the case. In the area where we were hunting, the hills were such that you could pretty quickly glass the area, and if there were no deer you had to hike over the next hill for a new view. We saw a mix of whitetails and muleys that first afternoon.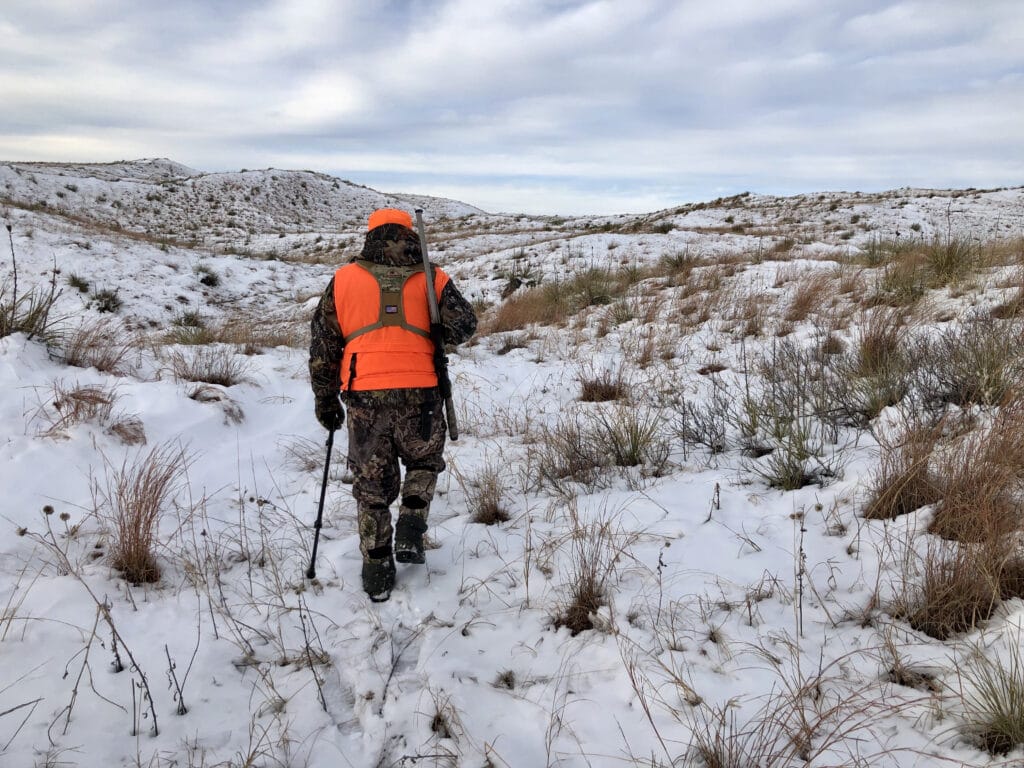 The Cedar Draw Buck
The next morning Dad and I decided to check out the cedar draw on the Rancher's property. We agreed to slowly walk on either side of the draw. At the halfway point, a nice 4×4 muley buck walked out into the open at the far end of the draw, about 90 yards from where I was standing. I leveled the crosshairs of my Thompson Center muzzleloader and squeezed the trigger. The 250 grain TC Shockwave bullet dropped the buck in its tracks.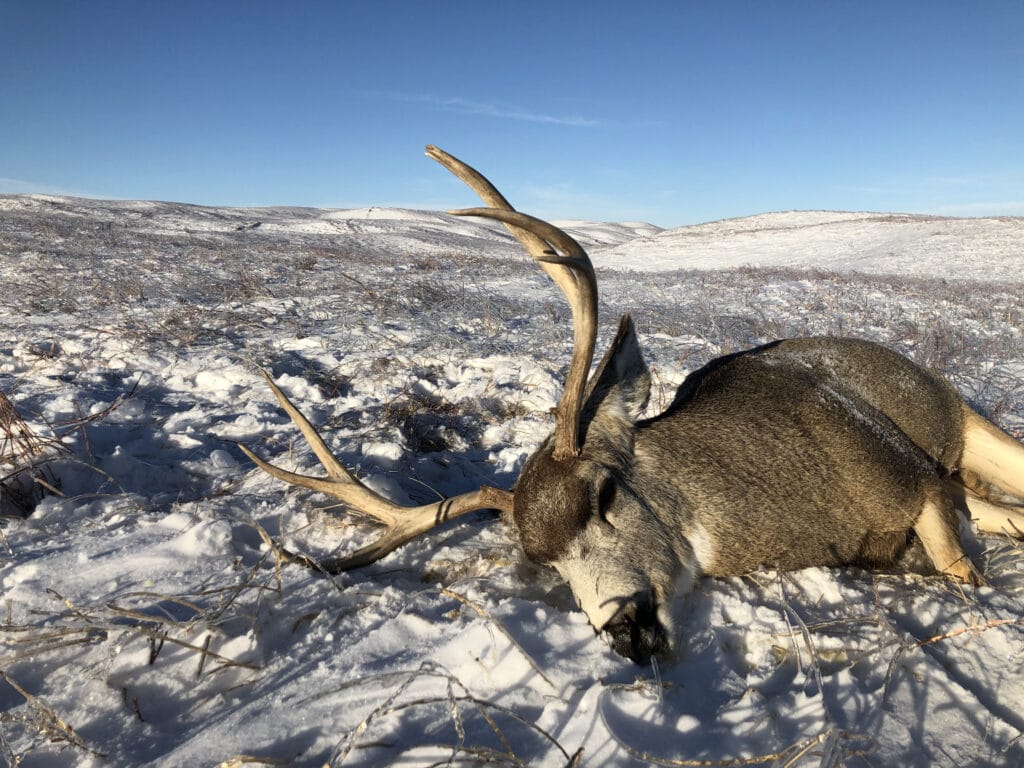 For the remaining days of our hunt, we were surprised to see a number of very nice whitetail bucks and several smaller muley bucks. On our last day, my dad put a stalk on an old muley buck with a heavy, gnarly rack. After tracking the buck over several draws, he crept in close enough for a shot to end our hunt.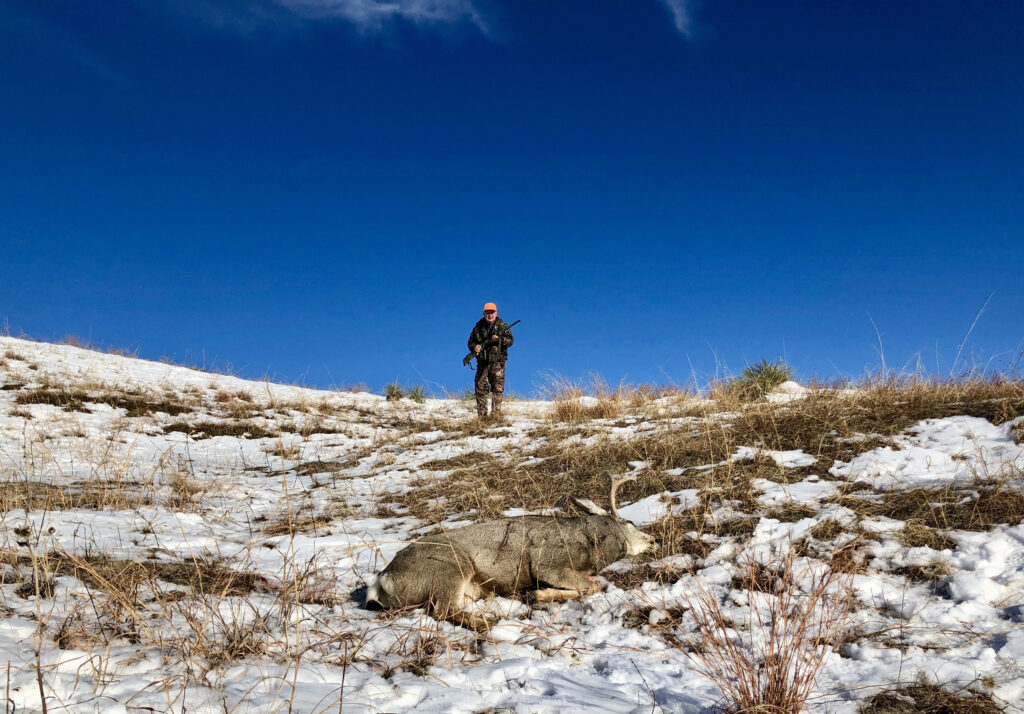 Sandhills Mule Deer Hunting was an Adventure
I found the Sandhills of Nebraska to be a uniquely beautiful landscape that is an absolute pleasure to hunt. If you enjoy an active spot and stalk-style hunt, hunting mule deer in the Sandhills of Nebraska is definitely a hunt you should consider.
For me, it was a spectacular trip. It was great to get a couple of nice bucks and a pleasure to hike those hills. The blizzard, getting epically stuck, and meeting the helpful rancher all added flavor to the experience of the trip. It was indeed an adventure and another trip with my dad that I'll never forget. The future is not guaranteed, someday is not certain, make that special trip a priority today. You'll be glad that you did!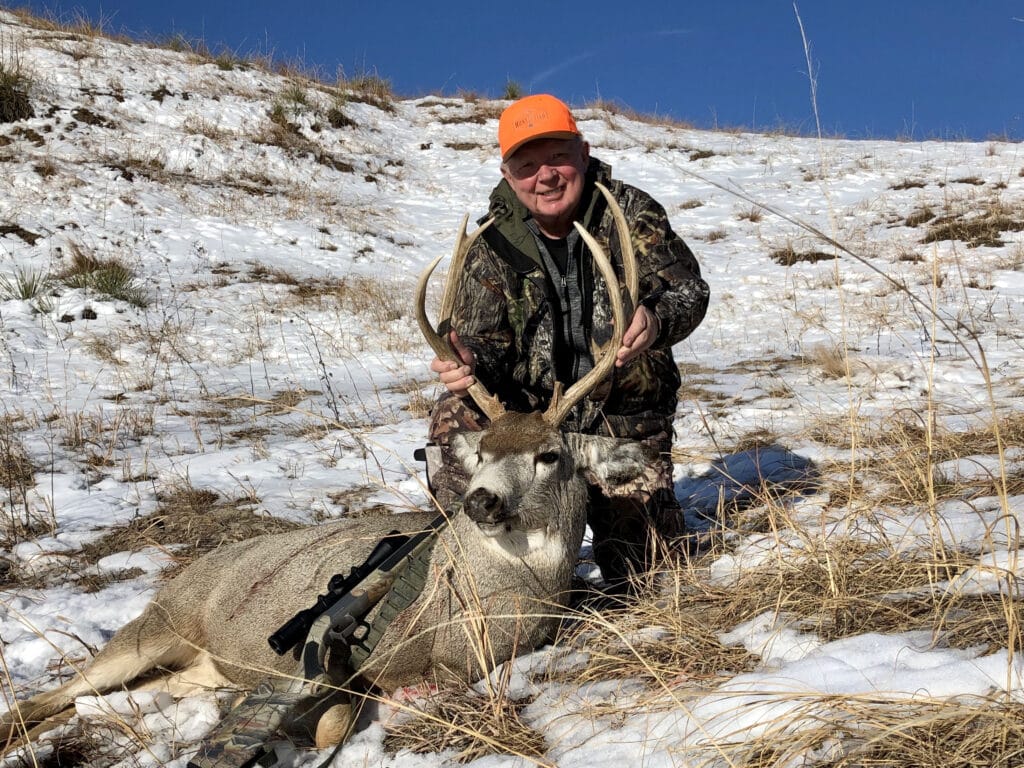 Tips for Hunting the Sandhills
Most states have their own requirements about transporting deer into the state. Research the requirements of your state before you go. In our case, we had to quarter our deer prior to bringing them back to Minnesota and could not bring the skull cavity back into the state with any brain material. A 100-quart cooler is a perfect size for a quartered mule deer.
The majority of the property in the Sand Hills area is private land. Secure permission before you go. I booked a "Trespass Fee" style hunt where we paid the landowner a fee for permission to hunt on their land. onX Hunt was indispensable for both researching where to hunt and for using it while we were in the field.
You'll want more land access than you think you'll need. In Minnesota, we measure whitetail properties in 40 or 80-acre chunks. We thought that 5,000 acres would be an overabundance of land for our mule deer trip. I was surprised how quickly you can cover 5,000 acres in the Sandhills. Secure access to as much good hunting ground as you can.
Related Content: The Ultimate Mule Deer Hunting Gear List
Note: HuntTested may receive a small commission if you purchase a product from the links on this page. This does NOT increase your price and helps to pay for the content you're enjoying. HuntTested did receive product consideration in coordination with this article. All opinions belong to HuntTested.