Napier Backroadz Camo Truck Tent – Review
The idea of a truck tent is compelling. A flat sleeping surface that's up off the wet ground and free from nocturnal visits from pesky mice. I have friends who have used these truck tents for years and raved about them, so I was excited to try one out for myself. I had the perfect opportunity on a May weekend in Northern Minnesota, which offered both rain and a couple of light snow flurries to put the Napier Backroadz Truck Tent to the test.
Napier Backroadz Camo Truck Tent – Set-Up
The Napier Truck Tent is well-designed and is made for your specific truck size, so make sure you order accordingly. In my case, the fit for my half-ton Silverado was quite good. Setting up the tent the first time took me about 20 minutes. This included the initial unboxing and a little learning curve. Once you've set it up once or twice, I would expect it to take 10-15 minutes total to set up the truck tent.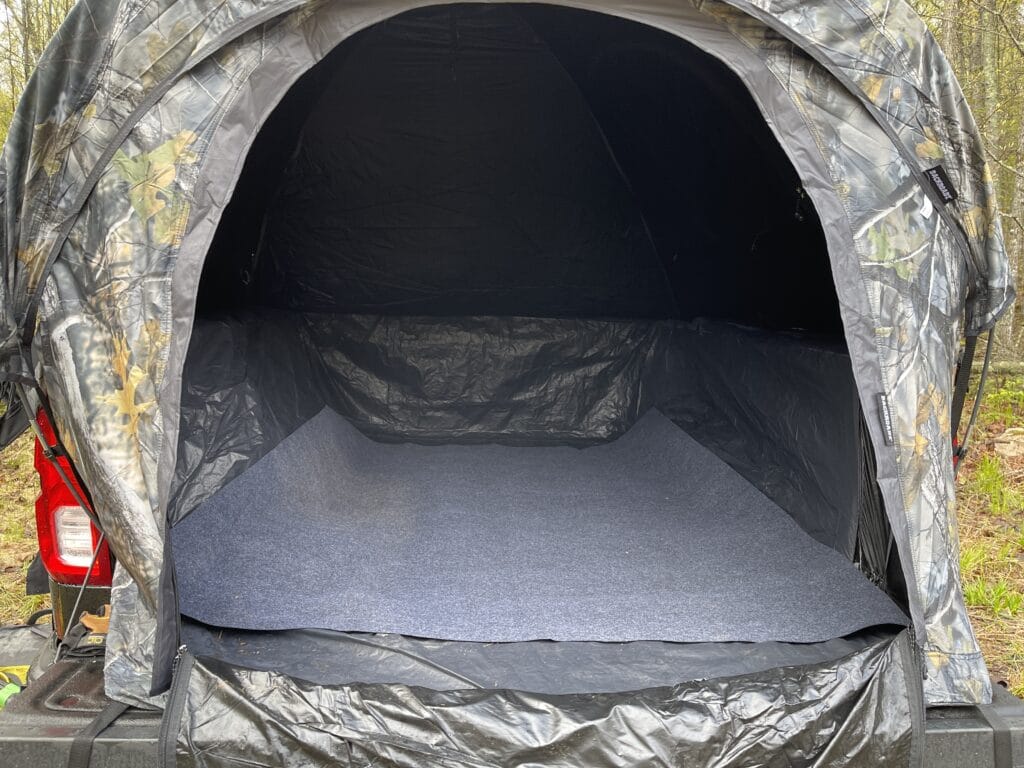 Napier Backroadz Camo Truck Tent – Use Case
The only downside I can think of for this truck tent is once it's set up, you cannot use your truck. In my case, I see this tent being ideal for a western elk hunt where space is at a premium and we use ATVs to reach our core hunting areas. In this case, once we reach camp, our trucks are parked for the duration of the hunt and become our base of operations.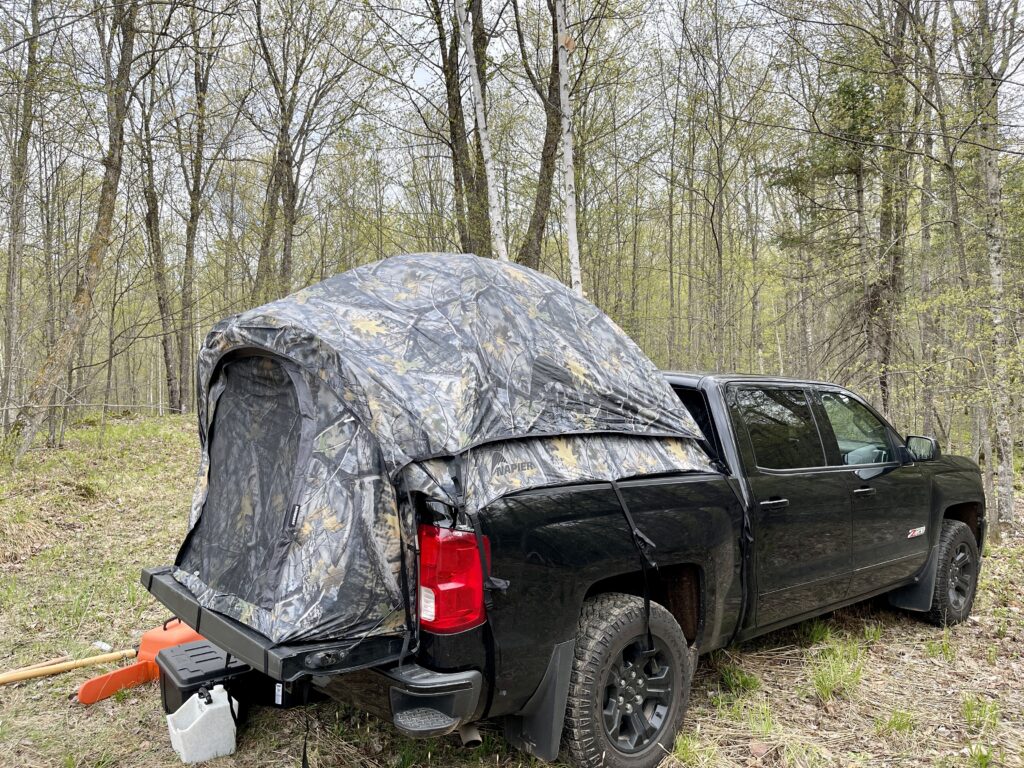 Napier Backroadz Camo Truck Tent – Observations
After using this tent for a long weekend, I can see why my friend's like them. I found that the tent had great headroom and enough height for me to sit up straight with my back against the rear bed. There was plenty of room to kneel and move around with ease. I appreciated the sturdy lantern hook to hang my Streamlight Seige LED lantern, which provided all the light I needed. The tent also provides a clip-in gear loft for storing items or in my case for drying wool socks, (it turns out I had a hole in my waders). An unexpected benefit is the top of the truck bed makes a nice shelf for a book or your phone.
Napier Backroadz Camo Truck Tent – Specifications
| | |
| --- | --- |
| Capacity | 2 Persons |
| Dimensions | Truck model dependent |
| Center Height | 4.8′ – 5.2′ |
| Weight | 15 – 16lbs |
| Color | Camouflage |
| No. of Doors | 1 |
| No. of Windows | 2 |
| No. of Poles (Tent) | 6 Shock Corded Fiberglass |
| No. of Poles (Awning) | None |
| Storm Flaps | Yes – Windows & Doors |
| Water Proofing | 800mm PU Coating |
| Wall and Roof Material | Polyester Taffeta |
| Window Material | Polyester Mesh |
| Floor Material | Polyethylene |
| Rainfly Material | Polyester Tafetta w/ Taped Seams |
| Rear Access Panel | No |
| Awning | No |
| Seasons for Use | Spring, Summer, Fall |
| Storage Room | Gear Loft, Gear Pocket, Lantern Holder |
| Warranty | 1 Year |
Napier Backroadz Camo Truck Tent – Final Thoughts
Overall, the Napier Backroadz Camo Truck Tent offers some great benefits over a conventional tent. Given the choice, I'd always prefer to be up off the ground in the back of my truck. It's well made and a good value at $250, (at this writing).
Backroadz Camo Truck Tent – $250 – Napier
Note: HuntTested may receive a small commission if you purchase a product from the links on this page. This does NOT increase your price and helps to pay for the content you're enjoying. HuntTested did receive product consideration in the coordination of this article. All opinions belong to HuntTested.