Camp Chef Rainier Camp Stove Review
The venerable classic green two-burner stove was getting a little long in the tooth. My lantern and heater all run on 1 pound propane canisters and it didn't make sense to lug along liquid fuel just for the camp stove. It was time for an upgrade to a new camp stove for an upcoming elk hunt. After looking at the available options I zeroed in on the Camp Chef Rainier camp stove. This model nicely suited my group's needs for our truck camping set up. Here's a review of the Camp Chef Rainier.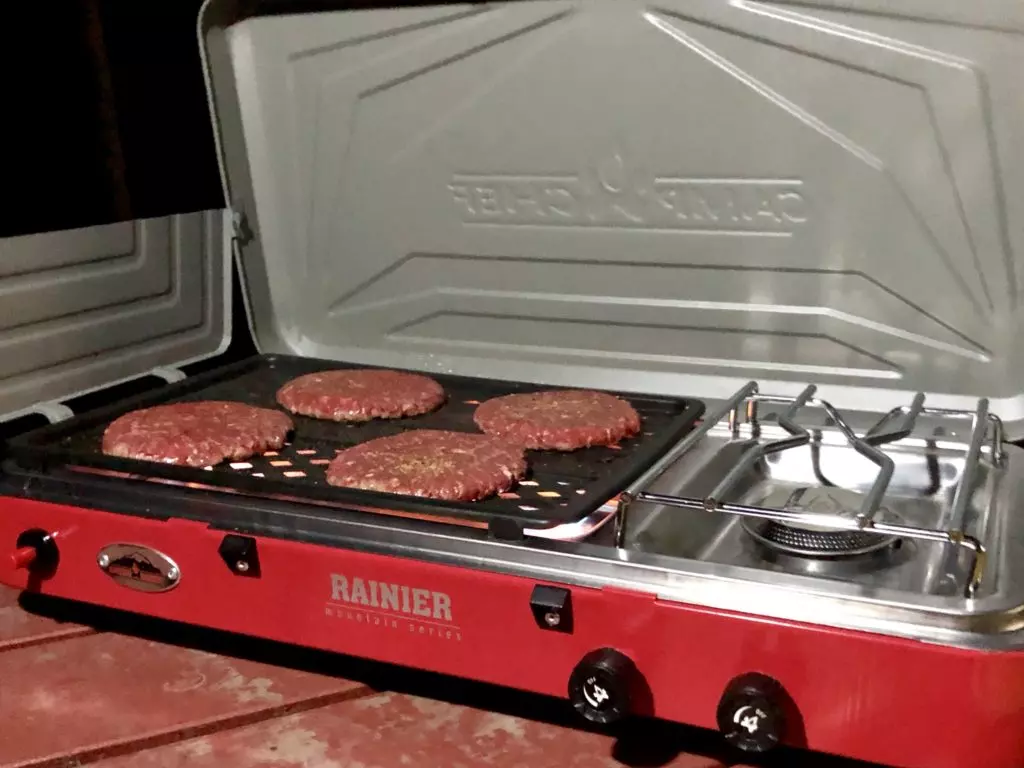 Camp Chef Rainier Observations:
I recently upgraded my 12-year-old bow to a new model and the technology had taken a quantum leap forward during that time. Going from my old green liquid fuel pressure stove to the Camp Chef Rainier was a similar experience. Moving to a modern propane stove was a big step forward in both ease of use and features. Beyond the ease of propane, the Rainier features a really clever design with an interchangeable griddle and grill surface along with a conventional burner that makes it perfect for camping.
On my elk hunt, it was great to come into camp after dark and use the grill surface to prepare a quick meal before hitting the rack. The Rainier has a removable grease tray for use while grilling, however, the area under the grill does get a little messy when grilling. It's stainless steel, but it does take a little elbow grease to clean when you get home.
A Modern Classic
One of the things that I've always liked about my old liquid fuel stove is it's a classic and iconic design. Camp Chef has done a great job of creating a modern classic. The design and all metal construction give a nod to stove designs of the past, but it has modern features and truly exceptional build quality.
The Rainier can be purchased with just a griddle or as a combo package with a stove, griddle surface, grill surface and carrying case. I think the combo package is the way to go for the added flexibility.
Pro Tip: Line the underside of the burner under the grill with tin foil to make for easier clean up.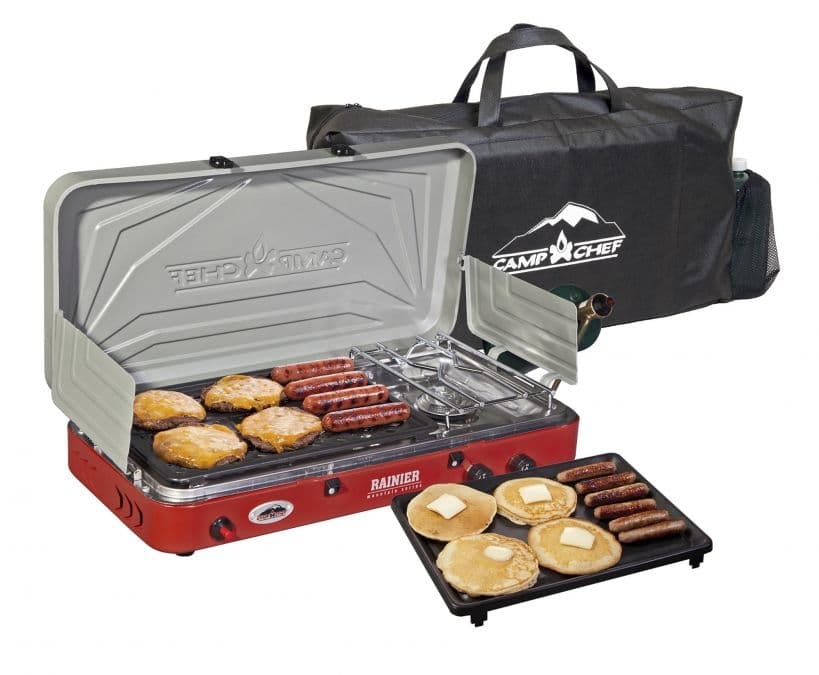 Camp Chef Rainier Features:
Regulator adaptor for a 1 lb. propane cylinder (can be adapted for use with standard bulk tanks using)
3-sided windscreen
Carry bag
Aluminum, Non-stick griddle and grill
One 10,000 BTUs/Hr. Burner
One 8,000 BTUs/Hr. Burner (grill/griddle fits on top)
Matchless ignition
Appliance-style temperature controls
Removable grease tray with grill for easy cleaning
Stainless steel drip tray for easy cleaning
Convenient carry handle
Propane bottle not included
Specifications:
Cooking Dimensions: 12 in. x 23.5 in.
Cooking Area: 267 sq. in.
Height: 4.5 in.
Weight: 16 lbs.
Total Output: 18,000 BTU/Hr. Burner
Warranty: One Year
Final Thoughts:
If you're in the market for a new camp stove, I am not aware of a better stove set up for car camping than the Camp Chef Rainier. It sports high-quality construction, flexibility with its multiple cooking surfaces, and at $130 for the combo it's a great value.
Related: Build your own Camp Kitchen