GPS Dog Collar Review – SportDOG TEK 2.0
I've always thought that a GPS Dog Collar was one piece of gear that I would never need. "What kind of idiot loses their dog when they're hunting?", I'd say to myself. Well, this kind apparently. In many years of upland hunting, I've had times where my dog was out of sight for a few minutes, but I've never truly lost a dog – until I did in last year South Dakota. It was this event that led me to acquire a SportDOG Brand TEK 2.0 GPS Dog Collar.
One more pheasant
I needed one more pheasant for my limit. I planned to take my Brittany, Lena, along a brushy fenceline that bordered a quarter section field of sunflowers and walk it out the mile to the next section line where my buddy, Doug, agreed to pick me up. After only a couple hundred yards, my Brittany locked on point and I flushed and shot my last rooster pheasant for the day. My bird sailed into the sunflowers where it came to a rest. I walked over and stood next to the bird and pulled out my phone to text Doug that I was done. I was going to hike back to where I started versus continuing north another mile to where we agreed he'd pick me up.
Lost Dog
I picked up my bird and slid it into my game vest, and called to Lena. She was standing right next to me a second ago. I called and called against the wind. No sign of Lena. After calling for what seemed an eternity in vain, I placed my game vest on the ground where I last saw Lena and hung my blaze orange cap on the head of a sunflower to mark the spot. I began making big circles calling for Lena while Doug drove back and forth along the road looking for her. It was a horrible feeling. Was she caught in a trap? Somehow injured? Where could she be? I remember thinking to myself during this time, if I only had a GPS dog collar, I could have avoided all this.
A full 90 minutes later, Doug spotted Lena huddled by a round bale near where we originally parked. Near as we could tell, she caught the scent of another bird, got lost and then made her way back to where we started. Relived to see my girl again, I decided right then and there that I was getting a GPS dog collar!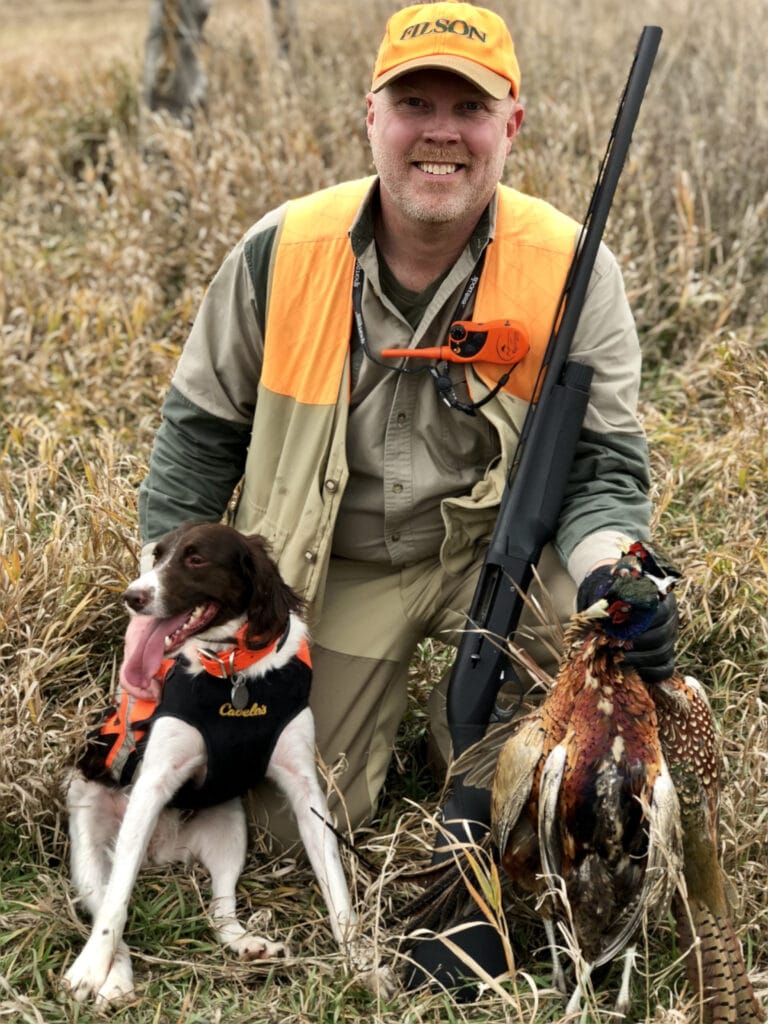 Selecting a GPS Dog Collar
After researching all my options, I decided on SportDOG Brand. My decision was based largely on my positive prior experience with the brand. My SportDOG UplandHunter 1875 has been a flawless e-collar system for many years and SportDOG was the first company to combine GPS tracking with an e-collar. Today, their top of the line GPS and e-collar system is the TEK Series 2.0 which consists of a handheld GPS device with a built-in transmitter, and a GPS-enabled E-Collar.
TEK Series 2.0 Handheld Device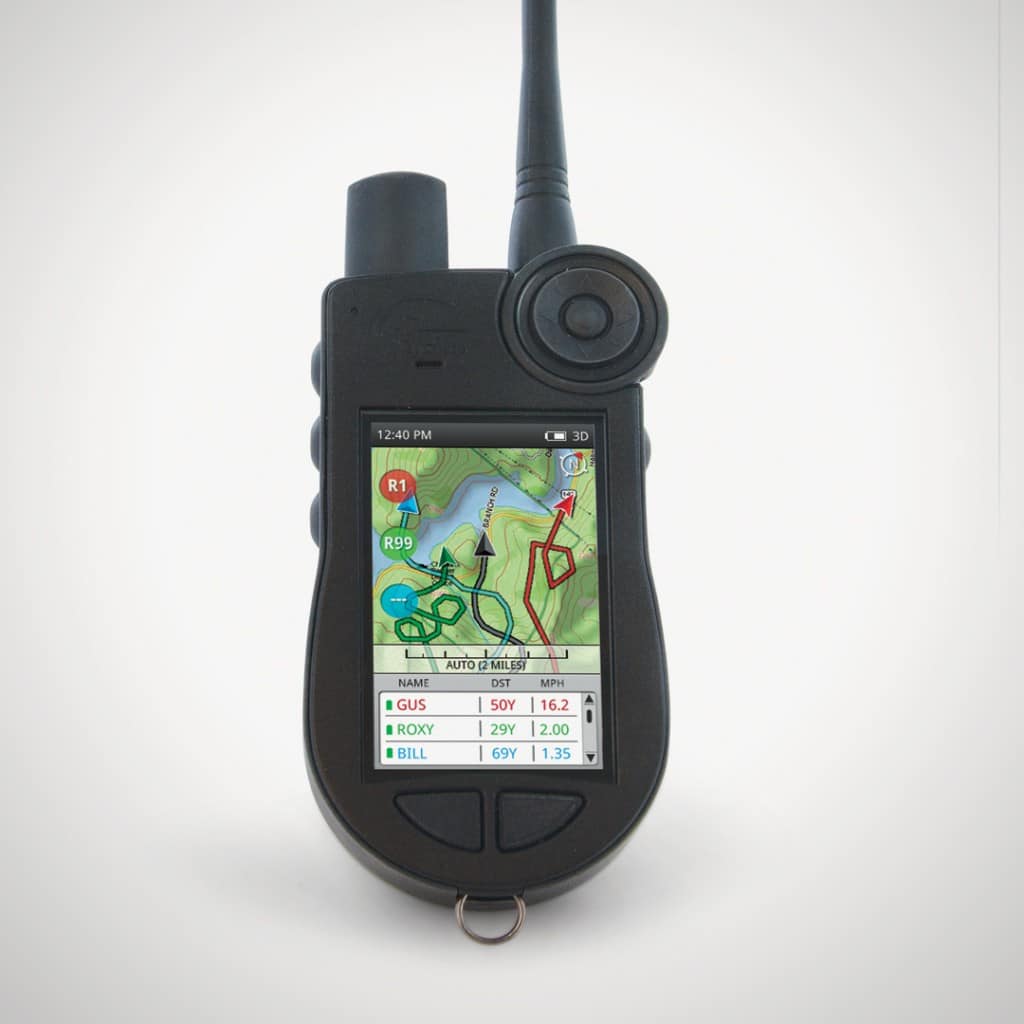 The heart of the system is the TEK 2.0 handheld device. It's a rugged device that is waterproof and submersible up to 5 feet. In talking to SportDOG, my initial reaction was that I'd like to see a screen protector over the display, but they assured me that it was scratch resistant and designed for rugged use. I found the handheld controller to be very intuitive to both setup and use. I really like the design of the handheld controller, particularly the multi-purpose wheel that allows me to both navigate through options and to zoom in and out of the map display. For someone who uses a touch screen constantly, I think this design is actually better and faster for hunters, and for me in particular as I always wear leather shooting gloves while upland hunting.
Another feature that I liked was the ability to customize the functions of the three buttons on the device. The handheld device can run up to 21 dogs with unique collars and allows you to set the dog name and a different screen color for each collar, (various colored collars or colored antenna retainer bands are sold separately). The handheld unit charges in 8 hours and lasts about 12 hours per charge, so it does require more frequent changing than a non-GPS e-collar transmitter.
TEK Series 2.0 Handheld Device Features:
1:100,000 preloaded topo maps
Unlimited lifetime map updates
Included desktop application
RANGE Up to 10 miles using HopTek™ technology
EXPANDABLE SYSTEM Tracks up to 21 collars/handhelds
WATERPROOF Waterproof and submersible up to 5 feet
BATTERIES Rechargeable and user replaceable lithium-ion batteries
Charges in 8 hours, lasts about 12 hours per charge
TEK Series 2.0 E-Collar
As for the collar itself, with exception of a short whip antenna, it looks like a normal e-collar. SportDOG offers replacement collars in a variety of colors to make it easy to manage multiple dogs.
TEK Series 2.0 E-Collar:
Bluetooth Compatible
10-mile range using HopTek™ technology
For dogs, 8 pounds or larger with neck size 10.75″ – 23″
99 levels of continuous, momentary, and rising stimulation levels
Vibration and tone options
Collar Receiver is DryTek™ waterproof and submersible to 25 feet
Rechargeable lithium-ion batteries – Charges in 4 hours, lasts about 24 hours per charge
SportDOG TEK 2.0 GPS Dog Collar Final Thoughts
A GPS Dog Collar is not inexpensive, but when Lena was lost I would have paid significantly more than the purchase price right then and there to have had the ability to find her. I was lucky. You can at a minimum save yourself some unneeded anxiety and potentially save your dog's life by investing in a SportDOG TEK 2.0 GPS Dog Collar. I found it to be a high-quality system, that's easy to use and well worth the price.
TEK Series GPS + E-Collar, $805, by SportDOG Brand
Related Content: The Ultimate Pheasant Hunting Gear List
Note: HuntTested may receive a small commission if you purchase a product from the links on this page. This does NOT increase your price and helps to pay for the content you're enjoying. HuntTested did receive product consideration in coordination with this article. All opinions belong to HuntTested.