Kimber K6 Review – A Perfect Backcountry Companion
"Elk hunting? Heck, why not."  I'd never hunted elk out west in the mountains.  Being from Minnesota, that sounded more like an adventure to me than sitting in a deer stand all day.  Physical shape? That wouldn't be a problem, my weight was fine for a 6'5" frame. The only problem was my height of  5' 11". I managed to work on my conditioning program and whip myself into shape and then I began working on my elk hunting equipment list.  As I was working on my list, I decided I wanted a sidearm for protection. After a lot of consideration, I decided on the Kimber K6. Here's a review of the Kimber K6 and how I arrived at my choice.
Grizzly Country
I blame Jeremiah Johnson. In the film of the same name, Jeremiah Johnson, new to the mountains, had a chance encounter with an old mountain man, named Bear Claw.  After initial jousting back and forth, Bear Claw looked at Jeremiah Johnson, half mockingly, but with some seriousness and asked him, "…can you skin Grizz?" A famous scene ensued that Jerimiah solved with his Hawken rifle. 
It probably didn't help when my hunting partner, suggested, nonchalantly, "Oh yeah, I saw several Grizzly bears the last time I went elk hunting."  Concerned, I asked, "Were any of those bears very close?" Surely, I thought to myself, he'd tell me he spotted them across the mountain range or way down in the valley while glassing for elk.  As if he could read my mind, he said, "Oh no, I had a sow and two cubs within fifty yards. The only thing that was unnerving was the cubs were on one side of me and the sow was on the other." He reassured me, "Nothing happened, I took out my bear spray before they moved off."
I moved on with our conversation, but I decided right then and there I would forego bear spray and buy myself a handgun for use when hunting in Grizzly country.  
Sidearm Selection Considerations
I went through an analysis of what to buy: how much do I want to spend, should I buy a revolver or semi-automatic, what caliber size? On top of these considerations, I knew I had to keep weight in mind.  A key consideration when hiking all day as I knew I would in search of game.
Once I narrowed down the weight consideration, I knew the physical size had to be reasonable.  Not necessarily a conceal and carry size, but a form factor that worked with my other gear when carrying my backpack, bow, binoculars, and other equipment up and down the mountain, yet, should the need arise, it would need to be accessible should I need to draw a weapon.
Caliber
I zeroed in on my choice of caliber by quickly realizing a couple of things.  There is no shortage of opinions from people stating what caliber should be considered a minimum size to remedy an encounter with a bear.  But I also realized as you move up the caliber range, you add weight and mass that will conflict with other choices for what to carry in the mountains.  To me, packing a large frame handgun but then hesitating, even for a second, whether to carry it or carry it comfortably, would defeat the sole purpose to bring a handgun in the first place.
After a lot of research and consultation with knowledgeable people, I ventured into a favorite gun shop to handle selected models and to review features and benefits for each.  I nearly purchased a semi-automatic. However, being left-handed, I struggled with several models in this style because I couldn't get comfortable with the clip release or safety location. I even tried manufacturers that offered semi-automatic models marketed as ambidextrous.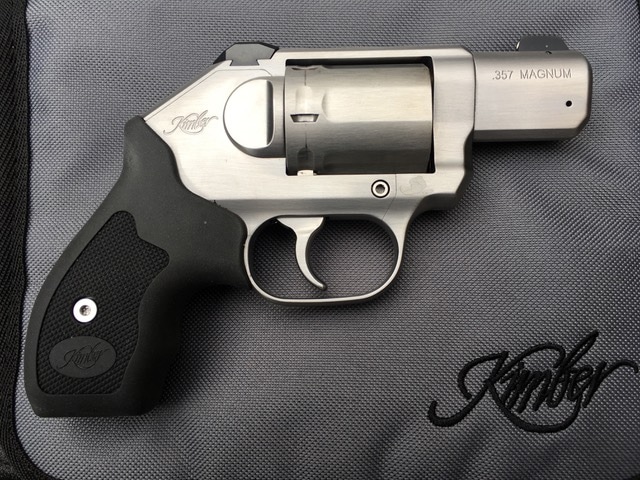 Enter the Kimber K6S
For these reasons, I settled in on the Kimber K6S, a .357 magnum revolver.  The K6S is a new entrant for Kimber Manufacturing into the revolver market.  Kimber is noted for their high-quality bolt action sporting rifles and M1911 pistols, so it was indeed welcomed when they introduced three different versions of the K6 back in 2016.  The K6 line has since grown to more than eight different offerings in 2" or 3" barrel length. Kimber offers K6 grips in smooth walnut, checkered rosewood, black rubber, or crimson trace laser grip.  Kimber offers sights in tritium, fiber optic, or standard three-dot sights. I tried all configurations of the K6 and settled on the stainless steel, rubber grip, 3-dot sight, with a 2" barrel.   
Once you hold the K6 in your hand, you'll feel a heft of stainless steel, but in a good way.  Balanced in your palm, the K6 lets the holder know you have a quality piece securely in your possession, without signaling a weight that would be burdensome or inconvenient.
Kimber K6 Design
The K6 has an angular backstrap design that leads your eye to a dovetail rear sight. The alignment is made easy by large, white dot sights (two rear, one front) to provide easy down range target acquisition in varied light conditions.  Before I shot the K6s for the first time, I practiced dry firing to get a feel for trigger pull. The K6 offers what many gun experts arguably declare is the best trigger for a production double action revolver. The trigger pulls glides along a predictable path and breaks at less than 10 lbs. With practice, you can find that sweet spot to stage the trigger before firing.
Next, the K6 features a 6-shot rotary revolver. An exclusive touted by Kimber as being the lightest production .357 magnum revolver.  Many revolvers in this size such as the J-Frame from Smith & Wesson, Ruger SP101, or Ruger LCR offer five-shot models. Adding to the sleek design – the widest portion of the cylinder is 1.39"- is an overall length of 6.6".  You're firmly in the "snubbie" segment plus you get an extra round for added insurance. The smooth finish on all surfaces enables drawing that is snag free and effortless.
Shooting the Kimber K6
I loved the flexibility to shoot .38, .38 Sp, and .357 magnum in the K6S.  I found that the K6 yielded consistent groups once I got the aforementioned sight line figured out.  The front sight is pinned and elevated. It took me several rounds to figure out the characteristics for the point of aim but once done I was able to steadily shoot the .38 and .38 Sp.  I moved to the .357 load. There is a noticeable jump in felt recoil in your hand, but I always felt in control of the muzzle when shooting with two hands. Would I want to shoot .357 magnum as a target load every day?  No. But in a self-defense situation, it wouldn't be a problem.
I mated my K6s with a DeSantis mini scabbard belt holster. This combination works flawlessly. I wore the Kimber K6 for two full days while cutting wood and hanging deer stands without any discomfort or encumbrances.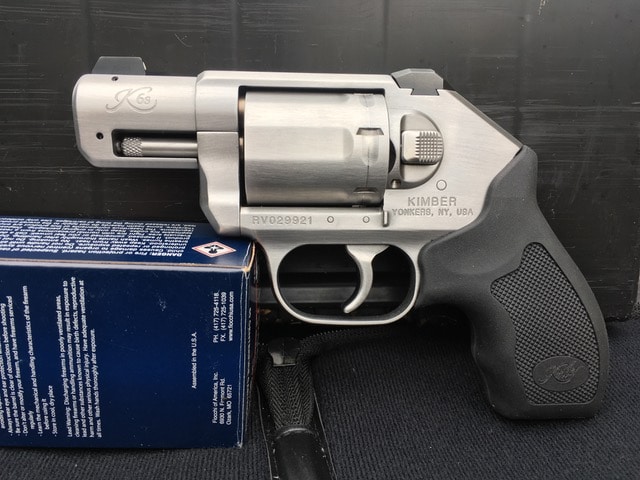 Kimber K6S Specifications
Height (inches): 4.46
Weight (ounces) with empty cylinder: 23
Length (inches): 6.62
Width (inches): 1.39
Cylinder capacity: 6
Action: DAO
Material: Stainless steel
Finish: Brushed stainless
Serrated backstrap
Tritium night sights
Barrel length (inches): 2
Black rubber grips
Kimber K6S Final Thoughts
My overall impression for the Kimber K6 is a positive one.  I would highly recommend you consider it for its workmanship and versatility.  For some, one fact will emerge you'll have to reconcile in your decision-making process.  You'll have to justify the $919 suggested retail with several iterations of the K6s that move north of $1000.   Moreover, many traditionalists wouldn't consider a Kimber K6 because it was not offered with a hammer. No longer. Kimber introduced a double action, single action (DASA) for 2019.  I believe the Kimber K6, in time, is destined to become a classic much like the original 6-shot Colt Detective Special. The K6 shoots well and is worthy of consideration for Conceal Carry, home protection, or a faithful reminder that you have something more on your belt while in the mountains.  And, if my Hunting partners do ask, I can assure them, with the same bravado as Jeremiah Johnson, that yes, I can skin Grizz, (let hope it never comes to that).
 MSRP: $919.00
By HuntTested Contributor, Todd Severson
Related Content: Sidearms for Backcountry Hunting
Note: HuntTested may receive a small commission if you purchase a product from the links on this page. This does NOT increase your price and helps to pay for the content you're enjoying.