The Complete Guide to Hunting Knife Sharpeners
Being able to put an edge on your hunting knife is a skill that's right up there with marksmanship for hunters. Knife sharpening is an essential skill for hunting or bushcrafting and it requires the right tool for the job. I know there are people who can take an India whetstone and put a perfect razor's edge on a knife. As for me, I've always needed a bit more technical assistance to get a good result. I've tried just about every type of knife sharpener that you can imagine.
In this guide to hunting knife sharpeners, we're going to review manual and electric sharpeners, as well as sharpeners that are designed for use in the field. The common thread is these are all sharpeners that I have found to be easy to use and effective.
Knife Sharpening Process
Sharpening a blade is essentially the process of removing metal from the edge of a knife blade. This is accomplished by grinding the edge of a knife against a course surface. It's the part about "removing metal" that gives me the willies.
I want to preserve my fine hunting knives as long a possible, therefore, I want to remove as little metal as I can during the sharpening process. With this goal in mind, once I've established an edge, I try to focus on honing my knife blades versus using more aggressive sharpening techniques.
Essentially, sharpening is about establishing or repairing a damaged edge, and honing is about maintaining an edge and keeping your knives sharp.
Knife Sharpening Angles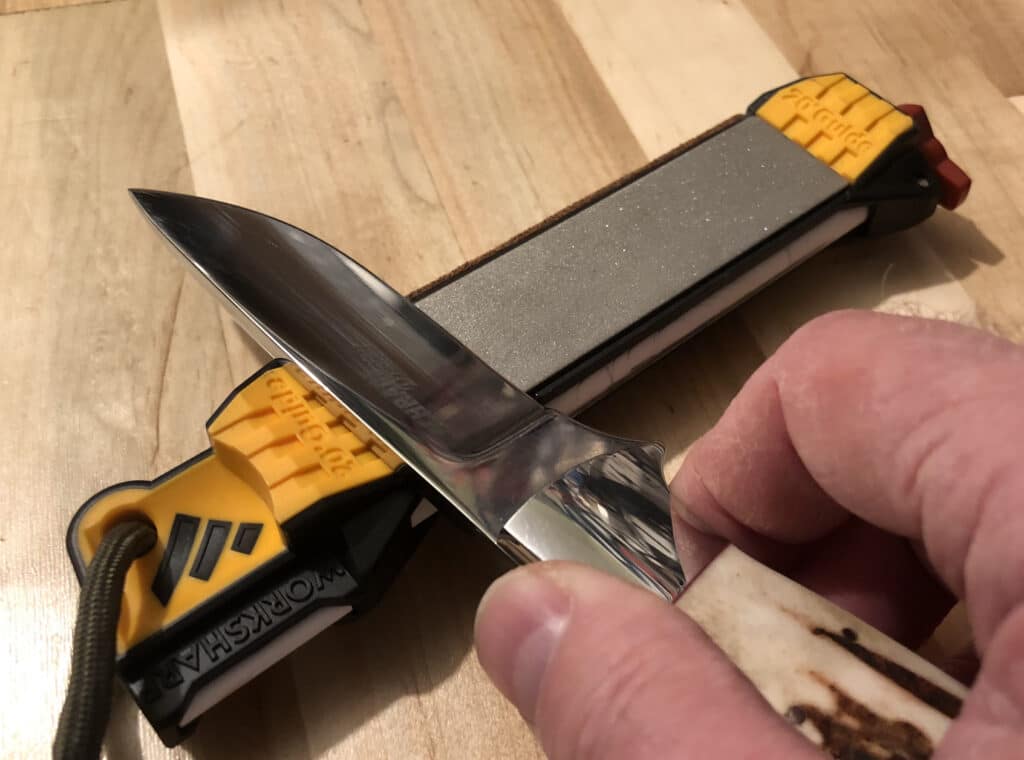 When choosing a knife sharpener, you'll want one that is designed for use with hunting knives and that supports the edge angle of your particular blade. Kitchen knives and hunting knives will typically have different angles to their edges that support their intended use.
A kitchen knife is going to generally have a steeper edge angle of 15 – 17 degrees. This is an angle that's designed to cut well, but it's not particularly durable or suitable for rough use or harder materials. That's why you don't see guys using a chef's knife to baton firewood!
An outdoor or hunting knife is typically going to have edge angles in the 20 – 25 degree range. Knives with edges in this range are going to have much more durable edges. Generally, the higher the degrees the more durable the edge will be, but it may not cut or slice quite as well as a shallow edge angle.
Knife Sharpeners
There are a variety of methods and tools for sharpening a knife. You can literally use anything from a smooth rock in a pinch, to an elaborate electric sharpener. They all have their use cases and pros and cons. For this article, we're going to look at manual knife sharpeners, electric sharpeners, and sharpeners that are small enough to carry with you and use in the field.
Manual Knife Sharpeners
Manual knife sharpeners have two big advantages, cost and control. Going back to wanting to minimize how much material is removed during the sharpening process, it's hard to beat a manual sharpener. There are a wide variety of models and I'm going to share a few models to consider.
Diamond Machine Technology (DMT) 3-6-in. Diamond Whetstone Models Sharpener.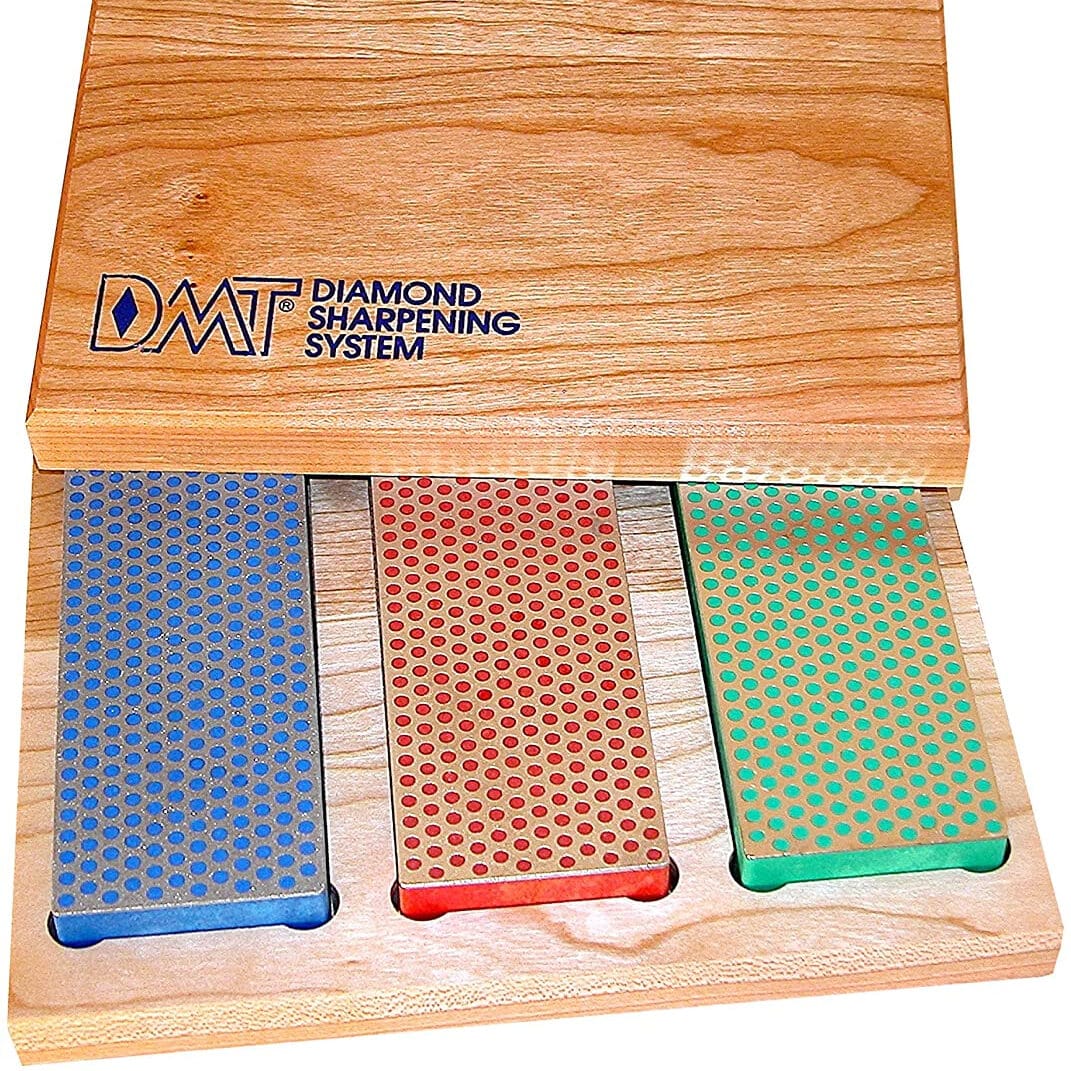 This is a diamond surface version of the classic whetstone design. Many who are more accomplished than me at sharpening swear by this type of system. While, I can get good results with shallow angled edged knives like a fillet knife on a whetstone, for steeper angles, I find that I personally have a harder time maintaining the angle throughout the sharpening stoke on this style of sharpener. Overall, this is a nice quality system with coarse to fine stones. $95 – by DMT – Click Here to BUY
Lansky 4-Stone Deluxe Diamond System | Precision Knife Sharpening Kit.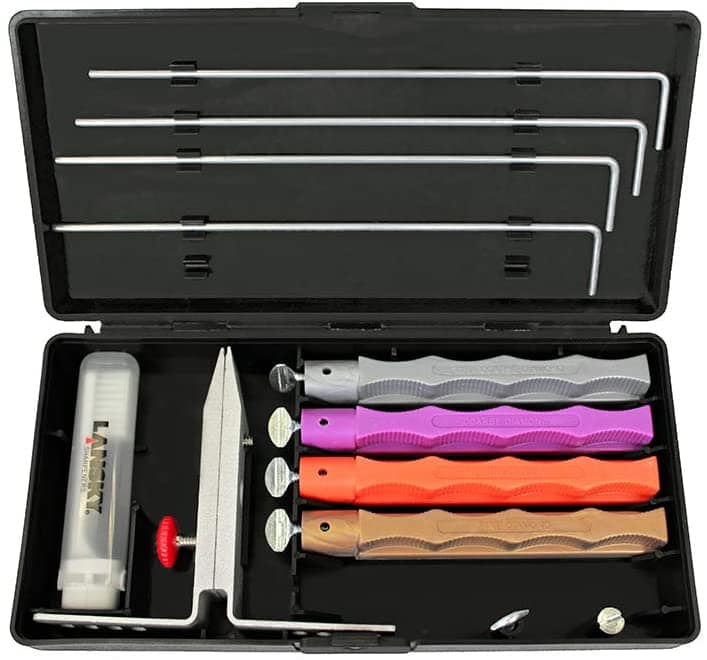 There are a few manufactures that employ this type of design where you clamp your knife into a device and then have sharpening stones with guide rods attached to them. The guide rods help you maintain the proper angle throughout the sharpening stoke. $75 – By Lansky – Click Here to BUY
Idahone V-Type Ceramic Rod Sharpener with 4 rods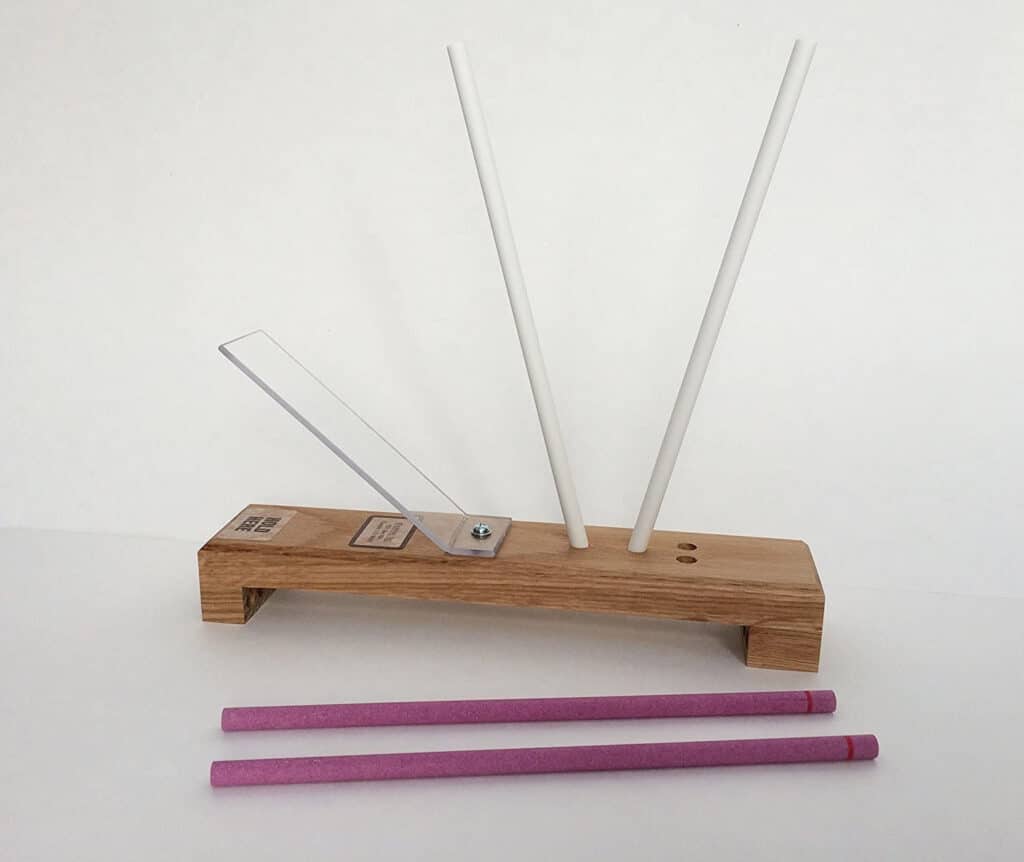 The "Crock-Stick" style sharpener is one of my favorites. It offers great control and results and I find them very easy to use. This set comes with 200 and 1200 grit rods. $50 – By Idahone – Click Here to BUY
Work Sharp Benchtop Angle Set Knife Sharpener – Ken Onion Edition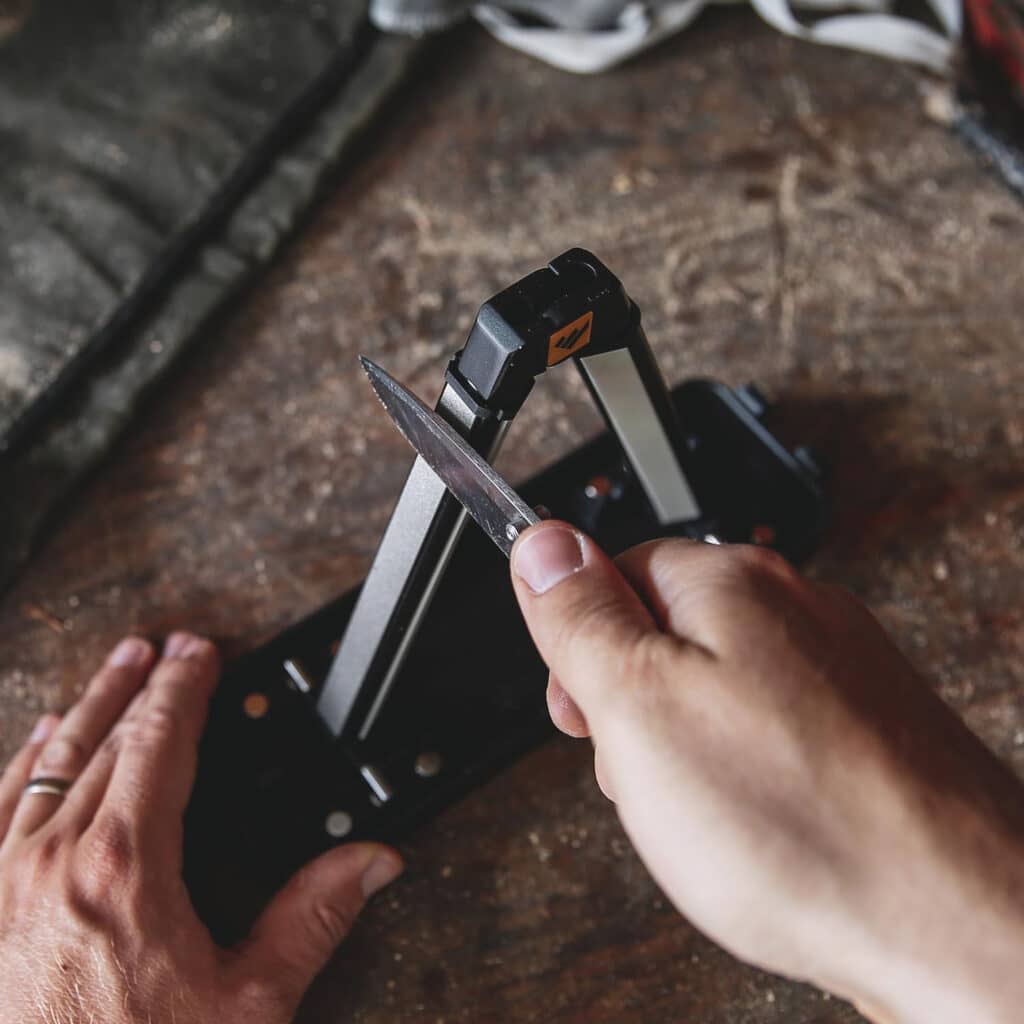 This is a modern variation of the popular crock stick design. This innovative model from Worksharp offers multiple surfaces and 5 sharpening angles from 15 to 25 degrees. This model will allow you to quickly change between angles to sharpen kitchen knives, EDC knives, outdoor knives, and serrated blades. $50 – By Worksharp – Click Here to BUY
Pro Tip: When choosing a knife sharpener, you'll want one that is designed for use with hunting knives and that supports the edge angle of your particular blade.
Knife Sharpeners for Field Use
If you're going after really big game like elk or moose, it's a good idea to have a small sharpening tool in your pack. I've found that between the heavy hide and the sheer size of the animal, your knife can get dull during the skinning and quartering process. To avoid that, you'll want the ability to touch up your edge when you're in the field. Here are a few great options for small knife sharpeners that can live in your pack.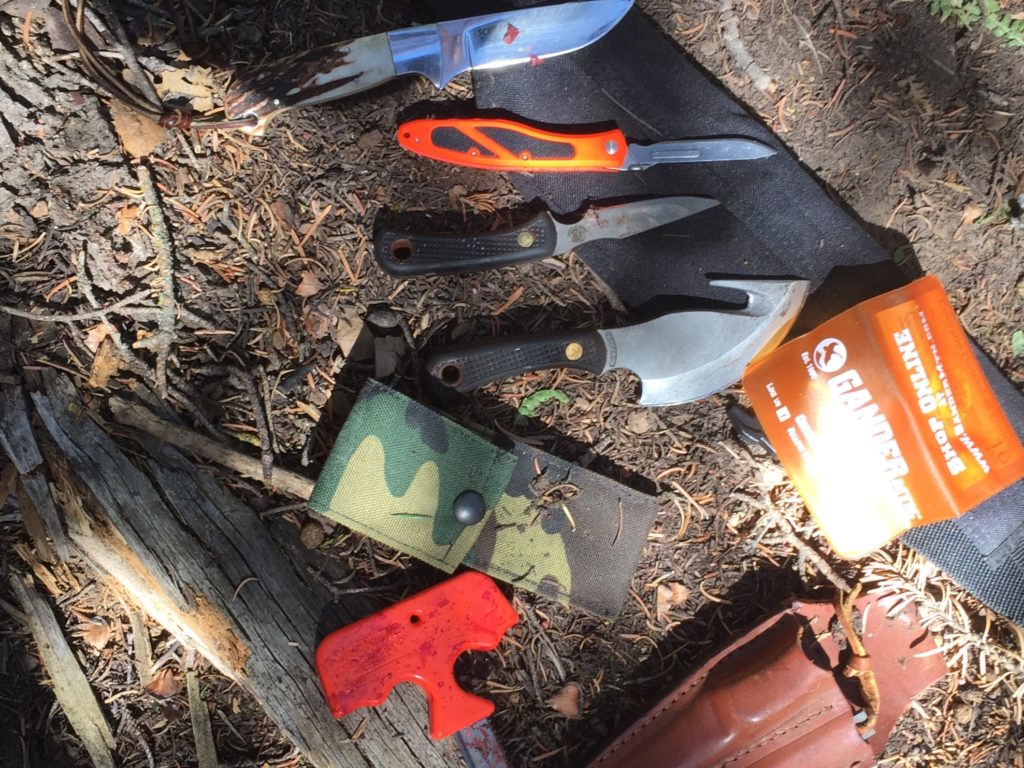 Work Sharp Guided Field Sharpener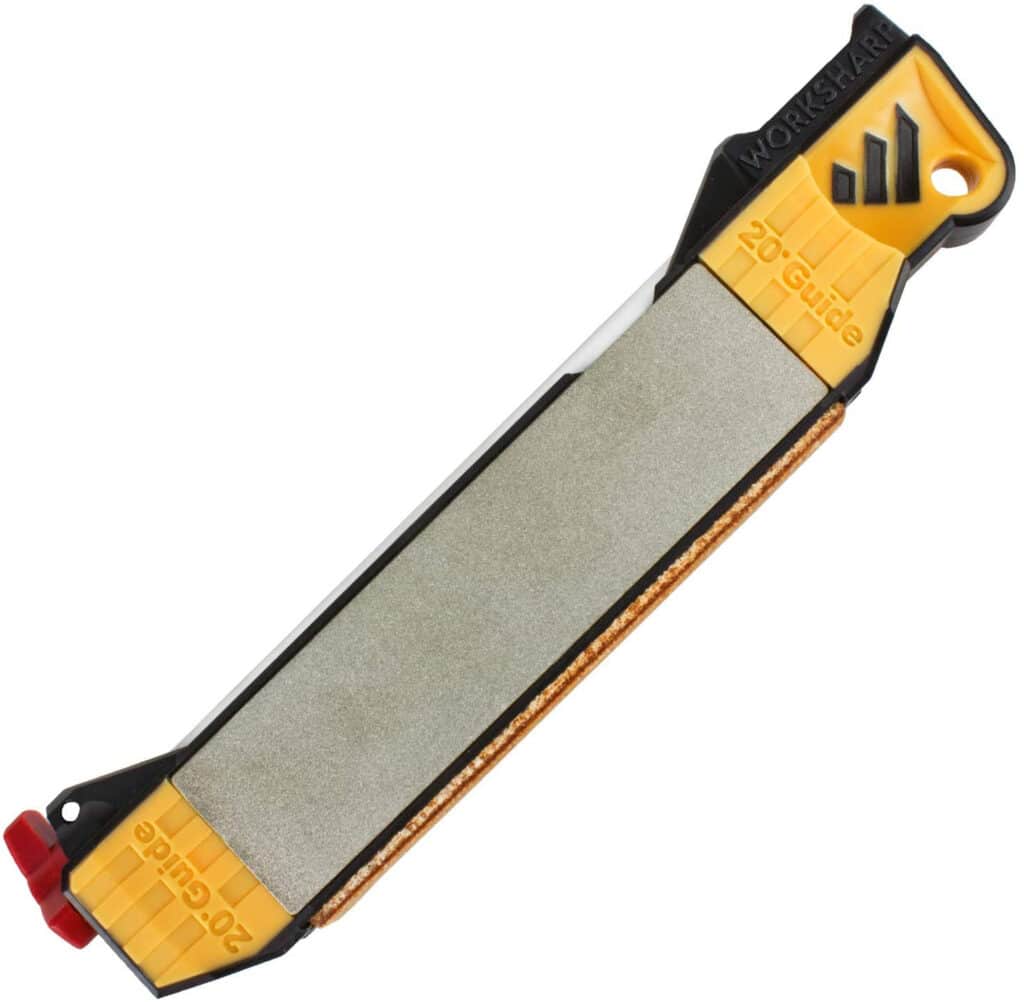 The Worksharp Guided Field Sharper is the most versatile field sharpener that I've used. This tool includes diamond plates, ceramic rods, a leather strop, & sharpening guides for 20 and 25-degree blades. It's a fast, easy, and versatile sharpening solution for knives & camp tools. $30 – By Worksharp – Click Here to BUY
Lansky C-Sharp, Ceramic Stone Multi-Angle Knife Sharpener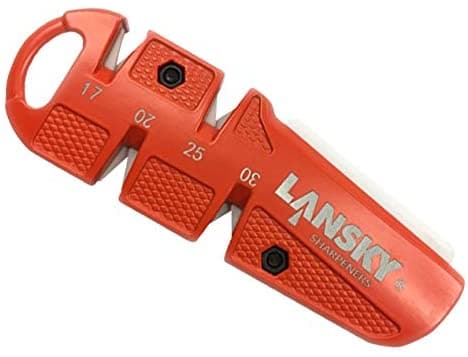 The Lansky C-Sharp is perhaps the easiest and fastest sharpener in this category. It takes the basic principle of a crock stick and uses ceramic rods in multiple preset angles. To touch up your blade, all it takes is a few strokes through the appropriate sharpening angle guide. $18 – By Lansky – Click Here to BUY
Arkansas Soft (Medium) Pocket Knife Sharpening Stone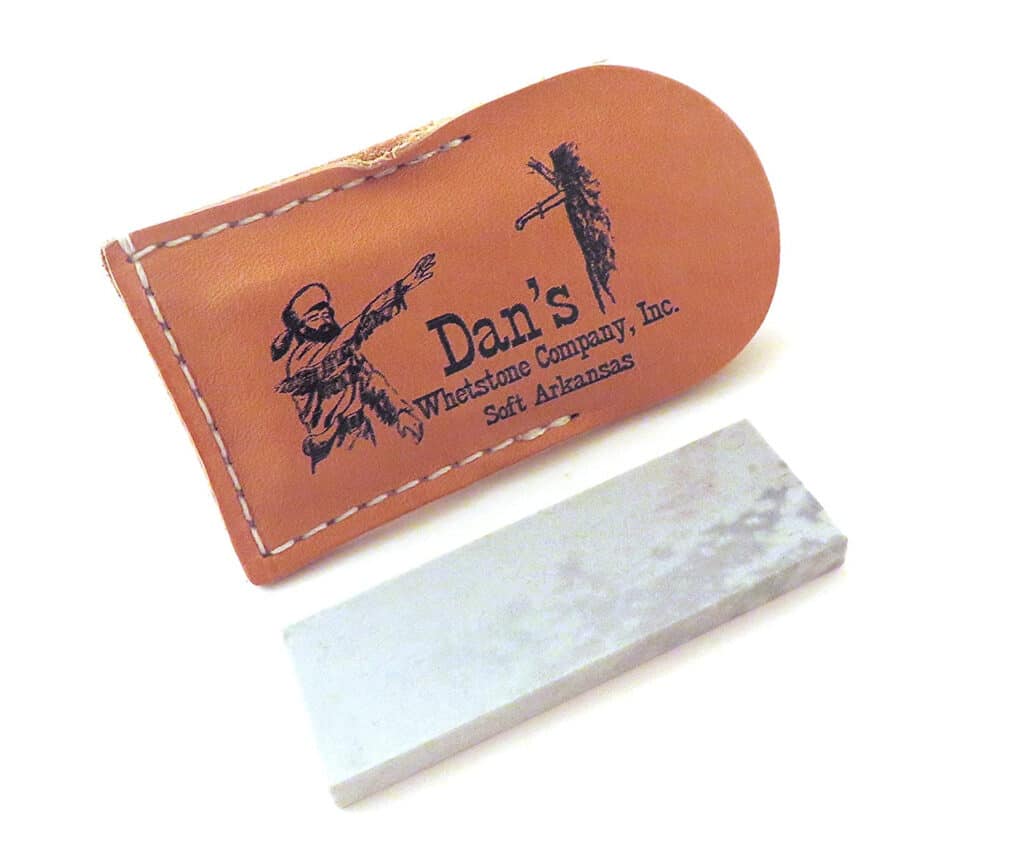 This pocket whetstone from Dan's Whetstone company is a classic pocket-sized Arkansas whetstone that comes in a leather pouch. It's the perfect size to live in your pack or pocket. This particular model is coarse and used to quickly put an initial edge on dull or neglected blades. $15 – By Dan's Whetstone Company – Click Here to BUY
Electric Knife Sharpeners
Electric sharpeners are perhaps the easiest to use and offer the most consistent results. They are also the most expensive and they likely remove the most material during the sharpening process. I typically use my Worksharp belt-driven sharpener with the honing belt on. This removes the least material and polishes my established edge to razor sharpness.
Work Sharp Knife & Tool Sharpener Ken Onion Edition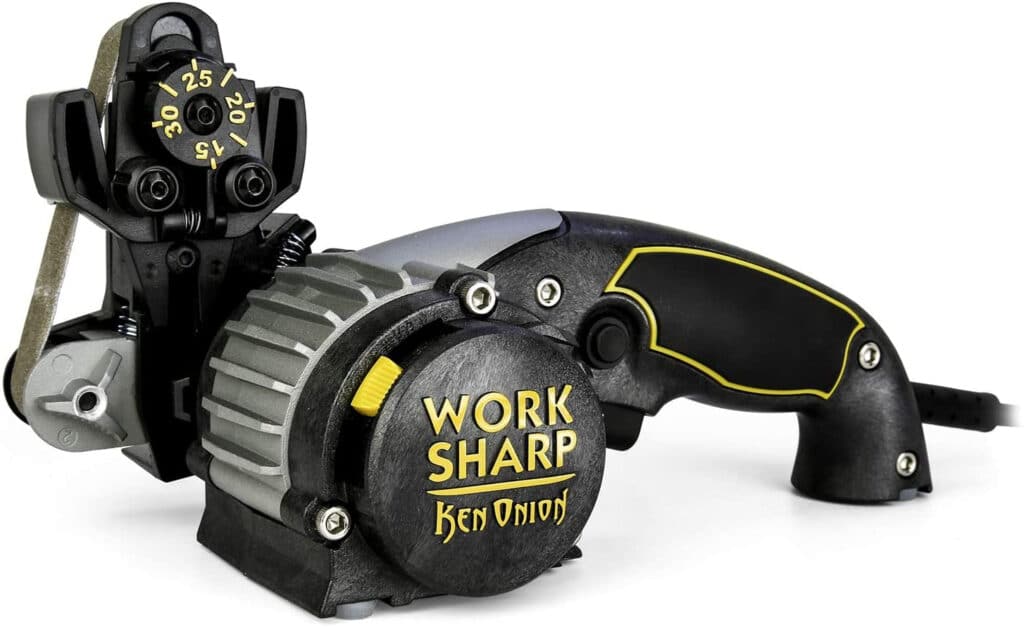 My go to sharpener for years has been a basic Worksharp Tool and Knife sharpener. This Ken Onion model takes that idea to the next level. This belt style electric sharpener offer the most control I've found in any electric model. My favorite feature of this model is the adjustable sharpening guide that allows you to produce precise edge bevels from 15 to 30 degrees. $130 – By Worksharp – Click Here to BUY
Chef'sChoice Hone EdgeSelect Professional Electric Knife Sharpener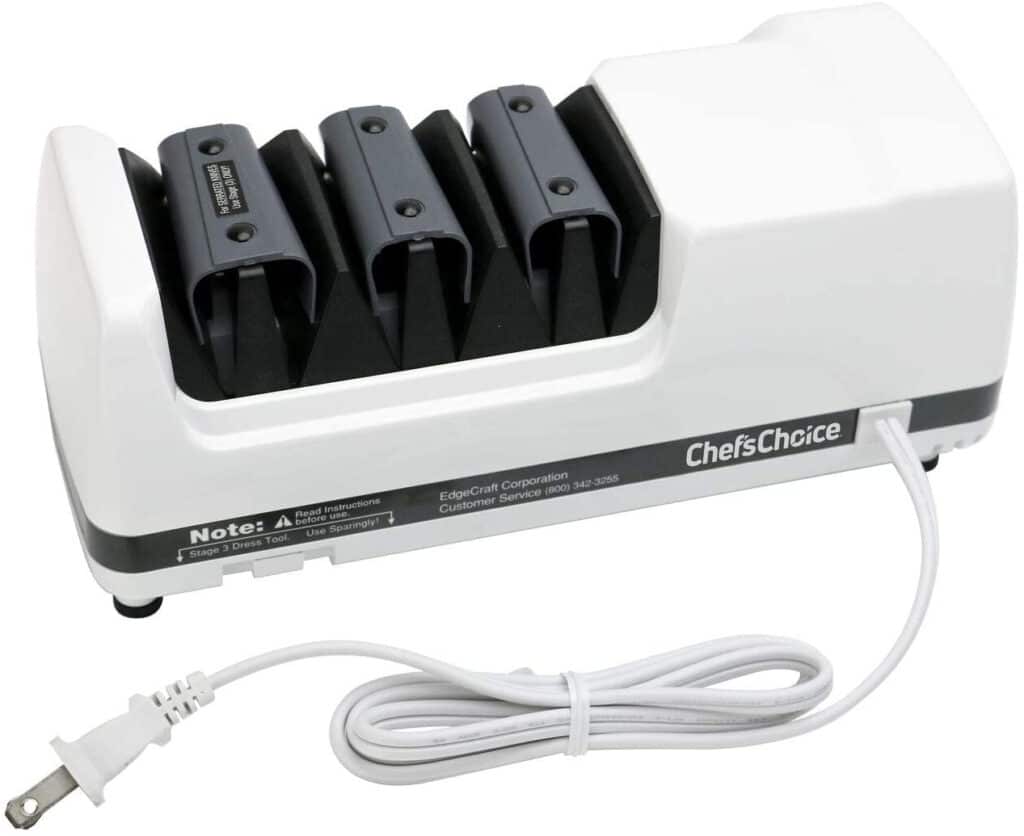 This Chef's Choice model is a three-stage fixed 20-degree sharpener. The first two stages use diamond disks to form the first and second bevels of a durable, arch-shaped edge. The third stage uses a flexible stropping disk to create a sharp polished third bevel. I've personally found it really handy to use the stropping disk to touch up my edges. $130 – By Chef's Choice – Click Here to BUY
Smith's 50969 Cordless Knife and Tool Sharpener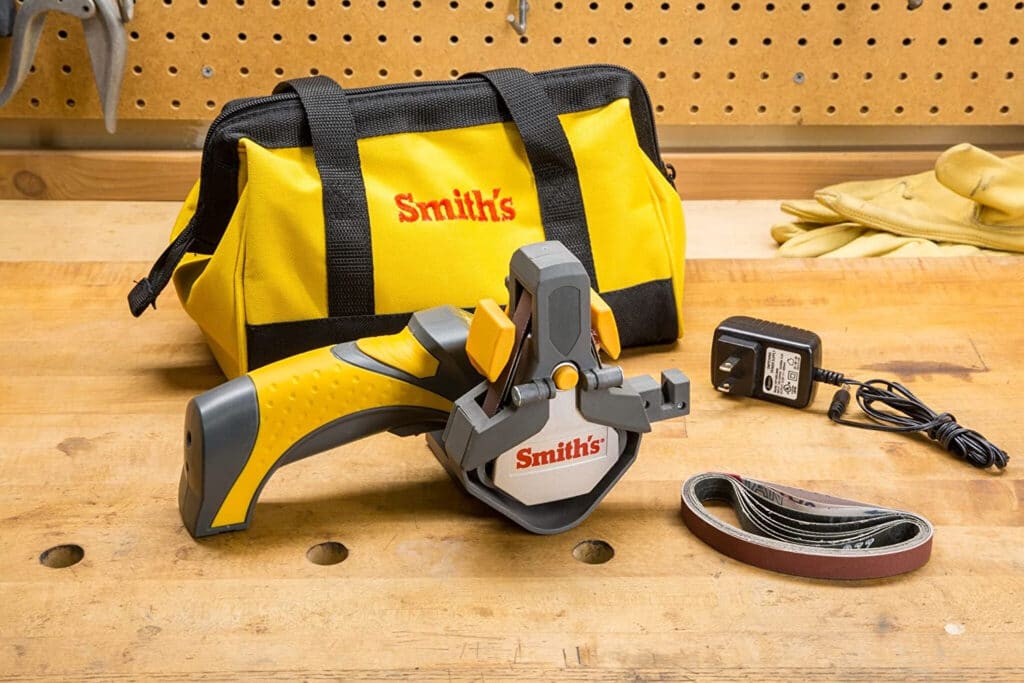 This model from Smith's is the only cordless sharpening system we've reviewed and found it quite handy when you need a fast mobile sharpener. The adjustable angle guides in 15, 20, 25, and 30 degrees make it suitable for most knives and tools. The battery offers a continuous runtime of 15-minutes. The lithium-ion batteries fully charge in less than an hour. This model includes 3 replacement belts: fine, medium, and coarse. $110 – By Smith's – Click Here to BUY
If you're an avid hunter or outdoors person, you'll likely want a variety of sharpeners for different use cases. You cannot go wrong with any of the models listed above. Stay sharp out there!
Note: HuntTested may receive a small commission if you purchase a product from the links on this page. This does NOT increase your price and helps to pay for the content you're enjoying. HuntTested did receive product consideration in coordination with this article. All opinions belong to HuntTested.