The Turnbull-Finished Marlin 1895 Reviewed
I love Winchesters, especially their lever guns. I've always felt that Winchester's had a little better wood, a little better bluing, and a little better fit and finish. Despite my affinity for Winchesters, when it comes to functional lever gun design, I'll take a Marlin. I find Marlin's solid top and side ejection, and the ability to add a scope to be a superior design. The Marlin 1895 in all of its variations is one of Marlin's most popular models. Recognizing this popularity, the artisans at Turnbull Restorations have created their own twist on the popular Marlin 1895 rifle. If you're a fan of the 1895 like me, you need to consider adding the Turnbull-Finished Marlin 1895 to your collection. It is truly the Marlin 1895 in its ultimate form.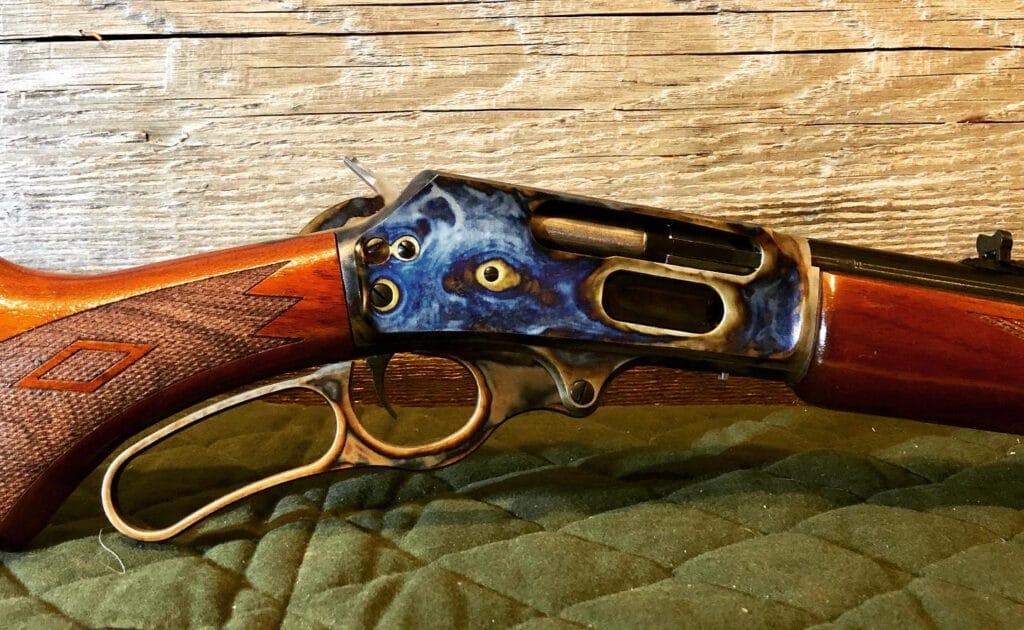 Turnbull-Finished line
While a Turnbull custom reproduction may be financially out of reach for many of us, the Turnbull Finished line offers a more approachable price point. In their Turnbull-Finished line, they take historically significant, newly manufactured firearms and apply their custom finishes to greatly enhance the gun and turn it into an instant heirloom. Iconic models from Ruger, Winchester, and Marlin are among this collection. In addition to the Marlin 1895, Turnbull currently offers a variety of lever guns, pistols, and revolvers in the Turnbull-Finished line.
What is a "Turnbull-Finished" Marlin 1895?
Turnbull starts out with a stock Marlin 1895 from the factory. From there they do several things to put their version into a class by itself. First, the gun is disassembled, the finish is stripped from the stock and forend, and it is refinished by hand to match Marlin's original red shading. I found the original reddish tint in the stain to be beautiful and distinctive.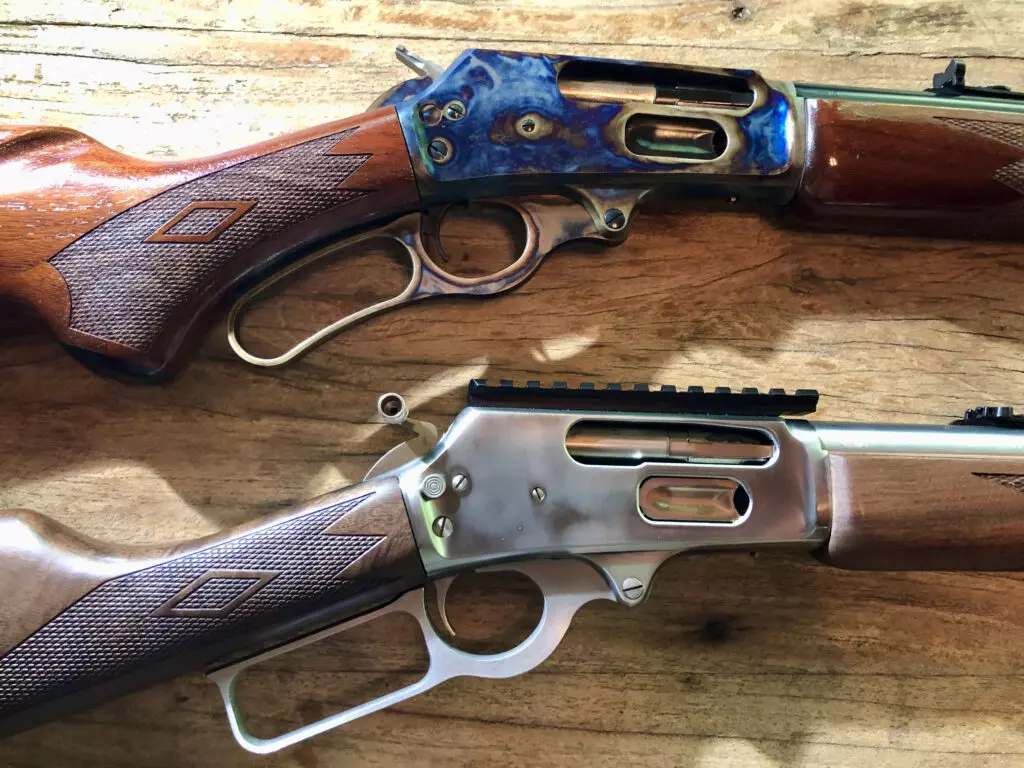 Next, the receiver, lever, hammer, and forend cap are all finished in Turnbull's unique color case hardening using the traditional methods. The barrel and magazine retain the Marlin original factory bluing. Finally, Turnbull removes the hammer safety block and then installs a switchable safety block filler, returning the new 1895 to its forbear's original specifications. The Turnbull Marlin 1895 rifle is chambered in .45-70 Gov't with a 4 round tubular magazine, and the receiver is drilled and tapped to accept a scope.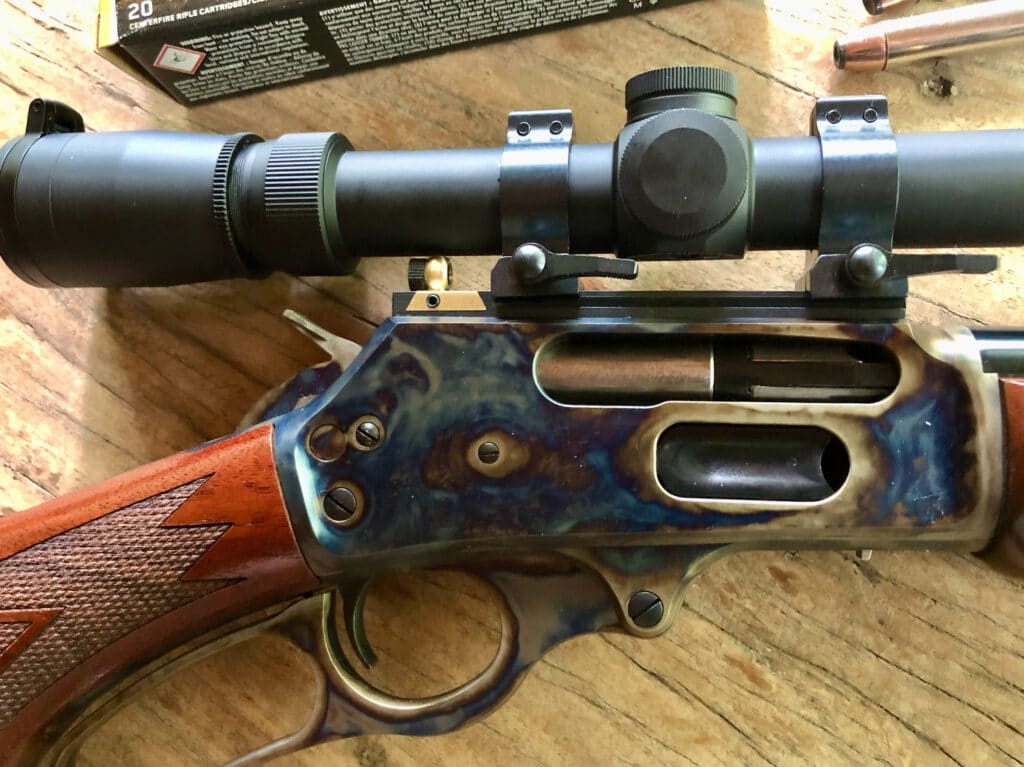 Turnbull-Finished Marlin 1895 Specifications
.45-70 Gov't.
Turnbull color case hardening on the receiver, lever, hammer, and forend cap.
Turnbull switchable safety block filler
Stock and forend are hand-refinishing in Marlin's original red shading
4-shot tubular magazine
Lever action; side ejection; solid-top receiver; deeply blued metal surfaces
American black walnut pistol-grip stock with a fluted comb; cut checkering; rubber rifle butt pad; swivel studs
22″ barrel with deep-cut Ballard-type rifling (6 grooves)
1:20″ twist rate
Adjustable semi-buckhorn folding rear sight, ramp front sight with brass bead, and wide-scan hood. Solid-top receiver tapped for scope mount.
40 1/2″ long
13 3/8″ length of pull
7 lbs. approximate weight
Options for the Turnbull Finished Marlin 1895

Turnbull Restoration is an elite custom gun maker. If you want a hand-built Winchester 1886 or a custom 1911, they are the people to call. If you want something special on your Marlin 1895, don't worry. Turnbull can literally do whatever your imagination and budget will allow. That said, Turnbull does offer a few standard customization options that are specific to their Marlin 1895 offering. Custom options include: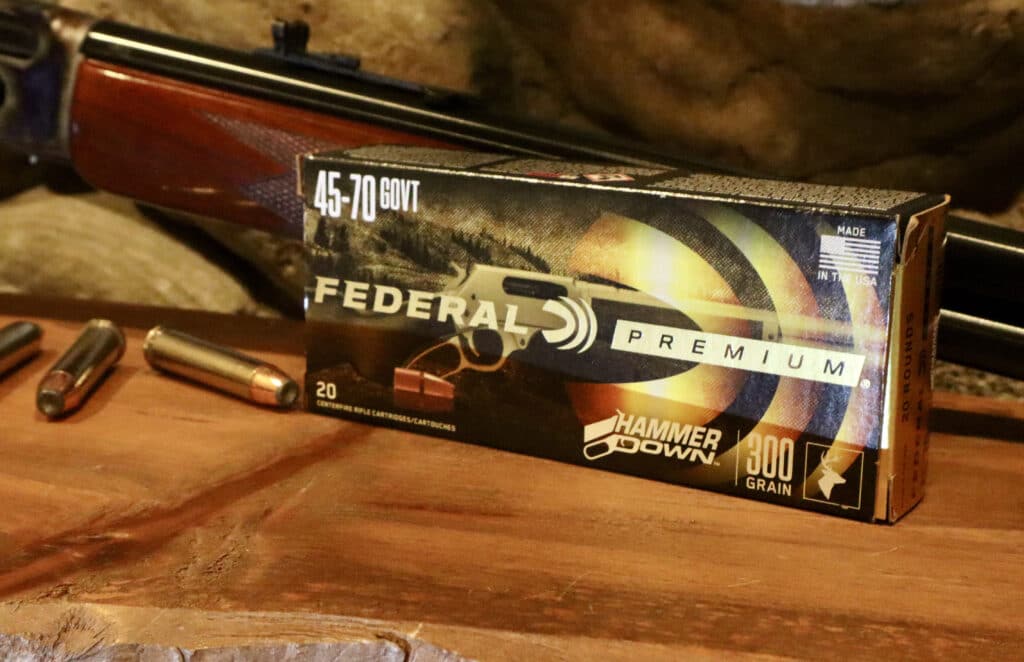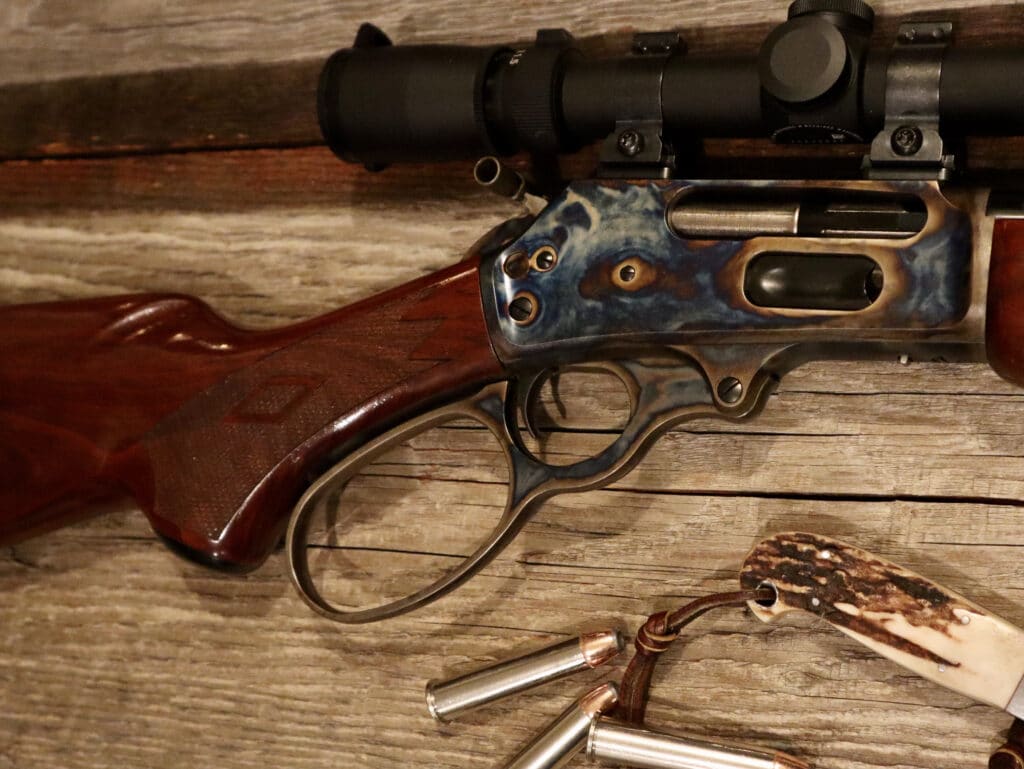 Turnbull-Finished Marlin 1895 Final Thoughts
The Turnbull Marlin 1895 fills a great niche between a standard factory-produced rifle and a fully-custom rifle that is built from scratch. If you want an heirloom quality semi-custom gun without the custom gun price tag, the Turnbull-Finished Marlin 1895 is for you.
Turnbull-Finished Marlin 1895 – $1,550, available at Turnbull Restoration.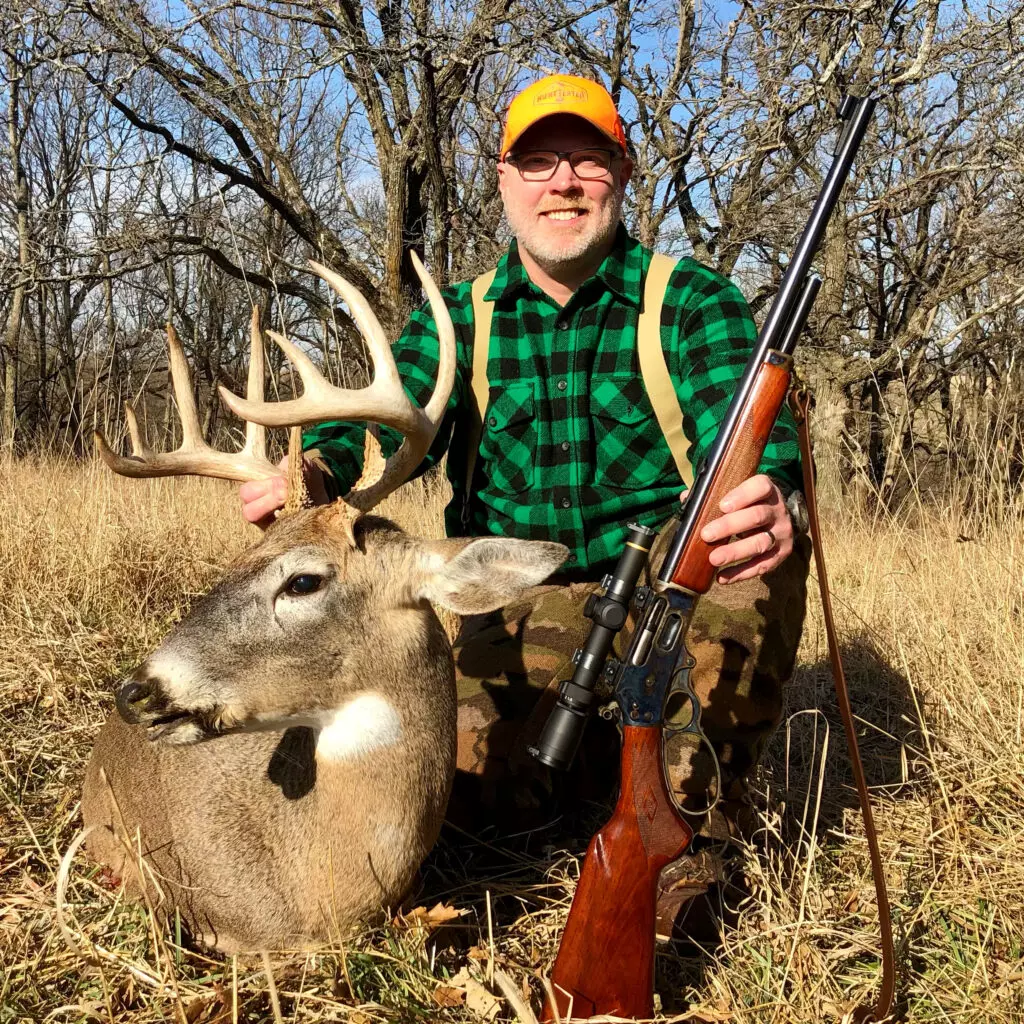 Note: HuntTested may receive a small commission if you purchase a product from the links on this page. This does NOT increase your price and helps to pay for the content you're enjoying. HuntTested did receive product consideration in coordination with this article. All opinions belong to HuntTested.
Related Content: Company Profile: Turnbull Restoration