Top Accessories for your AR-15
The AR-15 is America's gun. At this writing, there are over 10 million civilian-owned AR-15's in the US. Despite their popularity, I was personally a latecomer to seeing the appeal. I have always gravitated more towards classic sporting guns with highly-figured walnut and blued steel. My affinity for the AR-15 platform grew when I began to understand the gun's sheer utility and versatility. You can set up an AR-15 rifle for everything from hunting prairie dogs to moose. It's also perfect for home defense and competition shooting. I can think of no other rifle that even comes close to matching its versatility. One of the reasons that the AR-15 is so darn versatile is when you buy one, it's usually a blank canvas ready to be set up to your unique use case. To make the AR-15 ideal for you, you're going to need some accessories. Here's our view on some of the top accessories to outfit your AR-15.
AR-15 Accessories: Optics and Sights
AR-15 Scopes
Putting a scope on your AR-15 allows you to take advantage of your rifle's range potential for hunting, but still allows for double duty as a defensive rifle. Many manufacturers are building scopes specifically for the AR-15 platform now that include many custom features like ballistic compensating reticles, bullet drop compensation dials for specific loads, and illumination.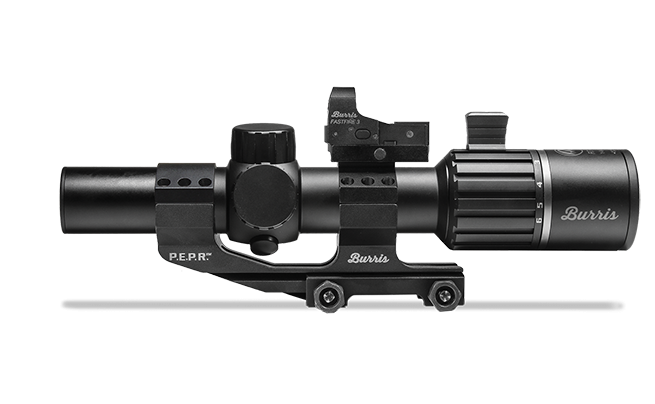 AR-15 Red Dot and Reflex Sights
First, let's clear something up, all Red Dot sights are Reflex sights, BUT not all Reflex sights are Red Dots. Red Dot speaks to sights that are essentially simple tubes that use mirrors and an LED to project a "red dot" (or sometimes green) in your field of view. Red dots are low cost and typically have very long battery life.
Reflex sights differ a bit in that they have an LED that illuminates a reticle that is projected onto the glass within the sight. Reflex sights typically offer a variety of reticle options, a wider field of view than a typical red dot and they are generally higher quality and thus, more expensive. Both Red Dots and Reflex sights project the light back towards your eye. Both are also great for fast target acquisition and close-in shots out to a max of 100 yards.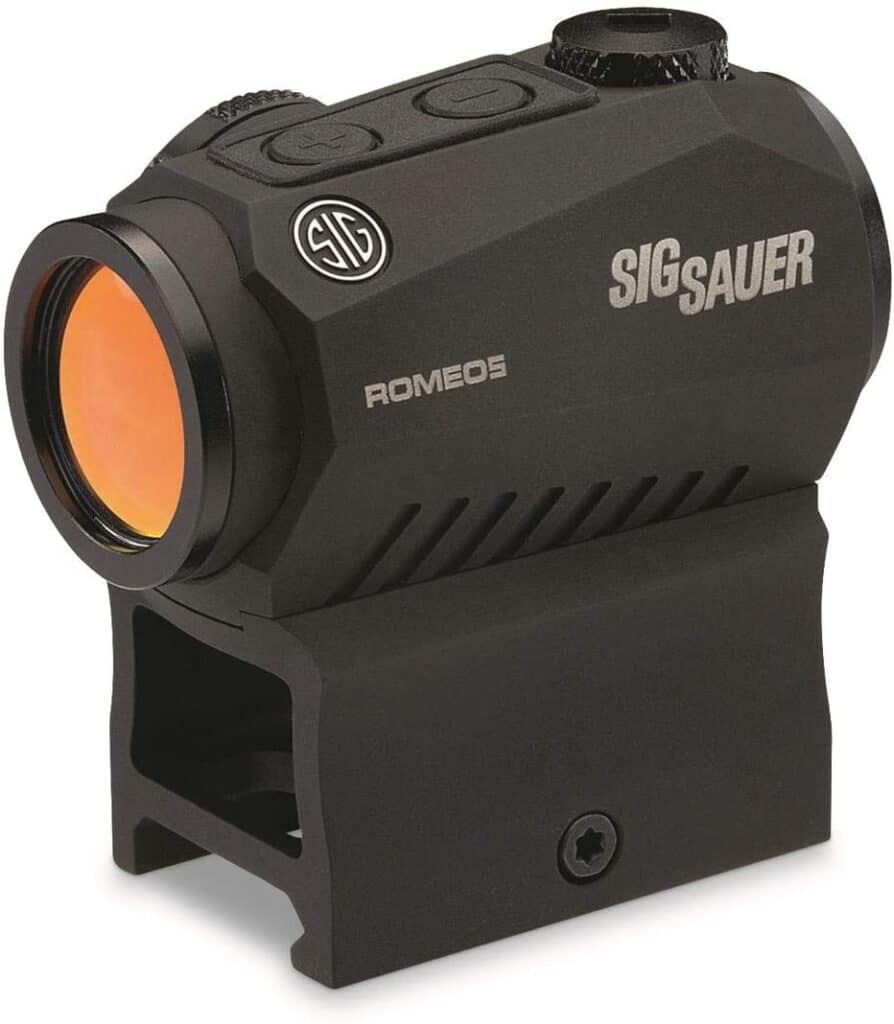 AR-15 Holographic Sights
Holographic sights are otherwise known as Holo Sights, Holographic Weapon Sights, or Holographic Diffraction Sights. Instead of using a LED, Holographic sights use a laser to project a hologram of a reticle between layers of glass in the sight. Holographic sights tend to be higher quality and much more durable than Reflex or Red Dot sights. Holo sights will still work with the glass shattered. They are also more expensive and consume batteries faster.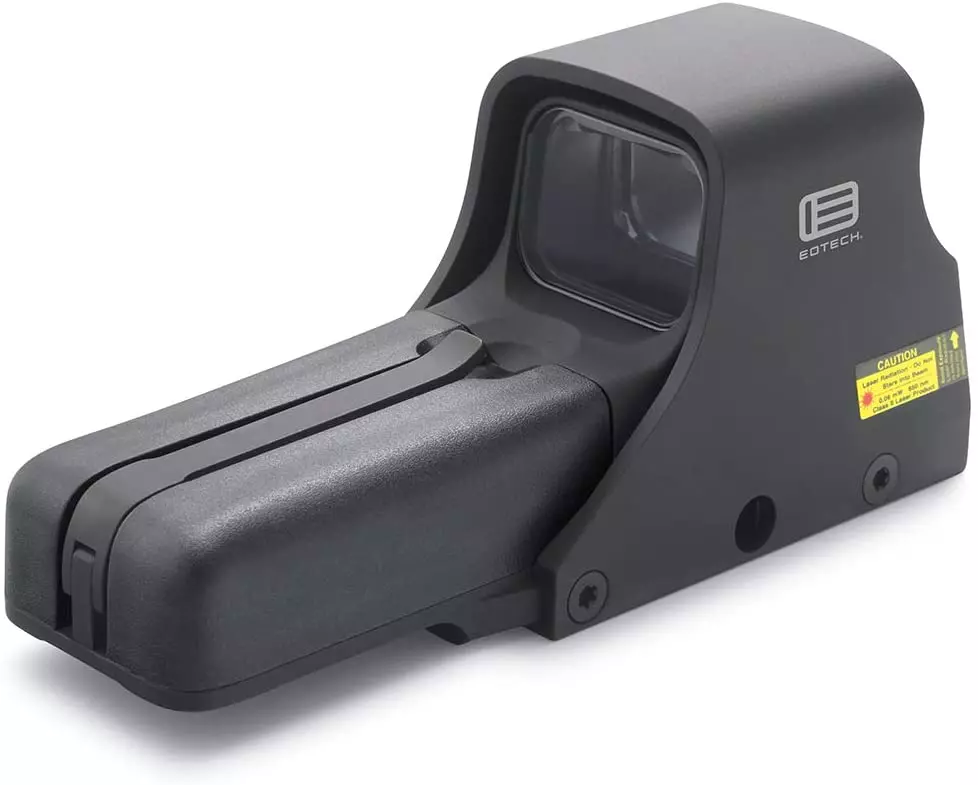 Prism Sights
In a Prism sight, the reticle is etched directly on the prism within the sight to assure consistent point-of-aim. The etched reticle is still viewable without batteries. Unlike Red Dots or Holo Sights, Prism sights also offer a level of fixed magnification. 3x or 5x are most common. This magnification offers you a larger sight picture and extends your effective range. Most models allow you to select between red/green illumination and offer different intensity levels for different light conditions.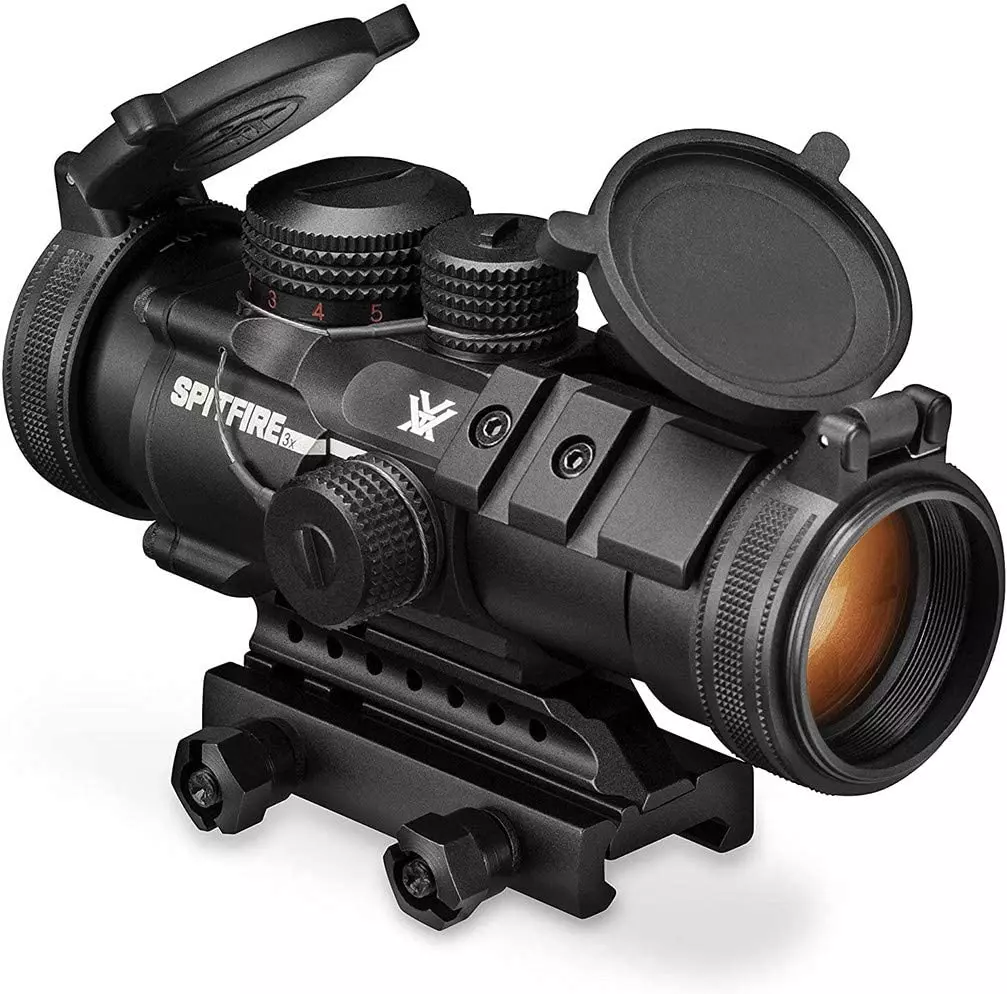 AR-15 Iron Sights
Solo, Co-witnessing and Offset Iron Sights
Many AR-15 owners like to use iron sights and that's it. It's simple, you never need batteries and it works. With different apertures and elevation adjustment, military guys routinely use iron sights alone to shoot out to 500 yards and beyond.
Another way to incorporate iron sights is to set them up for co-witnessing. The term co-witnessing speaks to the ability to use an optical sight and an iron sight simultaneously. Many AR-15 owners like the redundancy that co-witnessing offers. It one sight system fails, or you forget to change the battery in electronic sight, your iron sights are there for you. Another advantage of a co-witnessing set up is you're holding the weapon consistently regardless of sight used.
A third option is to have a scope or electronic sight for your main sighting system and then to mount offset iron sights for redundancy and for close-quarters work. A popular choice for 3-gun shooters, offset iron sights allow shooters to switch between medium/long-range and short-range targets by simply tilting their rifle. This is much faster than trying to line up your scope for a shorter distance shot.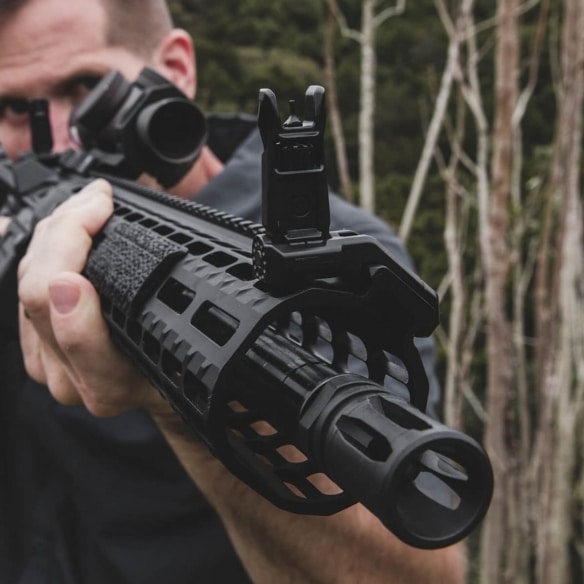 AR-15 Accessories: Weapon Lights
If you plan to use your AR-15 as a home defense gun, a weapon light is a necessity. There are a few advantages of weapon-mounted light. First, it allows you to have both hands on the firearm. Having both hands on your weapon instead of holding the flashlight and the weapon is simpler and provides significantly better control. Simplifying things during a stressful situation will always improve your odds. Second, it's attached to the gun so it is always there when you need it. Finally, one of the Commandments of Gun Safety is to Be Sure of your Target, and what's beyond it. A high-quality weapon light will help you positively identify any potential threats and non-threats.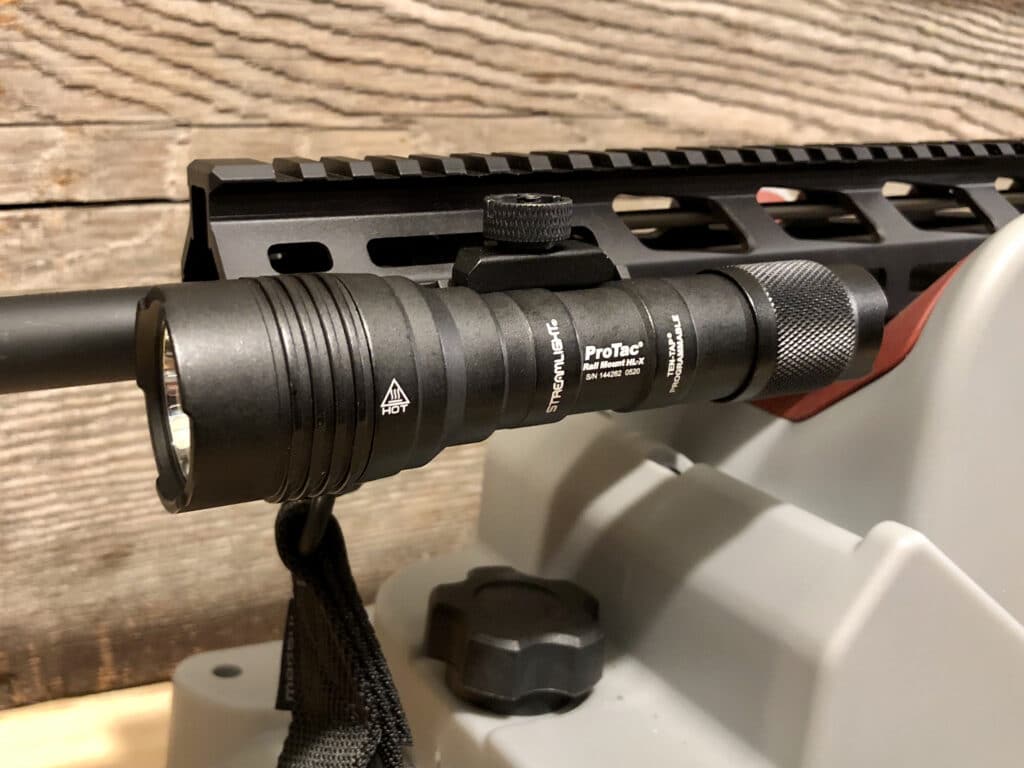 Of the weapon lights we've tested, the Streamlight 88066 ProTac Rail Mount HL-X with 1,000 lumens is a top choice for quality and value. It uses either a remote switch with momentary/constant on operation or a standard push-button tail switch (my preference) and can run on either two CR123A lithium batteries or one Streamlight rechargeable 18650 battery.
Important Note, not all AR-15 accessories or magazine sizes are legal in all areas. Be sure to check your local laws before tricking out your AR-15.
AR-15 Accessories: Furniture
The term "furniture" on an AR-15 refers to the pistol grip, stock, and handguard. All can be changed out or upgraded to suit your purpose. Magpul and Hogue are two manufacturers who make high-quality AR-15 furniture in kits as well as sell individual components.
AR-15 Accessories: Magazines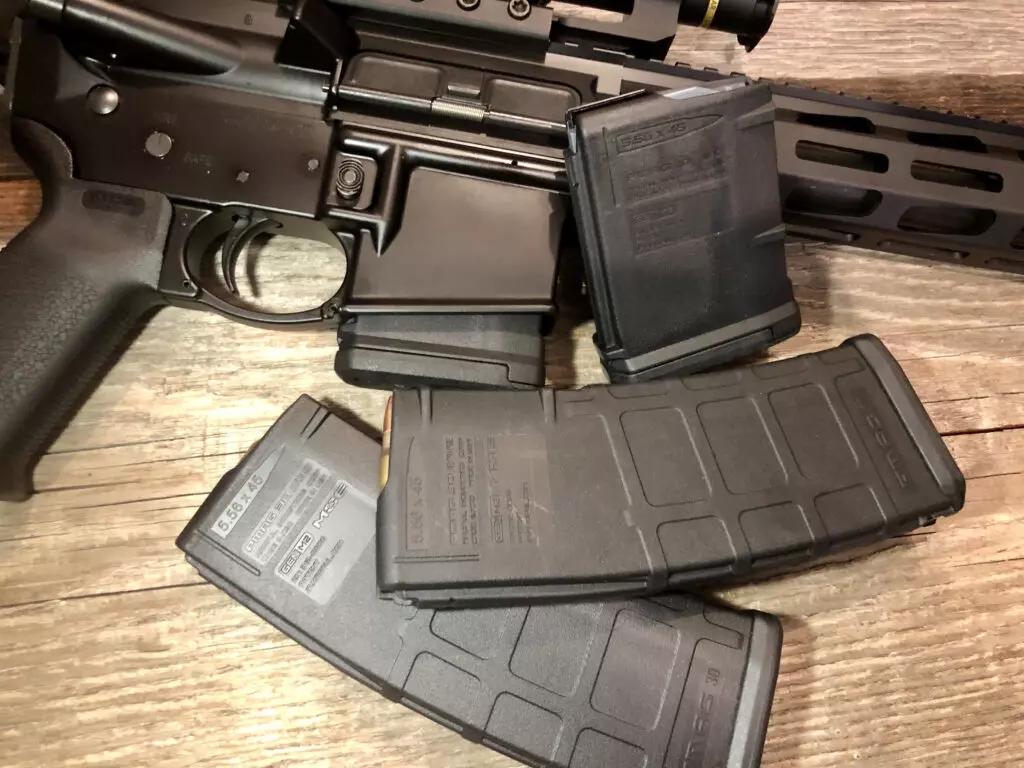 Your AR-15 rifle likely only came with one magazine. You need more. The general consensus is you should have at least six. My preference in magazines is PMags by Magpul. Why six magazines you ask? Six magazines allow you to have three to rotate in your rifle and an additional three to have available that are loaded up for range practice. I also like to have magazines of varying capacities (10 and 30 rounds). Generally speaking, the more magazines you can have loaded ahead of time the better. This is especially true if you practice at a public range where you pay by the hour. Why spend time loading your rifle magazines when you could be shooting?
AR-15 Accessories: Rails and Attachment Points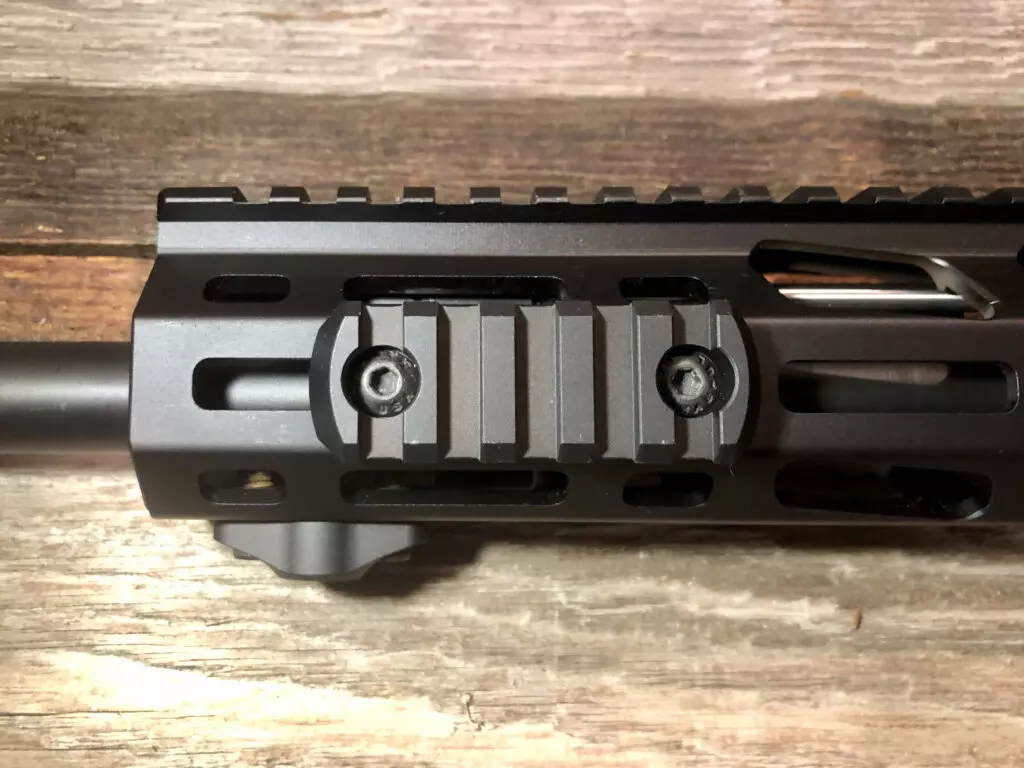 Most AR-15 handguards today come set up from the factory with a Picatinny top rail and spots along the handguard for attaching a variety of accessories like an accessory rail, QD swivels, light mounts, and other accessories. The M-LOK system from Magpul is a favorite for a rock-solid connection to the handguard.
AR-15 Accessories: Slings
A sling is a must-have accessory for your AR-15. It keeps your rifle close to your body with your hands-free. A sling keeps your buttstock in the pocket of your shoulder for fast access, and it can help stabilize your shot. There are a lot of great slings out there for different applications. Two slings to check out are the Blue Force Gear Vickers 2-Point Padded Combat Sling, it has a fast adjust tab that works great. I also like the Magpul MS4 QDM Sling.
AR-15 Accessories: Gunsmithing tools
Most of the gunsmithing and gun cleaning gear you already own will work just fine for your AR-15, but there are a couple of items that you'll need that will be unique to servicing your AR rifle. First is a tool from CAT Outdoors that they call a "Barrel Scraping Tool" but its really for allowing you to easily remove carbon build-up from the bolt, bolt carrier, and firing pin flange. It will make that job a lot easier. The other item that you may not have is an armorer's wrench or castle nut wrench. This wrench will allow you to remove the castle nut at the rear of the receiver to access and service your buffer tube.
Final Thoughts
If you really want to stimulate the economy, give every citizen an AR-15 and then let them set to accessorize it. The above is certainly not an exhaustive list of your options and different use cases will create entirely different sets of recommendations. Frankly, that's what I think is so cool about the AR-15 platform. But hopefully, the above gave you some food for thought on how you can trick out your AR-15 and make it your own.
Related Content: HuntTested Pro Tips: Gun Care and Maintenance
Note: HuntTested may receive a small commission if you purchase a product from the links on this page. This does NOT increase your price and helps to pay for this content. HuntTested did receive product consideration in coordination with this article. All opinions belong to HuntTested.