SportDOG SportTrainer™️ 875 Review
My first e-collar had a remote that looked like a Mag-Lite flashlight. It had one big red button and rheostat style switch on the top to select the correction level. That was it. It was simple and it got my Chessie's attention when she needed a reminder. We've come a long way in technology since then. Today e-collar systems can track your dog's location, let you know when they're on point, and have all manner of functionality. But, maybe you don't need all that. Maybe all you need is a simple and reliable e-collar with simple and easy to use functionality, that's where the SportDOG Brand SportTrainer line shines!
SportDOG Brand SportTrainer 875 Overview
I've been using the SportDOG Brand SportTrainer 875 for several months and it's become a favorite. I have a variety of e-collars that I can choose from, but the SportTrainer 875 is the one I reach for if I'm training or just headed to the dog park to run my Brittany.
The SportTrainer 875 is designed for field training and hunting with close-working dogs. My favorite feature is their easy-to-read OLED screen. You can view the selected dog, static stimulation level, mode, and battery status, with a glance. The OLED screen, combined with large plus/minus buttons to toggle between dogs and stimulation levels makes the SD-875 especially nice for running multiple dogs. SportDOG offers an "Add-A-Dog" Collar Receivers and the SportTrainer remote can be expanded to control up to 3 dogs at once.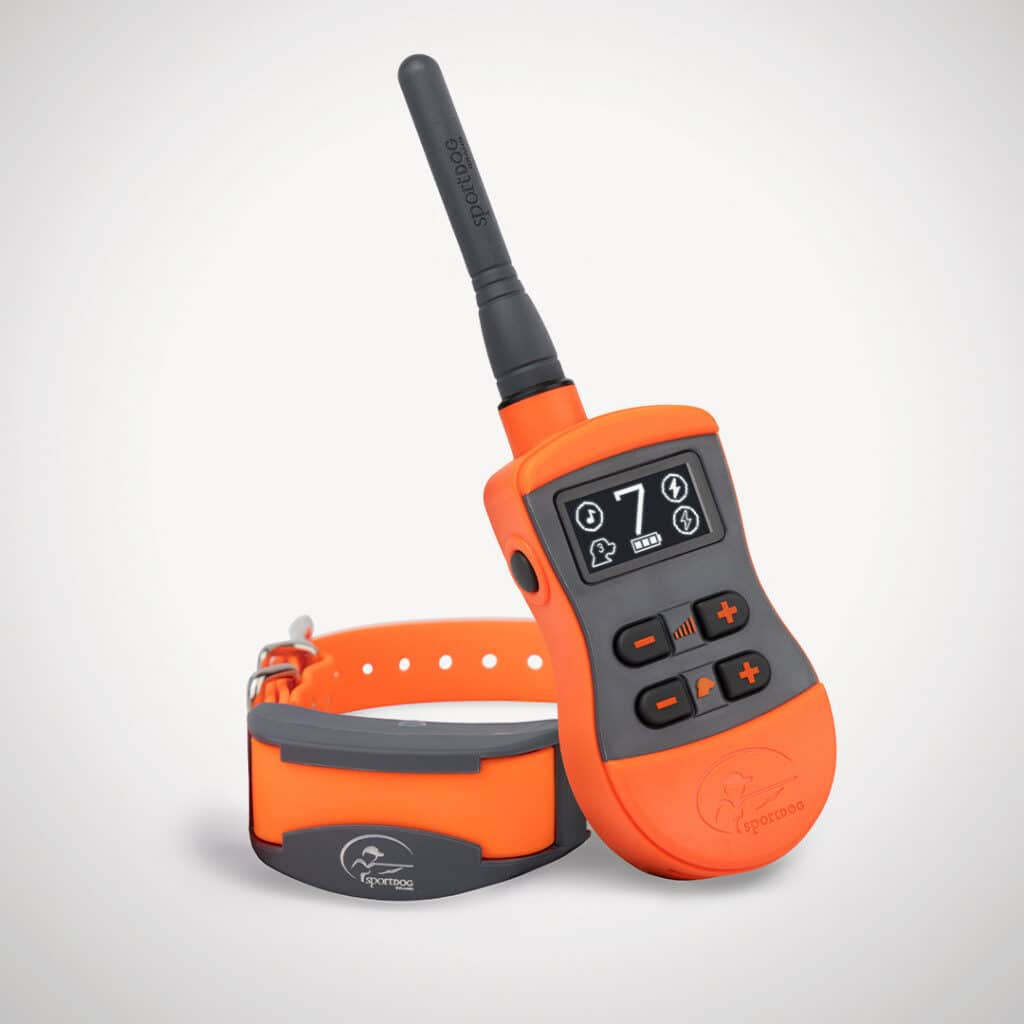 SportDOG Brand SportTrainer 875 Features
RANGE
Up to 1/2 mile
STIMULATION RANGES
10 instantly selectable static stimulation levels with low/medium stim ranges
Option to train with vibration and tone in select modes
EXPANDABLE SYSTEM
Expandable to 3 dogs
WATERPROOF
Waterproof and submersible to 25 feet using DryTek® technology
DOG SIZE
For dogs 8 pounds or larger with neck sizes 5″ – 22″
BATTERIES
Rechargeable lithium-ion batteries
Charge in 2 hours, last 50-70 hours per charge
LOW BATTERY INDICATOR
Yes
SYSTEM COMPATIBILITY
Compatible with:FieldTrainer® 425X/SportHunter® 825X Add-A-Dog® Collar (SDR-AXF)FieldTrainer® 425XS Add-A-Dog® Collar (SDR-AXS) – For Stubborn Dogs
SportDOG Brand SportTrainer 875 Final Thoughts
SportDOG Brand nailed it with their SportTrainer line of e-collars. They are well-made, exceptionally user friendly, and a great value for the price. It doesn't get much better than that. If you're looking for basic functionality in an e-collar system for hunting or training, this is it.
SportTrainer 875, $199, by SportDOG Brand
Related Content: The Ultimate Pheasant Hunting Gear List
Note: HuntTested may receive a small commission if you purchase a product from the links on this page. This does NOT increase your price and helps to pay for the content you're enjoying. HuntTested did receive product consideration in coordination with this article. All opinions belong to HuntTested.