Grizzly 75 Cooler: A Perfect Cooler for Hunters
Who knew that there would be such a big market for ultra-premium coolers? One could argue that relatively few people actually "need" a premium class cooler. If you're bringing a few beers to tailgate with your buddies, you need a cooler that will keep your beer cold for an hour or two. A cheap Coleman or even a Styrofoam cooler will do the trick.
On the other hand, hunters are one of the few groups of customers who can make a legitimate argument that they actually need a cooler that costs more than my first car did. If you're on a week-long backcountry hunt, your cooler is more than a suburban status symbol, it's a critical piece of gear. So, in good conscience, you have the HuntTested green light to tell your spouse that you need a new cooler. To speed your search for your new "ultra cooler", start by checking out Grizzly Coolers. The Grizzly 75 Cooler is the perfect size for most week-long hunting trips.
Grizzly 75 Cooler Overview
The Grizzly 75 will hold 84 cans along with 20 pounds of ice. I have not tested that particular claim, but I can confirm that it's the perfect size for a full limit of South Dakota pheasants and plenty of ice. It's also ideal for storing all my food for elk camp and enough ice to last for a week.
PRO TIP: Getting the Best Performance from your Cooler 1.) Keep it out of the Sun. 2.) Use Enough Ice = 2/3 Ice to 1/3 Contents. 3.) Limit Access – Open it as little as possible
One of my favorite features of the Grizzly is the oversized 2″ drain plug. This model comes with two of them! With other coolers, I have to hoist it up and dump it out to drain the ice, (making the actual drain kind of useless). The Grizzly drain actually works.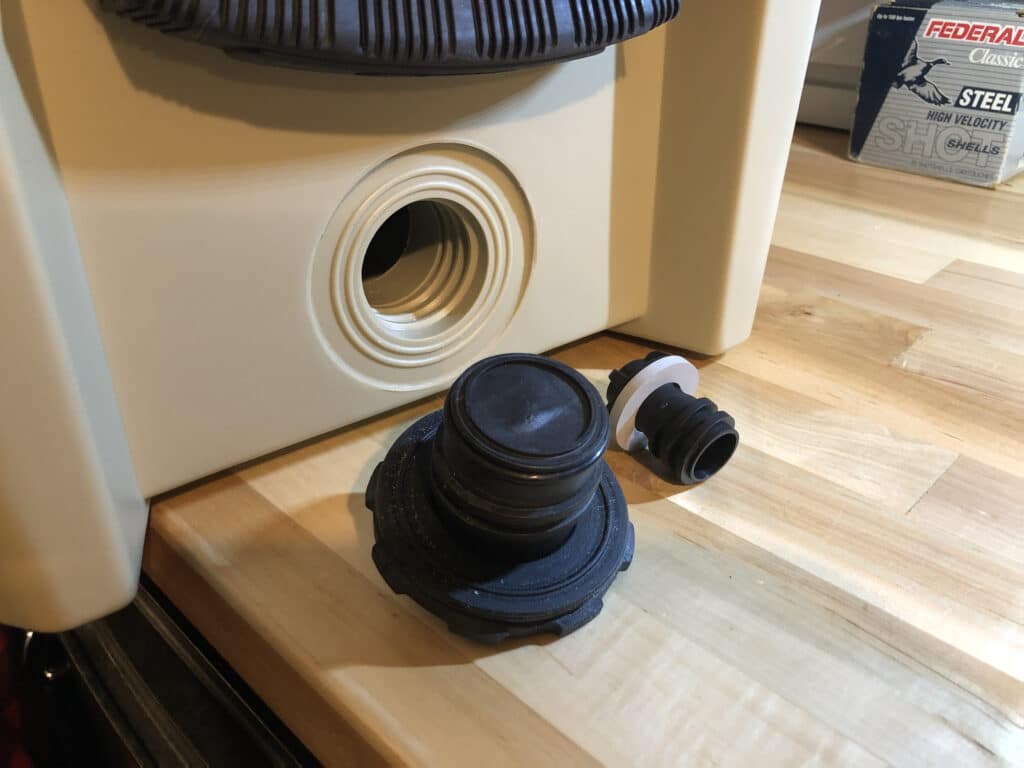 Grizzly 75 Cooler Specifications
75-quart cooler capacity
34 lbs empty
RotoTough™ rotationally-molded construction
Environmentally friendly pressure-injected insulation
Molded-in hinge with stainless steel pin
Dual 2" drain plug for easy, quick draining
Full-length drain channels for complete draining
BearClaw™ Latches require no hardware and keep a secure grip
Non-slip non-marking rubber feet
Molded-in heavy-duty handles
Rope Handle with nylon sleeved rubber handle
2" Tiedown slots
Embossed 30" ruler on lid
Rubber Gasket makes a perfect seal
Lifetime Warranty
Made in the USA
IGBC Certification Number 3369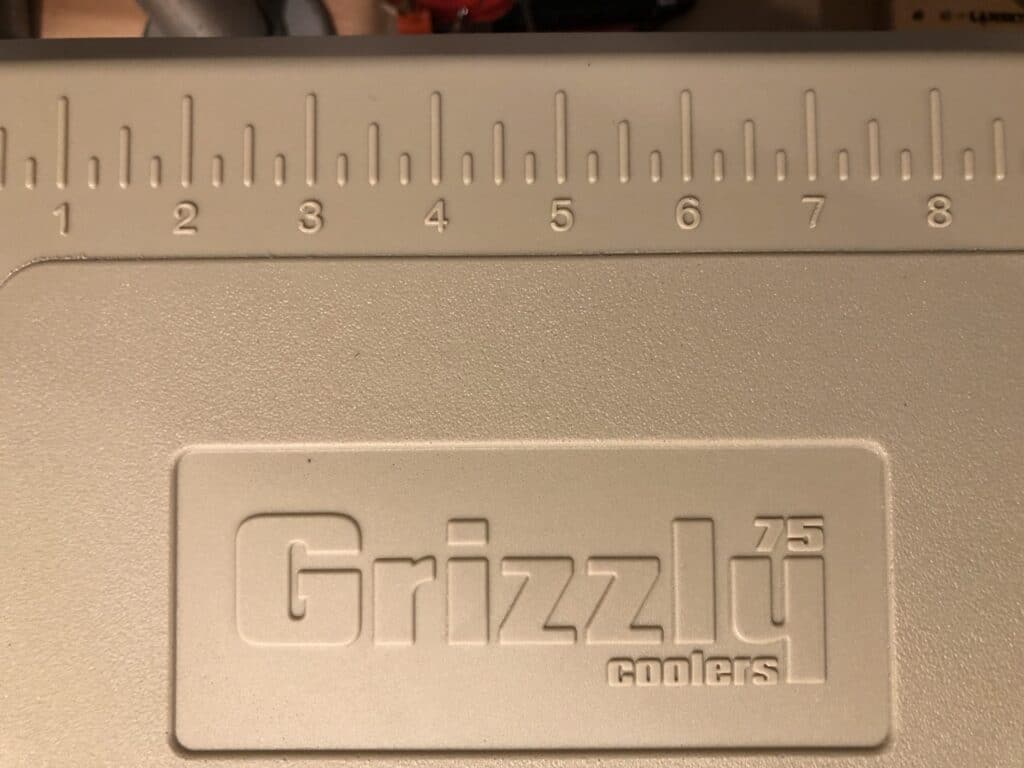 Grizzly 75 Cooler Construction
We buy a premium cooler for two reasons, ice retention, and construction quality. On those fronts, Grizzly coolers are made from rotationally-molded LLDPE (Linear Low-Density Polyethylene) plastic and are designed to achieve even wall thicknesses for optimal durability. For insulation, Grizzly coolers are pressure injected with up to two inches of polyurethane foam and are dry ice compatible. Coupled with other features like silicone rubber seals and heavy-duty latches, the Grizzly 75 delivers excellent durability and ice retention.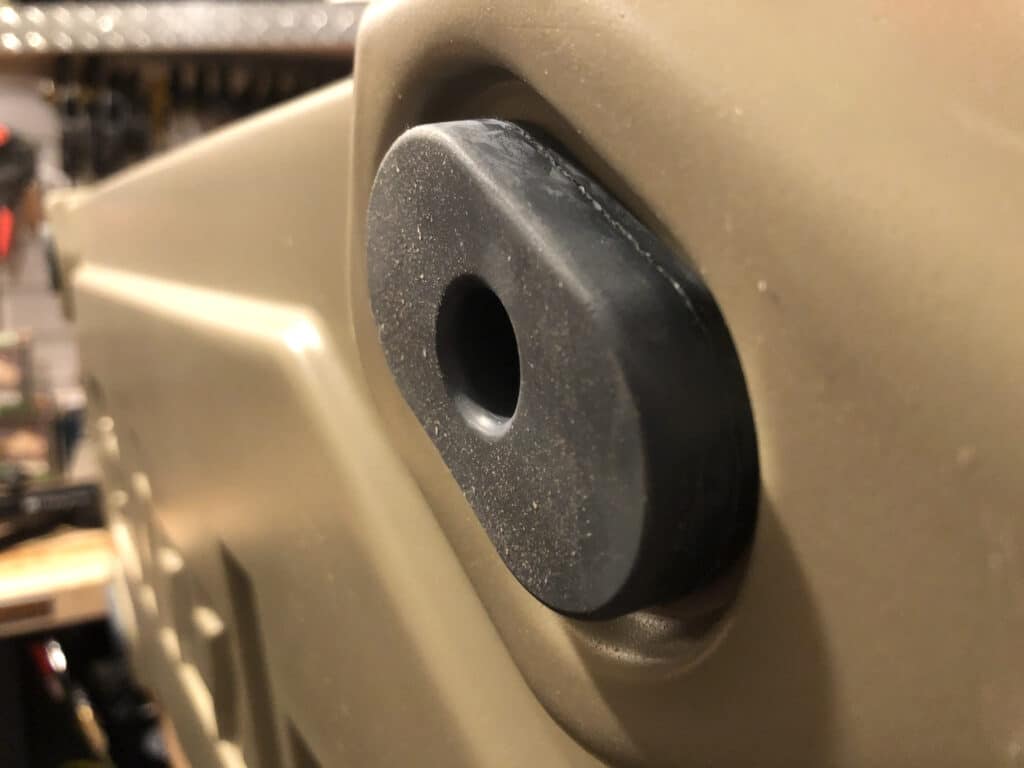 Grizzly 75 Cooler Final Thoughts
The Grizzly 75 Cooler is an ideal model for hunters. It's the perfect size for a week of almost any kind of hunting adventure, and it's not so big that you'll need a frontend loader to lift it when it's full of food and ice. Plus, we like that it's made right here in the USA, and it has several innovative features that hunters will appreciate.
Grizzly 75 Cooler – $399 – Available at GrizzlyCoolers.com or Amazon
Note: HuntTested may receive a small commission if you purchase a product from the links on this page. This does NOT increase your price and helps to pay for the content you're enjoying. HuntTested did receive product consideration in coordination with this article. All opinions belong to HuntTested.