The Prepper's Medical Handbook – Book Review
You're on a bivy-style elk hunt in the middle of a vast wilderness area. You've had a stabbing pain in your upper right abdomen for the last day. You have no cell coverage to research your symptoms. Will it pass? Or, is it the sign of something more serious? Do you need to end your hunt and go for help? If you find yourself venturing into remote areas for your hunting trips, you need to carry more than a basic first aid kit. You need to arm yourself with knowledge. The Prepper's Medical Handbook by Dr. William Forgey is an excellent source of first aid medical know-how and it's a must-read for backcountry hunters.
Wilderness First Aid – Practical Skills
If you happen to search for "Bear Defense Gun", Google will return 47,800,000 pages of search results. While it's an interesting debate – mostly held by dudes who have never come close to a Grizzly in the wild – it's a low probability scenario. You're far more likely to fall out of your tree stand, cut yourself with a knife or broadhead, have your appendix burst, or experience hypothermia than you are likely to get mauled by a Grizz. The reality is hunters get injured in the field. These injuries can range from mild annoyances to life-threatening emergencies. Your knowledge of how to deal with these issues when you're responsible for saving yourself can make the difference between life and death.
About the book: The Prepper's Medical Handbook
The Prepper's Medical Handbook is an excellent resource to arm yourself with the in-depth medical first aid knowledge that you need. The book is 320 pages and it's full of photos and illustrations. There is also a useful lookup index in the back of the book. It is incredibly comprehensive and covers almost every first aid medical issue that you can imagine, and many that you wouldn't have thought of before. It is informative, authoritative, and interesting to read.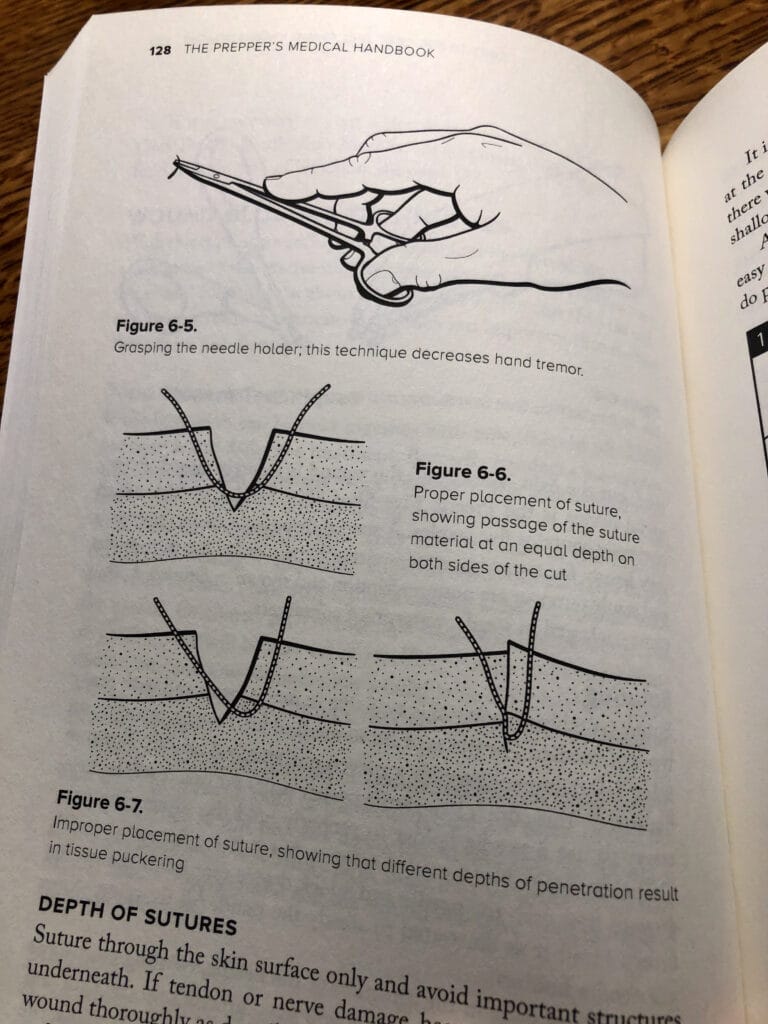 The Prepper's Medical Handbook – Core Topics
Medical emergencies on or off the grid
Managing bone, joint, soft tissue, and other trauma
Managing under austere circumstances
Pain and fever
Dental emergencies
Bioterrorism
Environmental emergencies
Radiation exposure
Poisoning
The bottom line is if you venture off the grid, buy this book, read it annually, keep a copy in your truck, and buy copies for your hunting buddies. The Prepper's Medical Handbook by Dr. William Forgey $19.95 Click Here to Buy.
About the Author
Veteran outdoor author William Forgey, M.D. is engaged in the full-time practice of family medicine and is a member of the board of trustees of the International Association for Medical Assistance to Travelers, a fellow of the Explorers Club, and a past president of the Wilderness Medical Society. A former Boy Scout scoutmaster and Medical Explorer Post and High Adventure Post advisor, he currently serves on the National Health and Safety Committee and as an advisory board member for the Northern Tier High Adventure Base for the Boy Scouts of America. He is the author of many wilderness medicine and camping books, including Basic Illustrated Wilderness First Aid (Falcon). He lives in Crown Point, Indiana.
Note: Hunt Tested may receive a small commission if you purchase a product from the links on this page. This does NOT increase your price and helps to pay for the content you're enjoying. HuntTested did receive product consideration in coordination with this article. All opinions belong to HuntTested.
Related: HuntTested's Ultimate List of Hunting and Outdoor Books