Irish Setter Elk Tracker 860 Review
Mule Deer Trackers might be a more appropriate name. I was headed out to hunt mule deer in the Sandhills of Nebraska and a blizzard and cold weather was in the forecast. My original plan to wear my uninsulated pheasant hunting boots wasn't going to work anymore. I needed a rugged insulated boot to hike the snow-covered hills. I walked into my local Red Wing shoe store and shared my plans. Without hesitation, the store manager said, "You need a pair of Elk Trackers." The manager measured my foot and found the right size for me. I bought the boots, tossed them in my truck and the next day I left for Nebraska. Here's what I thought of the Irish Setter Elk Tracker boot after a week of wearing them mule deer hunting.
Irish Setter Elk Tracker Use Case
Irish Setter calls these boots Elk Tracker, but I think that moniker is a bit limiting. This is a boot that is made for any cold-weather hunting that includes moderate to high activity. While I'm sure it is great for elk hunting the rifle season, it's an equally great choice deer hunting or late season pheasant hunting.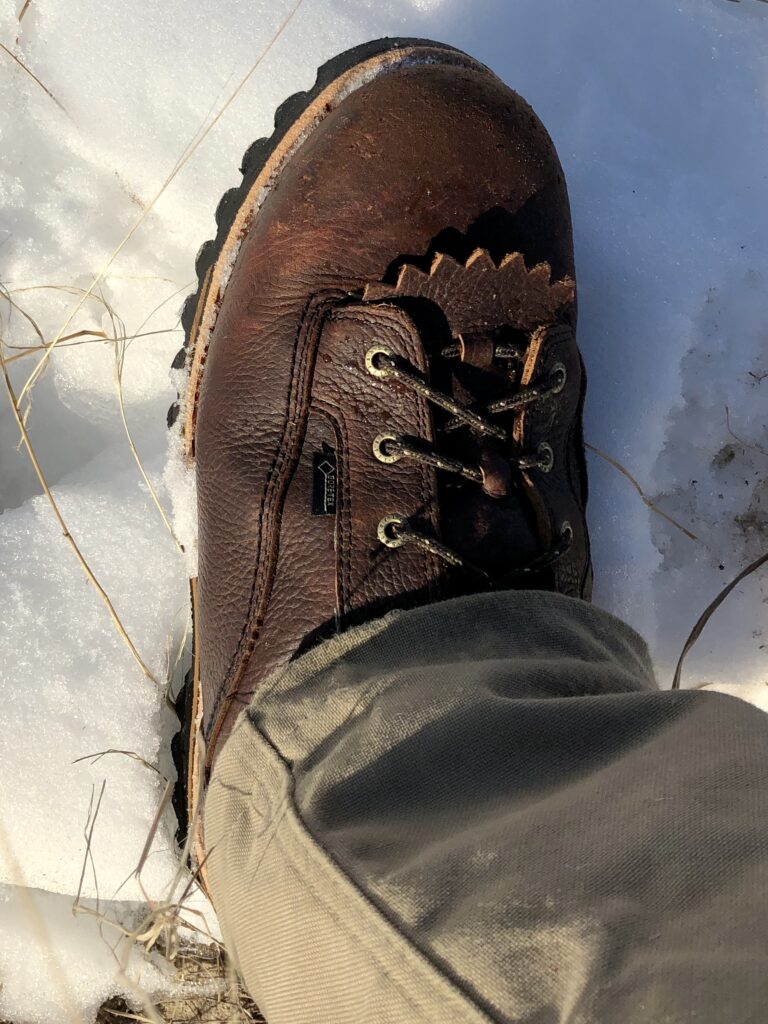 In my use case, traipsing around the snow-covered hills in northwestern Nebraska, they were an ideal choice. The weather was in the 20's – 40's each day and my feet were never cold with 1000 grams of Thinsulate insulation. The leather upper with GoreTex lining kept my feet dry and the aggressive sole provided great traction on the hills.
Irish Setter Elk Tracker Fit
I have a simple rule with boots. They need to be immediately comfortable without any break-in period. The Elk Trackers passed this test. I found them to be exceedingly comfortable right out of the box and did not have any issues or hotspots after a week of hiking in them. At 12 inches in height, these boots are a little taller than I normally wear pheasant hunting or archery elk hunting, but the padded collar was very comfortable and the added support from the extra height was welcome with all the side-hilling I was doing.
RedWing and Irish Setter tend to offer a broader range of sizes than other manufacturers, making it easier to find a great fit. If you happen to live close to a Red Wing shoe store, they'll be happy to measure your feet to ensure that you're buying the right size.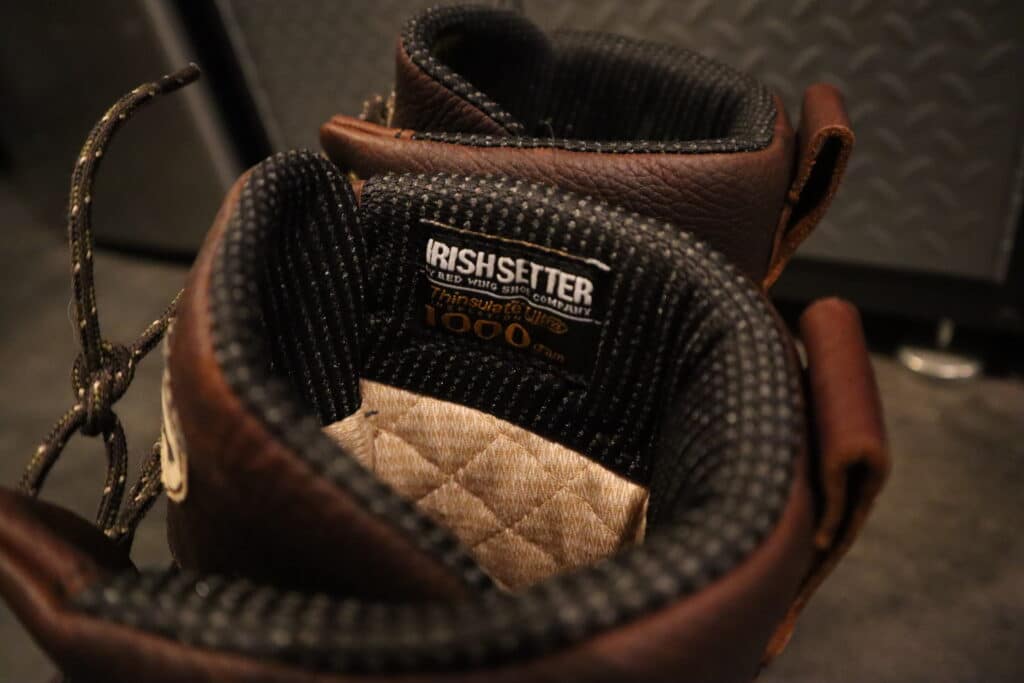 Red Wing Shoe Stores
One of the best features of these boots is not the boots but the store you buy them in. If you happen to live near a Red Wing Shoe store (a great Minnesota-based company), you can drop your boots off for service, in the case of my boots they applied a natural oil to preserve the leather and help them retain their water repellency. The best part is it's completely free of charge!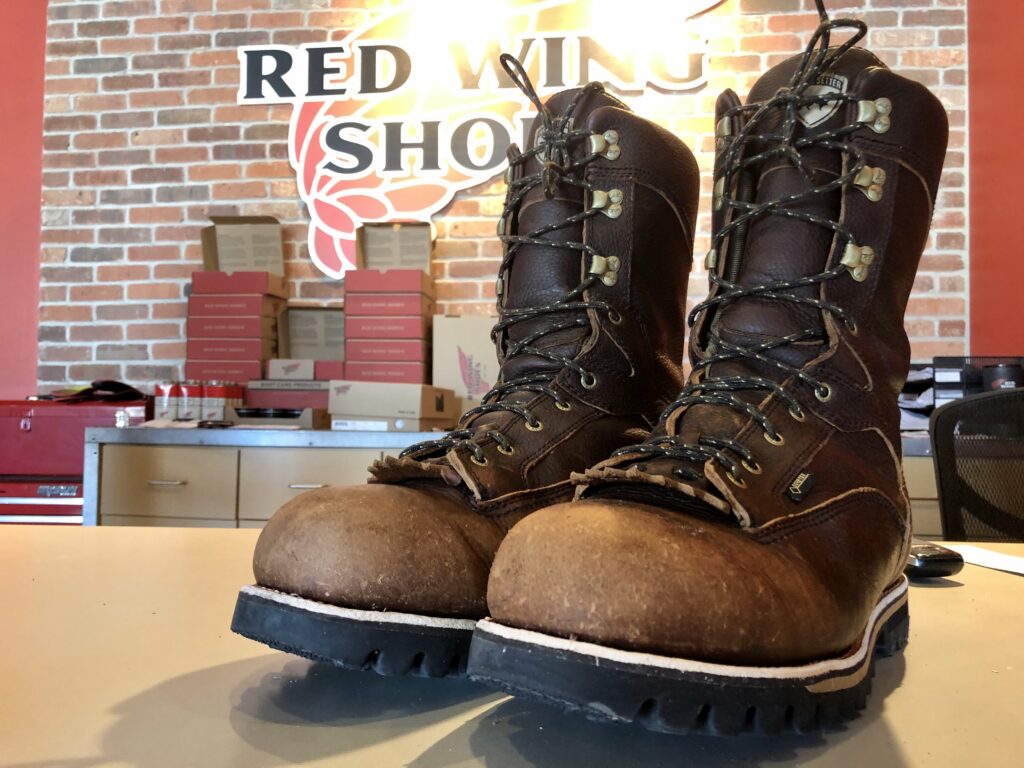 Irish Setter Elk Tracker Specs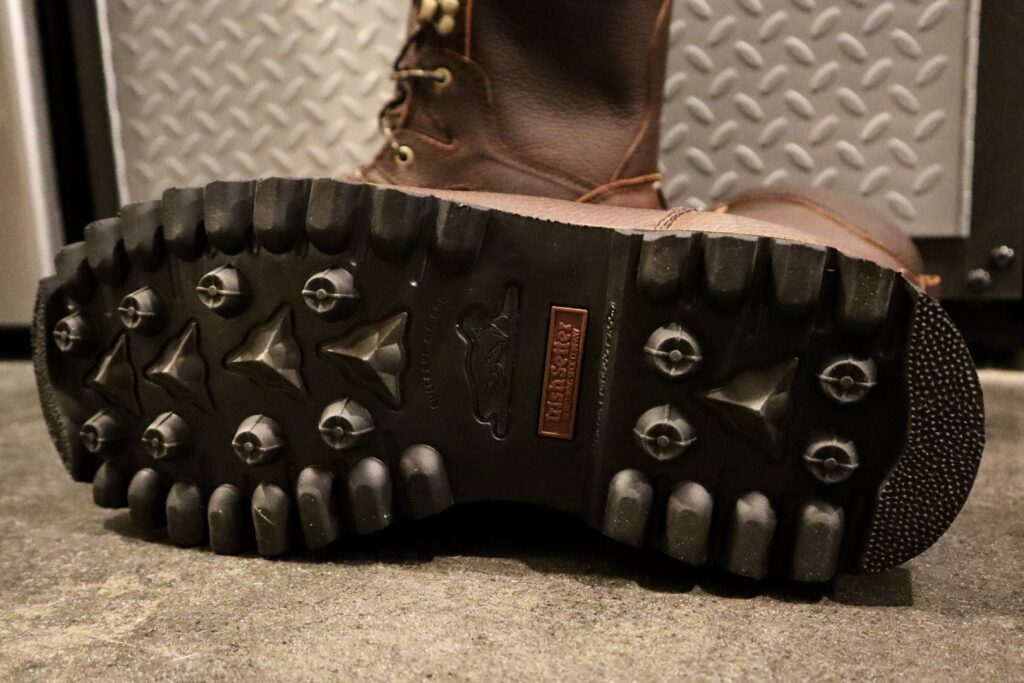 | | |
| --- | --- |
| Leather Type | Full Grain, Waterproof |
| Footbed | Removable Comfort Cork EVA with Memory Foam |
| Construction | Goodyear Leather Welt |
| Shank | Steel |
| Waterproof | GORE-TEX® |
| Insulation | 1000g 3M™ Thinsulate™ Ultra |
| Outsole | Bulls-Eye® Air Bob Aggressive |
| Last | 96-IR |
| Height | 12-inch |
| Lining | Moisture Wicking Nylon |
Elk Tracker Final Thoughts
Boots are expensive, and I expect them to last. While it will be a few years before I can tell you how these boots actually held up, based on the build quality, I expect no issues with durability. From the materials used to the stitching and assembly, the Elk Trackers have solid quality throughout and they've quickly become a favorite boot.
The Elk Trackers are an upper range price point boot that offers solid quality and superior fit and comfort. They are a good choice for almost any cold-weather hunting trip.
$260 – Available at IrishSetterBoots.com or Amazon
Note: HuntTested may receive a small commission if you purchase a product from the links on this page. This does NOT increase your price and helps to pay for the content you're enjoying.