What you MUST Understand about Dog Containment Systems and E-collar Training
by Tom Dokken (This article was provided by our partner, SportDOG.)
Just like modern e-collars, the newest in-ground fencing systems, also known as containment systems, have improved life for dogs and their owners. A containment system helps keep your dogs from wandering out of the yard, which is great for their safety and your own peace of mind.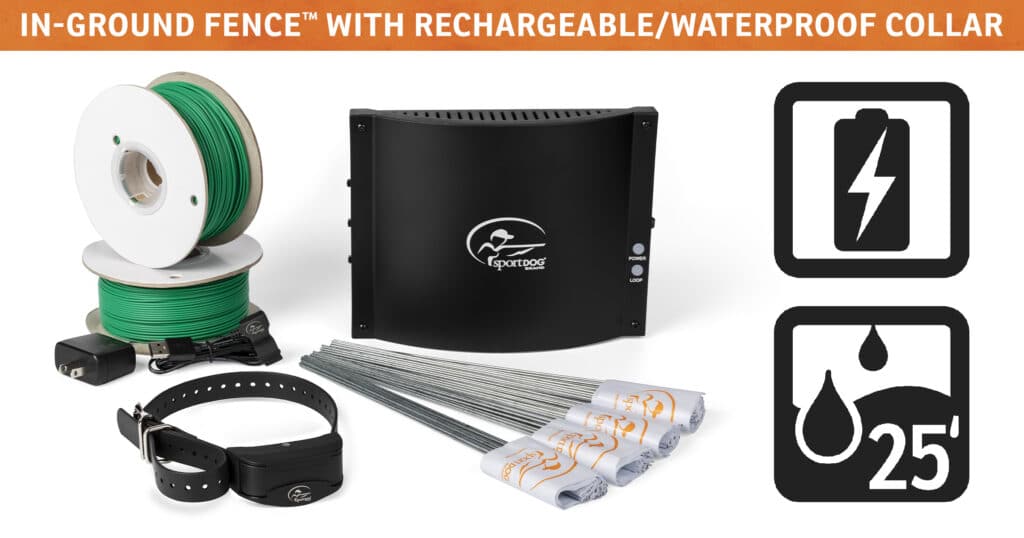 Containment Systems Basics
A containment system can be a solution for yards as small as ¼-acre (a common small-lot size in many towns) or for larger rural properties covering up to 100 acres. They work by delivering a static correction when a dog tries to cross the system's perimeter. To help with teaching the dog where the perimeter lies, all SportDOG® containment systems feature a warning tone and vibration to let the dog know it is getting near the edge of the "safe" zone, and then the correction begins if the dog ignores the warning and tries to get past the boundary.
Those are the basics of containment systems. Now for the "must" part …
Using a Containment System with an E-Collar
While in-ground fencing is effective and a very simple concept for a dog to grasp (stay away from that area), a dog owner who also uses an e-collar for obedience or hunting dog training needs to understand how the two products work together. This requires you to consider where you're at in your training progression. I strongly suggest that you complete your e-collar training before installing a containment system. The basic rules of obedience training help me make my point.
When someone brings a dog to our kennel for training, we always ask them if they have a containment system. We've found that a lot of our customers do indeed either use the product, or plan to use it in the future. The reason we need to know this is because a dog trained to respect the boundaries of the invisible perimeter have learned to not move forward or they will receive a correction. They learn to back up. There's nothing wrong with that, because that's how it's supposed to work, but …
Suppose you have a dog out in front of you during a training exercise and you reinforce the "Here" command using an e-collar. That dog will most likely not want to come toward you, which would mean it's coming into the correction, because it has learned that the way to avoid a correction is to back away. In such cases, we actually have to "de-program" the dog, and that takes longer.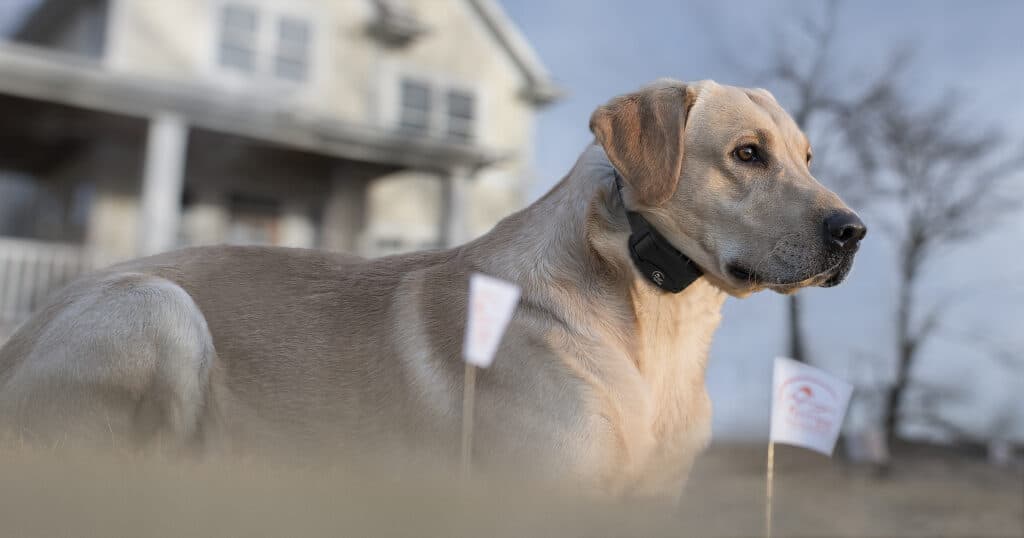 To be clear, this doesn't mean that all is lost if your dog has learned to avoid a containment system correction before you go into an e-collar training program. But you'll save a lot of time and eliminate confusion if you wrap your obedience training using e-collar reinforcement before you introduce your dog to the limitations of a containment system.
I'll repeat what can't be said enough. An e-collar's purpose is to reinforce commands that a dog already knows.
If you're frustrated by a dog that wants to keep leaving your property before you've installed an in-ground fence, then you probably need to increase your diligence by keeping it on a 20- or 30-foot check cord so you're always in control when you take the dog outside.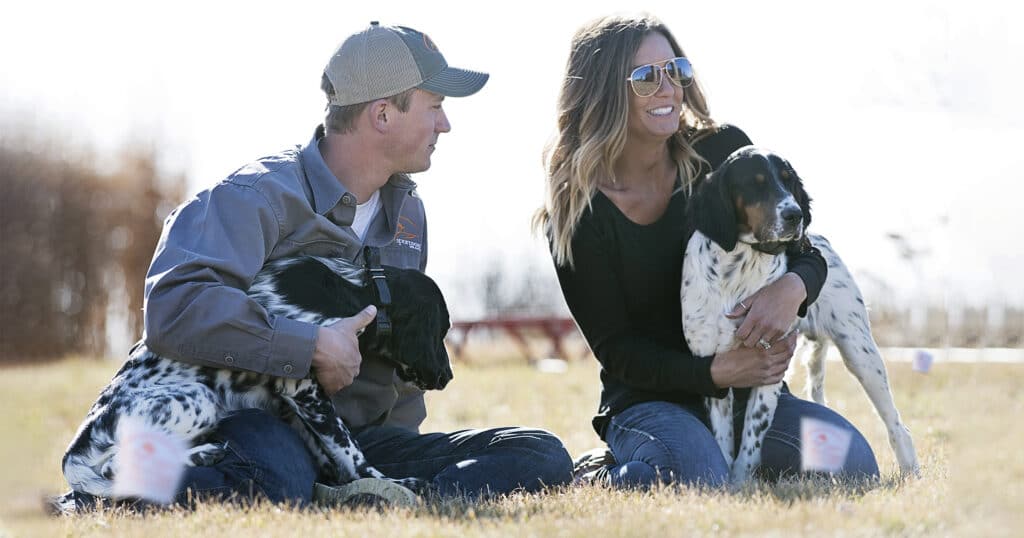 Finally, I'll repeat what can't be said enough. An e-collar's purpose is to reinforce commands that a dog already knows. Whether your dog goes away, comes toward you, or performs some other action in response to your commands is going to depend on what you taught it through repetition. Get through this stage of your dog's training and then everything that comes after it, including training to respect an in-ground fencing boundary if you so choose, will go much more quickly and smoothly.
About the Author: Tom Dokken brings more than 30 years of retriever-training experience to the SportDOG team. He is well known as the inventor of Dokken's Deadfowl Trainer, which has become standard equipment for retriever trainers everywhere. He is the owner of Dokken Dog Supply and Dokken's Oak Ridge Kennels, the largest gun dog training kennel in the upper half of the United States. He has made seminar appearances all across the United States as well as South America, plus numerous television appearances on ESPN, TNN, and major outdoor channels. Tom is also the author of the book "Retriever Training-The Complete Guide to Developing Your Hunting Dog."
Related Content: SportDOG TEK 2.0 Review , SportDOG Upland Hunter® 1875 Review